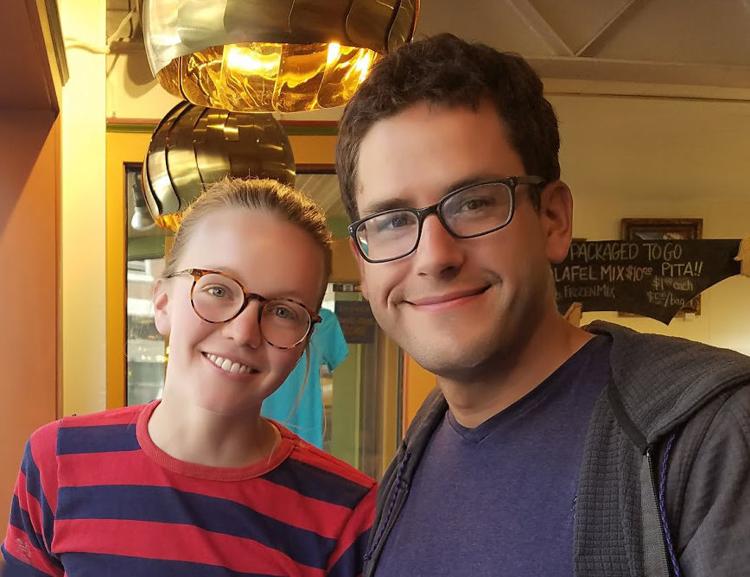 It's 7 p.m., and Grace Mooney is hanging 300 feet off the ground. Her climbing mentor Marco Dees has fallen to his death in Wyoming's Grand Teton National Park. She has no rappelling rope and no idea when help will come.
Sunday's trek up Guide's Wall started out easy for Dees, 33, and Mooney, 24, a Madison native. Anchor by anchor, the duo scaled the wall with little difficulty. Dees, a skilled climber with over eight years of experience, led the way, setting new anchors to hold rappelling ropes for the climbers to pull themselves up.
At 600 feet, they started to make their way back, sliding down their ropes and collecting used anchors as they went.
Mooney still doesn't know what happened. The equipment was in perfect condition and Dees, with years of difficult climbs under his belt, was more than reliable with the mechanics. But he fell.
An unexpected error, unknown rescue
It should have been an easy climb.
After four months under Dees' mentorship — beginning on indoor rock walls and later venturing out to actual rock faces in the Hudson Valley near Albany — the two planned a trip to Grand Teton. Mooney had just started climbing after she moved to New York from Madison in January, and she was ready for bigger challenges. They were taking on Guide's Wall, a relatively easy tackle for multi-pitch climbers, on their first day.
A native of the Netherlands who grew up in the United Kingdom, Dees started mountain climbing when he moved to New York for his Ph.D. studies. The Vassar College philosophy professor was a passionate outdoorsman who threw himself into most any outdoor activity he could, Mooney says, from kayaking to bird watching.
Dees had completed climbs along the West and East coasts, and one in Nuevo Leon, Mexico. He was an expert.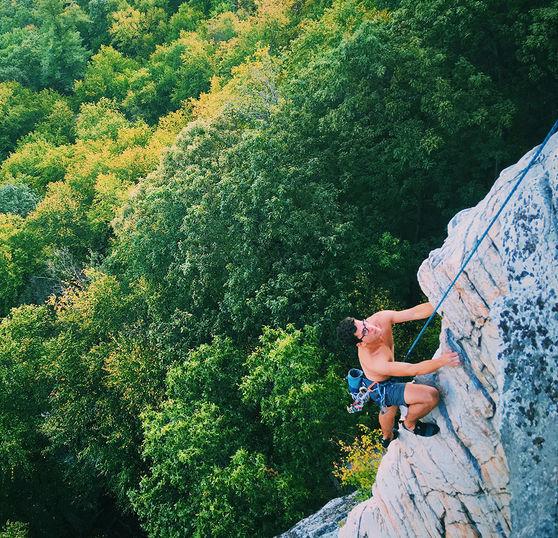 So when their gear failed them mid-rappel, Mooney says she doesn't know what could have happened.
"Something must have been wrong with the way the equipment was set up," she says.
Dees fell to his death from nearly 300 feet. Mooney was saved by her back-up rope, which was tied to an anchor. But when Dees fell, their rappelling rope did too.
With no rappelling rope, Mooney had no way back down.
"I knew I couldn't get down safely if I climbed down," Mooney says. "I was almost sure I would fall."
With less foot and climbing traffic on weekdays, Mooney didn't know when she might see fellow climbers.
You have free articles remaining.
Register for more free articles
Stay logged in to skip the surveys
"I figured someone would come up and climb the route the next day," she says. "But I was prepared for two or three days to go by. Well, I wasn't prepared, but I assumed."
Hanging from the rock face at almost 300 feet, Mooney waited three hours before she spotted headlamps on a nearby trail, hikers returning late from an outing.
Flashing her own headlamp in their direction, Mooney screamed for help. She doesn't know if they heard what she was yelling, but they got her message. Six hours after Dees' fall, a rescue team was scrambling up the rock.
Two rescue teams came to Mooney's aid Sunday night. One gear-less group rushed to see if she was injured at 1 a.m.
Another, equipped with climbing gear, started the trek to her site at 2:30 a.m., traversing Jenny Lake and hiking two miles before they made it to Guide's Wall at 7 a.m.
Mooney says all she could think about as the first rescuers climbed the wall was the peril they were putting themselves in.
"It was dangerous for them, climbing back up in the night," she says, explaining that without ropes and anchors, they were putting their lives at risk. "I was afraid they would fall and die, too."
To her relief, the first team didn't climb all the way to Mooney's position, but scrambled up close enough to communicate with her and make sure she wasn't injured. Less than two hours later, they were joined by a gear-equipped rescue team that scaled the wall to Mooney, replacing her fallen rope and helping her rappel down the rock.
By the time the second team made it to her at 7 a.m. Monday, Mooney had been hanging on Guide's Wall for half a day.
She was back on the ground by 8 a.m.
Since her return to solid ground two days ago, Mooney says all she can think about are Dees and the rescue teams that saved her.
"I just would like people to know how amazing it is that they got me off the wall in 12 hours," she says. "They saved my life."
As Dees' family copes with his death, Mooney says she plans to stay in Wyoming to help his family, who live overseas, figure out the logistics of his burial.
She also wants to take some time to mourn the loss of her friend.
On Thursday, she's returning to Grand Teton National Park to climb in remembrance of the passionately outdoorsy mentor who would do anything to bring himself closer to nature.
"I want to go back up," she says through tears. "And spend some time just thinking about Marco."
[Editor's note: This story has been updated to clarify when a second rescue team reached Mooney. The team started the trek to her site at 2:30 a.m. Monday, reaching Guide's Wall at 7 a.m.]