Yachi, a Yellow Labrador retriever, waited patiently for a sign from her owner. At his signal, she jumped to attention and began sniffing among the steel cans spread around the floor of the Kohl Center on Wednesday.
Her owner, Sgt. Mick Price of the Capitol Police Department, has been training her to sniff out chemicals linked to homemade explosives. When she recognized the smell coming from one of the cans, Yachi immediately sat down and barked to alert Price. He gave her a treat.
Yachi and Price were among nearly 40 K-9 teams that have been training over the last three days at the Kohl Center to complete their National Odor Recognition Testing. The test, developed by the federal Bureau of Alcohol, Tobacco, Firearms and Explosives and brought to Madison through a joint effort with the UW-Madison Police Department, establishes a national standard for K-9 teams used by police and other agencies.
Using similar methods, the dogs are trained to detect the odors of 10 major types of explosives disguised in identical-looking cans. The compounds can be used in an estimated 19,000 explosives recipes that are both homemade and professional grade. The dogs were taught to indicate to their owner the cans with the explosive scent and then to stop looking.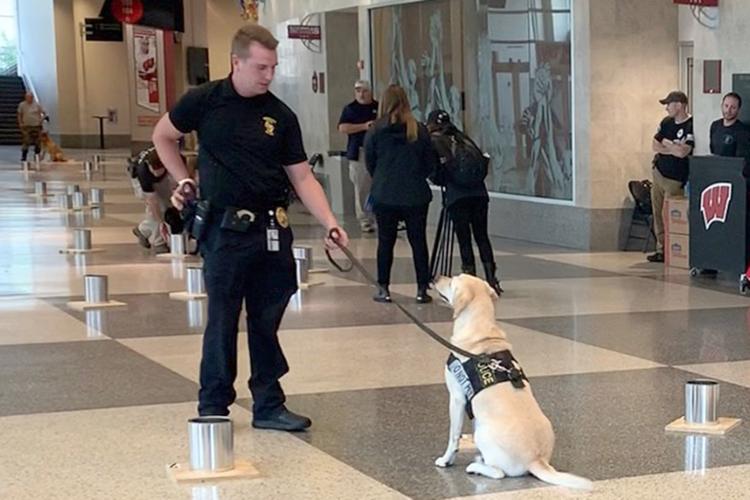 A bustling hum went throughout the arena as the teams practiced and showed their sniffing abilities. The dogs ranged from 1 to 9 years old. The breeds were mostly Labradors or German Shepherds.
The training and testing involved primarily Midwestern agencies from Illinois, Indiana, Iowa, Minnesota and Wisconsin. The bureau, which is a part of the U.S. Department of Justice, conducts 12 to 14 training sessions nationwide every year. This is the first time the event has been held in Madison.
"We look for trends that are happening in crime and we use those analyses for our training," said Cody D. Monday, lead instructor and spokesman. For 16 years, Monday and his team have been traveling across the country to provide the odor training for free. They have taught almost 4,000 dogs to detect explosives.
"They get a toy or ball or food as a reward if they can determine the cans with the explosive scent," Monday said. His main goal, he said, is to get all of the dogs proficient enough to identify the fundamental odors. While the can method is the technique that the bureau teaches, Monday said "everybody has a different method with their dog."
Once trained, the teams are assigned to local, state or federal law enforcement agencies and are regularly used to sniff out a wide range of dangerous items.