Madison is getting its first real taste of summer this week, with warm temperatures, high humidity and little sign of a breeze combining in a stew of discomfort.
Highs are expected to be in the upper 80s all week with a chance of 90 on Friday and the weekend, according to the National Weather Service.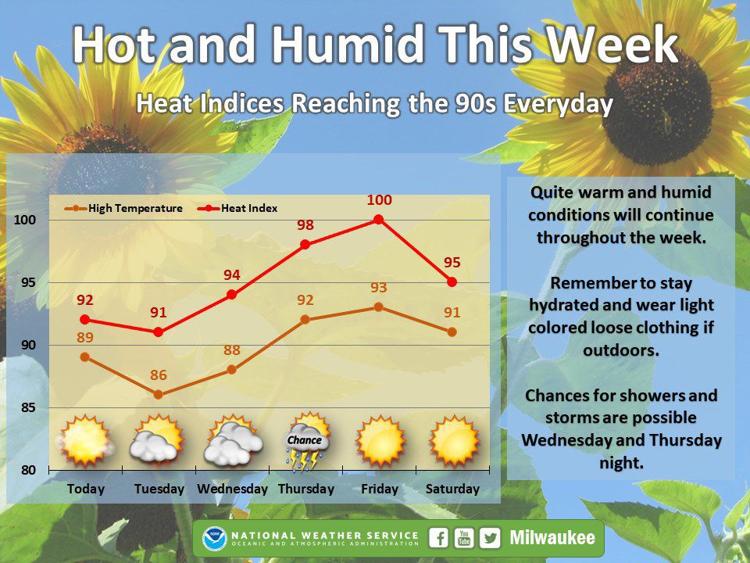 But with dewpoints hovering around 70, it's going to feel like the mid-90s. And there won't be much relief at night, with lows in the low to mid-70s.
"It is going to be muggy all week long," said Marcia Cronce, a meteorologist with the National Weather Service's Milwaukee office. "Today we'll have a breeze. You want a breeze when it's that hot."
Winds are expected to die down Tuesday.
"That's when you're going to feel really muggy," Cronce said.
There's little rain in the forecast, save for a 50 percent chance of showers and thunderstorms Wednesday night. A slight chance of storms will linger through Thursday night.
The normal high for this time of year is 82 degrees; the low is 61.
You have free articles remaining.
Register for more free articles
Stay logged in to skip the surveys
While the Weather Service doesn't issue heat advisories unless the heat index is expected to hit 100 degrees, Cronce said this week's weather has the potential to be dangerous.
"We're going to be just under that (threshold)," she said. "It is very, very close."
Extreme heat is one of the leading weather-related killers, resulting in hundreds of deaths each year, according to the Weather Service.
The NWS advises limiting outdoor activities and sun exposure, drinking lots of water, and taking breaks in air-conditioned spaces if possible.
"Check on your neighbors," Cronce said. "If a neighbor or somebody doesn't have air conditioning, it could be dangerous."
Alliant Energy issued suggestions Monday for staying comfortable without sending power bills soaring. Among the tips: pull the shades and close off unused rooms; avoid using the oven; and use kitchen and bathroom fans to vent hot and steamy air. 
Programmable thermostats, fresh air filters and air conditioner tune ups can also reduce power bills.
Temperatures reached 90 degrees on Saturday and 89 Sunday, although the heat index topped out at 91 both days. Madison's heat index has only hit 95 once this year -- on July 2.
"It is the longest stretch of heat we've had so far," Cronce said. "This is definitely summer weather."