With children ages 5 to 11 now eligible to receive the COVID-19 vaccine in Wisconsin, the Madison Catholic Diocese is letting its 102 parishes know they are not allowed to host COVID-19 vaccine clinics at Diocese schools and churches.
Diocese spokesperson Brent King said the Diocese wants to maintain its "neutrality" on whether to get one of three vaccines approved for children's or adult use, or both, in the United States. All of the vaccines have been proven safe and effective at preventing illness and death from a virus that's killed more than 750,000 Americans.
"The Diocese has not and will not wade into the polarizing and political environment surrounding this issue, especially as it could potentially pressure individuals to act against their consciences," King said in a statement.
At the same time, the diocese has "repeatedly" advised "it is morally permissible to receive the COVID-19 vaccination in good conscience," he said, "but there are also valid reasons, including reasons of conscience, why people might decide not to be vaccinated or have their children vaccinated."
King said the diocese had also forbidden its churches and schools from being vaccination sites earlier in the year for those 12 and older. Although at least three diocese sites — Edgewood High School, and Our Lady Queen of Peace and Good Shepherd parishes — hosted clinics for staff, parishioners or the public, according to Kim Sveum, a spokesperson for SSM Health, which owns St. Mary's Hospital in Madison and staffed the clinics.
Queen of Peace had hoped to hold another vaccination clinic for children, according to a Nov. 7 newsletter from the parish school's principal that was shared with the State Journal.
But "we received word on Friday that the decision had been made by the Diocese to not utilize parish and school buildings and grounds as vaccination sites," the notice states. "We are deeply disappointed by this decision."
Officials with Edgewood and the two parishes did not respond to requests for comment.
"If any parish has hosted a clinic, it is news to us," King said, although he acknowledged that "as for the other almost 200 dioceses in the United States, you'll find there is a wide variance of guidelines, practices and allowances on this issue as well as countless others."
Dane has consistently been among the most vaccinated of Wisconsin's 72 counties. As of Monday, nearly 75% of residents had received at least one dose of a vaccine, including nearly 87% of those 18 and older.
---
Your letters to the editor: Diocese needs to change with times
Diocese needs to change with times -- Maddie Raffel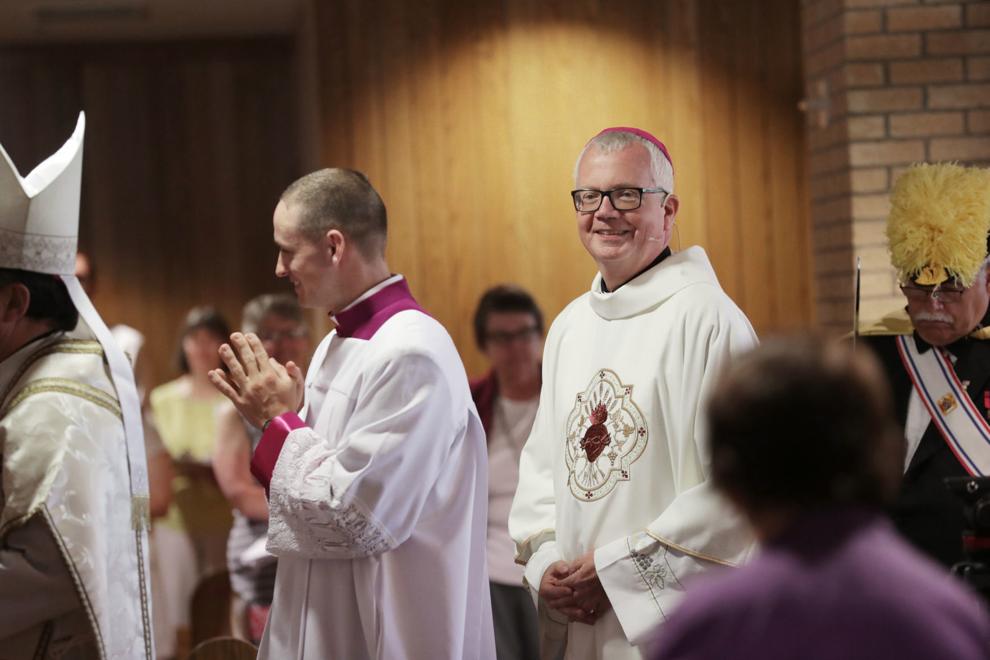 After I completed eight years of Catholic school in the Diocese of Madison, I was left feeling more disconnected from my faith than ever before.
In 2016, I was able to go on a mission trip to Oklahoma City with my church. The mission trip program ended up providing exciting masses with upbeat music and a passionate priest. A few months later, we found out that they ended the mission trip program. This was heartbreaking because it had restored some of my faith and reminded me why I was Catholic.
Catholicism, at least in Madison, is dying. I know firsthand that many kids who get confirmed do not regularly attend church anymore. If the Diocese of Madison wants to keep Catholicism alive, it has to accept change.
The mission trip should be reinstates, and its masses should get a face-lift. We need priests who are high energy. The music should be played on a variety of different instruments with a spread of upbeat voices.
Mission trips and similar programs keep young Catholics engaged. The Diocese of Madison needs a revival. Otherwise, its churches will soon be empty.
Student chant is harmless fun -- Steve Henningfield
Don't misunderstand the "vulgar chants" emanating from the raucous student sections at Wisconsin Badger football games.
The sections are only communicating their post-game eating preferences. Sections M and N want to "eat shrimp," while sections O and P respond with "fondue." So please, turn up the hearing aids and enjoy the game.
As to the punishment of the band playing "Roll out the Barrel" -- ya, OK boomers.
Enough levity, let's concentrate on the real issues of the day, which is voting a pathological liar out of office in November.
Steve Henningfield, Madison
Pollution threatens nation's economy -- Tim Melin
The economy is always used to justify decisions made by our leaders. Some of these decisions affect us all and make no sense.
Take for instance the issue of drinking water. Factory animal farming has made groundwater undrinkable in many areas of the state. Yet lawmakers refuse to do anything significant about it because of the economic implications. That's a lot of bull (pardon the pun).
Factory farm corporations donate lots of money to politicians so that these corporations can poison our drinking water with animal waste. It sounds more like war against us all than a boost for the economy.
Another example is the F-35 fighter jets coming to Madison. The Chamber of Commerce and even liberal U.S. Sen. Tammy Baldwin, D-Madison, think it's great for the local economy. Really? It's worth having bomb-delivering planes burning fuel and producing noise to keep a few jobs?
We live in scary times. Our climate is changing at unprecedented speed. We continue to add more carbon dioxide to the atmosphere to keep our economy going. The economy is killing biodiversity and will cause a collapse of all that sustains us. If we continue our path, there will be no economy.
Help make Miracle Field a reality -- Lauren Grimm
State Journal reporter Barry Adams, in his March 1 article "Diamond dream coming true," brought to life Bill Schultz' vision of a community where boys and girls are not limited by their disabilities.
Schultz' dream of playing baseball as a child went unfulfilled due to physical impairment. But his current dream of helping kids with physical disabilities find a love for the sport can be realized with the help of the Madison community. A Miracle Field, where all children can play, regardless of limitations, could be on the horizon for Bakken Park in Cottage Grove.
I witnessed the impact of Miracle League firsthand in my hometown of Lakeville, Minnesota, by volunteering as a peer buddy. I saw the immense joy this field brought to players, but also realized how much fulfillment being a peer buddy brings. This league and these fields truly create a community for players, peers, coaches and parents that is not easily replicated. They teach the lesson that you shouldn't take these things for granted.
Schultz' vision is attainable. With $180,000 raised and $240,000 to go, now is the time for support through grassroots fundraising and corporate sponsorship. I urge every member of the community to help in any way possible. Donations are accepted here: www.danecountymiracleleague.com/donations.