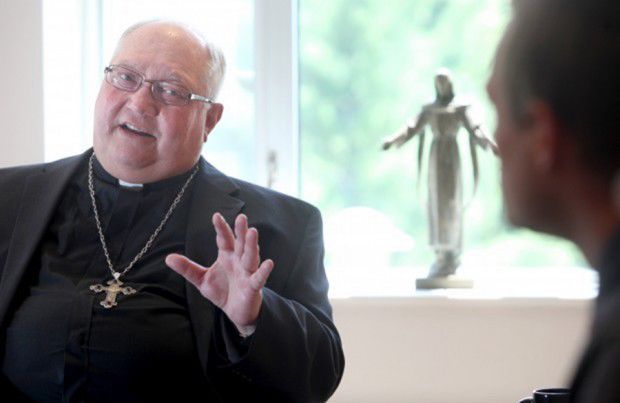 A weekly newsletter to priests in the Madison Catholic Diocese by Bishop Robert Morlino's top aide spelled out a series of "considerations" to use in deciding whether to provide funeral rites for people in same-sex unions, angering gay advocates who slammed it as offensive.
The confidential email, sent Saturday by Vicar General James Bartylla with Morlino's backing, said rites "may be denied for manifest sinners" if providing the services would cause unavoidable "public scandal of the faithful."
In Catholic doctrine, the word "scandal" can refer to something that is believed will lead others into sin or cause a confusion or weakening of others' faith. Other parts of Bartylla's message, published Sunday in a progressive Minnesota religious blog called Pray Tell, said "general considerations" priests should keep in mind if asked to perform Catholic funeral rites by the deceased's family or same-sex partner include whether "the deceased or the 'partner' was a 'promoter of the gay lifestyle.' "
The "attitude" of the deceased's family members, especially toward the Church, and whether the deceased person showed "some signs of repentance before death," also were cited as prominent considerations.
"My short answer to pastors and parochial vicars in these cases is to think through the issue thoroughly and prudently," Bartylla wrote in the email. "The pastoral task is to minimize the risk of scandal and confusion to others amidst the solicitude for the deceased and family."
Steve Starkey, executive director of LGBT OutReach, a Madison-based secular, advocacy group self-described as "South Central Wisconsin's LGBT Community Center," said Bartylla's overall message was backward and homophobic.
"The 'gay lifestyle' is we work, we go to school, we own homes, we own cars, we have children," Starkey said, expressing frustration that "other faiths have evolved on this issue" while Morlino "just refuses to budge at all."
"It's really negative when a big institution like the Catholic Church practices discrimination and then encourages other people to discriminate against a group of people," Starkey said. "If it was people of color or people with disabilities who were being singled out, it wouldn't stand."
Dignity USA, a national organization of Catholics that says it works for LGBT equality in the Church and society, issued a statement condemning what it called "Madison, Wisconsin's Bishop's ban on funerals for gay people," describing it as an "outrageous and shameful directive" that was "the very antithesis of pastoral care."
Diocese spokesman Brent King in emails to the Wisconsin State Journal on Tuesday stressed what he described as the advisory nature of the vicar general's message. He maintained some media outlets have misreported that.
"The only word used in Saturday's email was 'consideration' or 'considerations,' " King said. "There were no directives, bans, or even real guidelines … other than what is written in canon law. If there was any directive, it was, 'Think through the issue thoroughly and prudently.' "
King said the canons referenced "have to do with who is allowed and not allowed funerals in the Church," and he maintained Bartylla's "advice to priests" was offered as "ways to avoid scandal, making a funeral more possible."
The guidance also suggested priests consider whether it might minimize potential harm to people's faith if the priest provided only "a short scripture service at the funeral home" or "merely a graveside service" or "maybe a later 'Mass for the Dead' with or without explicit mention of the name of the deceased or 'partner.' " Such a Mass also could be offered "even at another parish (to avoid scandal), with or without family members present."
A few parts of Bartylla's message to priests, meanwhile, appeared to read as rules rather than considerations.
The newsletter said any surviving partner "should not have any public or prominent role" at any Church funeral rite or service. It also stated "there should be no mention" of the surviving partner's name and no reference to "the unnatural union" in "any liturgical booklet, prayer card, homily, sermon, talk by the priest, deacon, etc. ..."
The email also said it "may be wise" to keep priests involved only as minimally necessary to perform the funeral rites in any such service that does occur.
And it warned that listing the name of any priest who celebrates such a service and his parish in any public or semi-public obituary that also mentions the surviving partner carries a "great risk for scandal and confusion."
"This can't happen for obvious reasons," the email said.
Lastly, if a priest goes through the considerations and still can't decide what to do, Bartylla said, Morlino should be consulted and then "his judgment is to be followed."
In an official statement King provided Tuesday, the diocese said Bartylla's message was "not an official diocesan policy" from Morlino but noted it did "conform with the mind of the bishop and meet his approval."
"No policy could adequately cover every case," the statement said, noting for public funerals in general, "pastors are charged with addressing the particular situations of their people — whom they … know well and whom they have accompanied, even until their death."
The diocesan statement said the email was issued in the first place to answer questions raised by priests in the diocese "and was to serve as a tool to provide some framework and considerations, in this confidential setting."
The statement also hammered the public airing of Bartylla's message, calling it "lamentable" that some have "willfully and flippantly spread gossip, rumor and sadly, even calumny," without seeking any clarification from the diocese.
"Those who place at risk the ability of the bishop to communicate with his priests confidentially do a grave harm to the Church and perform, indeed, what Sacred Scripture calls 'a work of darkness,' " the diocese said.
The diocese encompasses 134 parishes and worship sites in 11 counties. It has 120 active priests and 46 retired.
Be the first to know
Get local news delivered to your inbox!