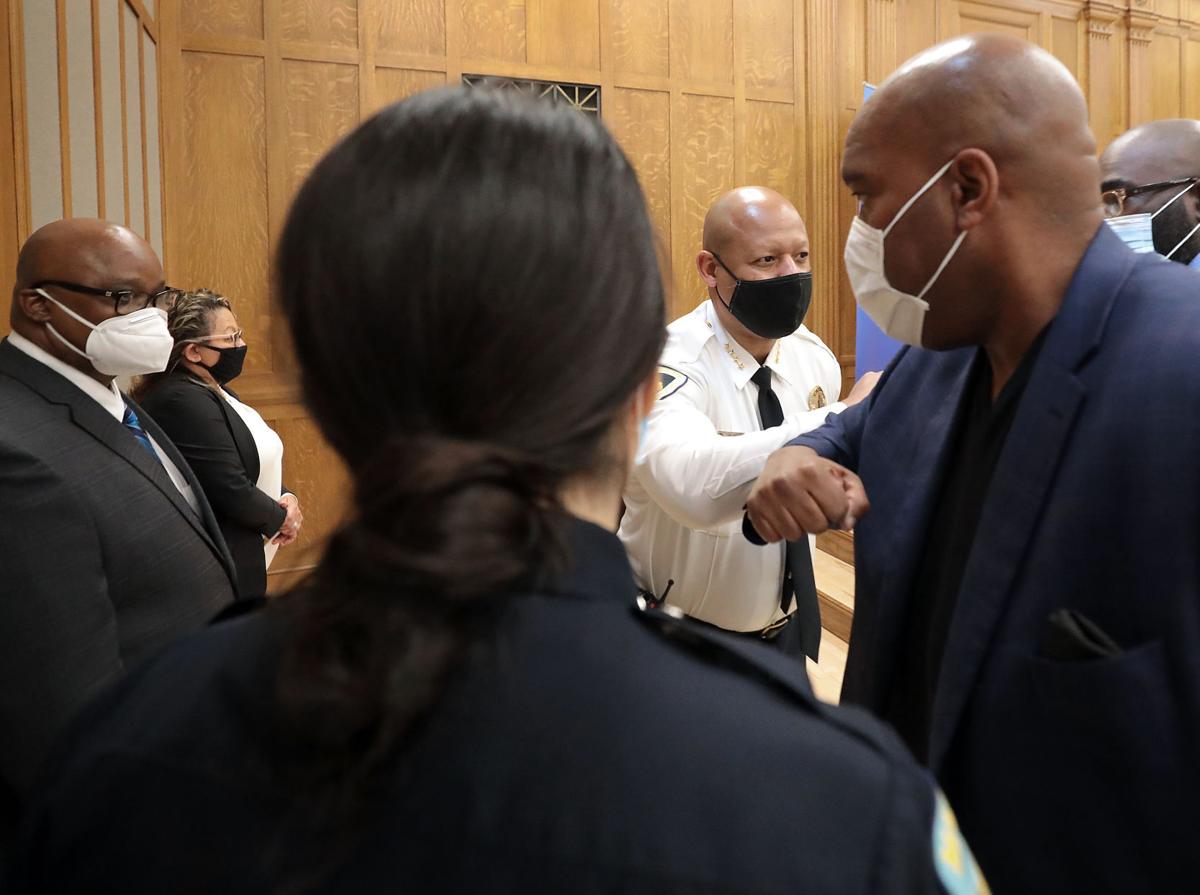 After a spring and summer of sometimes destructive protests in Madison in response to the death of George Floyd and other police-involved violence, Madison and Dane County law enforcement and community leaders sought to display a united front Monday as the case against the man charged with killing Floyd comes to a close.
Madison officials are not aware of any specific plans for protests in response to a verdict in the case against former Minneapolis police officer Derek Chauvin. But Police Chief Shon Barnes, without detailing any new tactical or staffing approaches, said "we are prepared in the event we are needed to help manage a peaceful protest here in Madison."
Prosecutors and the defense in Chauvin's trial made their final arguments Monday before the case went to the jury for deliberations.
Protests in Madison last year left windows in just about every business on State Street smashed. Protesters also torched a police car, tore down statutes at the state Capitol, beat a Democratic state senator and engaged in other destructive behavior.
Protests erupted across the country, including Madison, to condemn the police-related death of a Minneapolis man May 25. Here's a look at loca…
Some protesters and their allies in city government later criticized the police department's use of chemical irritants and sponge rounds to disperse crowds, but Barnes said such tools would be used again if necessary.
"We'll use them as a last resort," he said. "We'll use them to protect people who are being hurt or being injured. It's not something that, quite frankly, I lose a lot of sleep over because we don't plan on using that because we believe that our protesters will be peaceful."
Barnes, who took over as chief in February, said police "did a lot of things great last year" but said there is always room for improvement, pointing to more use of de-escalation tactics, making sure officers aren't overworked and staying in contact with protest and activist groups as among the things the department has sought focus on.
He also said the department has been in touch with Downtown business owners to let them know of his department's plans, but is making no recommendation on whether merchants should again install plywood over windows in case protests again turn destructive.
All of the speakers at Monday's press conference at the Madison Municipal Building emphasized the need for police reform and called for an end to police killings, especially of Black people.
Mayor Satya Rhodes-Conway said she supports what police call the "Madison method" of policing protests, which seeks to let protesters exercise their First Amendment rights and prioritizes the protection of people over property.
"But we must do more than just facilitate people exercising those rights," she said. "We must listen to the cries for justice all across this nation."
Michael Johnson, president and CEO of the Boys & Girls Club of Dane County, called for people to be accountable for their actions once the Chauvin verdict comes down.
"Whether you are a police officer, an elected official, a business leader or a protester, remember the one bad decision you make today can cause havoc on our community tomorrow," he said.
---
Unrest in Madison: Protests erupt in Madison after police shooting in Kenosha
The police shooting of a Black man, Jacob Blake, in Kenosha set off protests in both that city and Madison. Here's the latest coverage of unrest in Wisconsin.