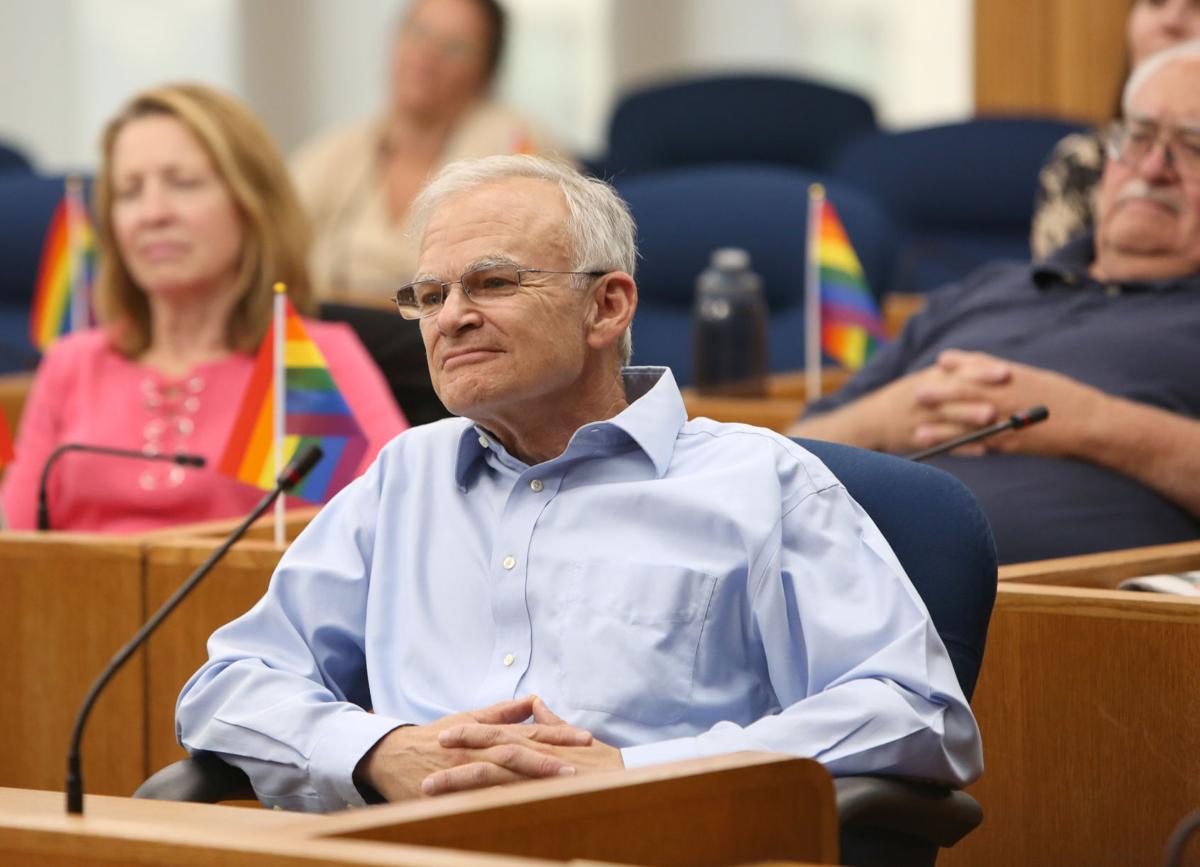 Local elected officials and friends of Dane County Board Sup. Paul Rusk on Monday remembered the 18-year board member from Madison's North Side as a dedicated public servant who cared about his constituents and thought deeply about local issues.
Rusk, who in recent years oversaw much of the planning for a controversial new county jail, was found dead in his home Sunday, officials and friends said. He was 65. No cause of death was immediately released.
"One of the things about Paul was that he was very principled and reasonable," County Board Chairwoman Analiese Eicher said, adding that he "cared deeply about people" and was "good counsel to me."
"Our community has lost a caring, compassionate leader who placed people and public service in the highest regard," County Executive Joe Parisi said in a statement.
Rusk was first elected to the County Board in 2002 and represented an area around the Dane County Airport from Maple Bluff northeast to beyond the interstate. Until May of 2018, he was also executive director of the Alzheimer's & Dementia Alliance of Wisconsin, where he had worked since November 1998.
According to a statement from the County Board, in the 12-plus years Rusk led the Public Protection and Judiciary Committee, its work included overseeing reforms to the county's 911 center and changes to the county criminal justice system aimed at addressing the system's longstanding racial disparities.
"He was a person who lived his life in political terms but always someone who anguished over all the decision-making he did," Godfrey said. "He just had this kind of generosity of spirit about him."
In later years, Rusk was a proponent of plans to build a smaller, more modern and humane jail with better mental health services to replace the current jail that includes some areas built in the 1950s that are considered a safety risk for inmates. That sometimes put him at odds with far-left activists and board members who oppose spending more money on incarceration and advocate for the mass release of inmates.
"Paul worked to find a way to close the outdated jail facility in the City-County Building, provide desperately needed programming and medical beds, and decrease the number of jail beds," the County Board said in its statement. "His focus was how to best protect public safety while providing a fair and just system."
Longtime friend Margo Redmond, who found Rusk's body Sunday evening after becoming concerned when he didn't show up for an appointment, said some of the acrimony surrounding the jail project was difficult for him.
"Paul is a very kind, sensitive man who when people yelled obscenities at him ... it didn't just roll off his back," she said. She said that of late, he seemed "preoccupied and depressed about the jail situation."
The $148 million plan to update and consolidate the jail on its current location in Downtown Madison was delayed last month after projected costs came in several million dollars over budget. An effort by some on the County Board to halt the project, however, stalled last month.
Godfrey said the jail controversy "was such a frustration for him."
Redmond said that Rusk, who was single, did not have children or relatives in the area. "He was a solitary guy who I think dedicated his whole life to community benefit," she said.
Rusk grew up in Daly City, California, and spent his adult life in Madison, according to the County Board, and had also worked for former U.S. Rep. Robert Kastenmeier and former state Sen. Calvin Potter.
He graduated from UW-Madison in 1977 with a degree in horticulture and earned a master's degree in public policy from the university in 1991. Redmond said she and Rusk shared an interest in gardening, and their appointment Sunday had been to plant tulip bulbs in her Nakoma neighborhood garden.
As a student body leader and senior class president, Rusk spoke at UW-Madison's 1977 spring commencement, saying, "We must always remember that we — the people of this nation — should and can be 'the powers that be,'" according to the County Board's statement. Decades later, Rusk commented, "I wanted to leave a message that we, as new, young graduates, had our whole lives in front of us, and we really could substantially make changes in the world."
Election 2020: A guide to winners and losers in Wisconsin's spring contests
Wisconsin voters went to the polls April 7 but waited until Monday to find out who won, thanks to uncertainty introduced by the COVID-19 pandemic. Here's a look at who won in key races.