Leon Varjian, a jester with a rubber face and keen insight into what tickles Madison's funny bone, was found dead of a suspected heart attack Tuesday at his residence in Wood-Ridge, New Jersey. He was 64.
Varjian was a longtime mathematics teacher at Midland Park High School in New Jersey, where he was once named math teacher of the year.
His performance in Madison and on campus was marked — permanently in some instances — by an uncanny ability to surprise or push a whimsy to extreme exaggeration. Whether it was the placement of 1,008 pink plastic flamingos on Bascom Hill, an amazingly realistic copy of the Statue of Liberty (head, arm and torch) on Lake Mendota, or hosting a Halloween toga party for 10,000 people, the enduring quality was a willingness to go overboard.
Varjian's cousin, Barbara Sabonjian, told the Wisconsin State Journal that Varjian did not show up for work Tuesday and was found dead by police at home. She said the family was waiting for information from the Bergen County Medical Examiner about the cause of death but suspected a heart attack. Wood-Ridge police Det. Joseph Biamonte confirmed the death Wednesday but released no details.
Varjian was prankster-in-residence in Madison and on the UW-Madison campus for several years in the late 1970s and early 1980s. He did not graduate from the university, taking one-credit classes to remain eligible for the Wisconsin Student Association, the UW student government that he and accomplices in the Pail & Shovel Party parlayed into a long, unfettered stage, street and curb presence.
In a profile in 2007, he told the Wisconsin State Journal that he came to Madison in the fall of 1977 with the goal of studying in "the graduate school of fun."
Instead, he taught it. That first semester he set up a table on the Library Mall and persuaded more than 100 students to sign a petition calling for the UW to be renamed the "University of New Jersey" so "students could go to a fancy East Coast school without moving."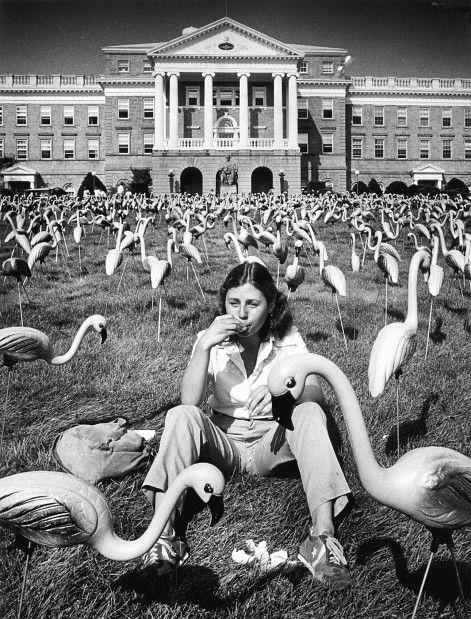 Paula Bonner, director of the Wisconsin Alumni Association, said Varjian was in Madison in July to help with organizing humor archives and to set up a fundraising effort with the legendary pink flamingo lawn ornament as a focus.
"He left an incredible history and footprint on the UW and its culture and traditions," Bonner said. "He loved the UW, and was a kind man."
In the 2007 profile, retired Dean of Students Paul Ginsberg said Varjian's leadership on campus came at a time "when people needed to smile."
Varjian made musical history by organizing a boombox parade on State Street. He and Jim Mallon, who figures prominently as a co-conspirator in many of the pranks and general nonsense under the umbrella of the Pail & Shovel Party, used hula hoops to turn the statue of Abe Lincoln into a ring toss game. Their campaigns featured mud-slinging, with real mud. They wanted to paint Downtown curbs fluorescent colors so drunken students could find their way home easier. They tapped the WSA budget for questionable funding of events and happily admitted doing so.
You have free articles remaining.
Mallon in 2007 described Varjian as being "perhaps the most brilliant mind I ever met." He said their pranks fit the mood of the campus, creating "a respite between the radical years and the conservative Reagan years."
The 1992 book "If At All Possible, Involve a Cow: The Book of College Pranks" gave Varjian and Mallon and Madison an entire chapter, noting Varjian was already humoring the masses while a student at Indiana University before arriving at UW.
Two pranks live on in campus folklore. The appearance of Lady Liberty's head and torch on the lake ice behind Memorial Union happened in the winter of 1978-79. The two student politicians had promised to bring the Statue of Liberty to Madison, and they did, only they brought a version made of chicken wire, papier mache and muslin cloth. It took three days. Postcards are still sold of that image.
The pink flamingos showed up in the fall of 1979 as a celebration of the start of the school year. In 2009, the lawn ornament was named the official bird of Madison and is the focus of the annual Fill the Hill fundraising effort by the University of Wisconsin Foundation and the Wisconsin Alumni Association.
The boombox parade, featuring a couple dozen marchers wearing what Varjian said were discarded Indiana University band uniforms, happened in June 1980. He adopted the Madison Muskies baseball team as a cheerleader, and with Mallon introduced, in falsetto, the talking mice of the "Vern and Evelyn Show."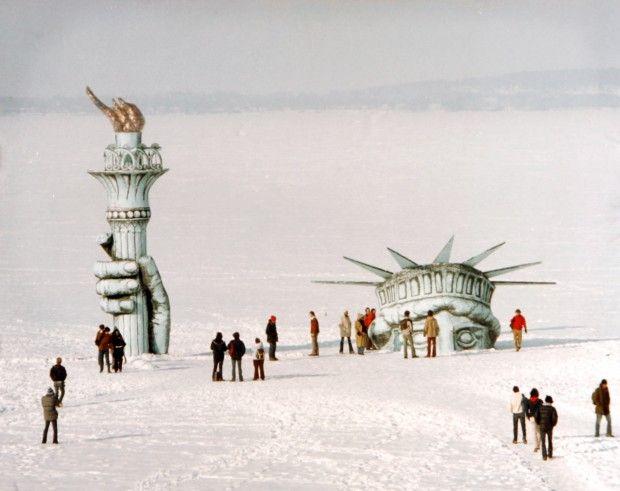 Bonner, at the alumni association, said Varjian did not graduate, but he "is totally a UW alum. He loved this place and it was in his blood." Last spring, she said, Varjian was the popular speaker at a New Jersey UW-Madison alumni event.
Humor brought Varjian to the attention of admirer Ben Strand, director of development for the UW-Madison Libraries, who is assembling humor archives.
"You can't really talk about college humor and the UW without having Leon involved," Strand wrote in an email. "He was the spirit of helping heal campus after the 1960s protests – and helped to inspire the campus environment from which (the satirical weekly) The Onion was created."
He said, "While very shy and unassuming, (Varjian) eventually opened up and his enthusiasm and joy would take over."
"He was here in July and we were able to join him on Bascom Hill to plant a pink flamingo. Of course, he was recognized by passers-by, and again, warmly embraced."
Varjian taught basic, college preparation and honors mathematics at Midland Park High School since 1988, earning praise as a teacher and adviser. The Northern Highlands Daily Voice newspaper reported Midland Park Schools Superintendent Marie Cirasella had emailed parents the news of Varjian's death, calling him "a beloved MPHS teacher and esteemed colleague."
"A 27-year district veteran, Varjian was known both as a prankster in his younger days and as a dedicated humanitarian who worked with students to raise money for various nonprofit groups, including area food pantries," the newspaper reported.