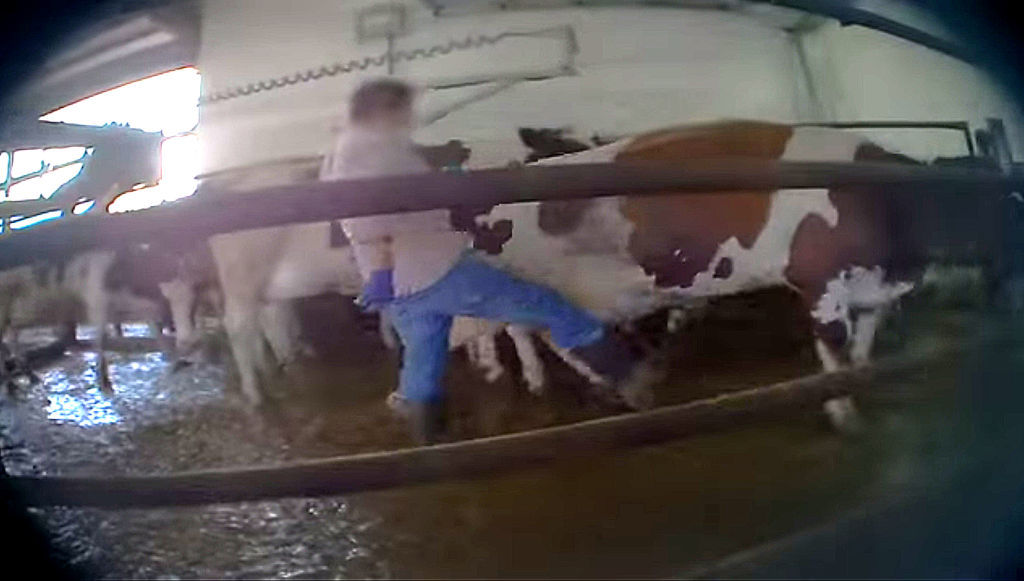 A state legislator is planning to introduce a bill that would force anyone who videotapes or photographs incidents of animal abuse on a Wisconsin farm to report it to law enforcement authorities or face a fine.
Animal rights groups are vowing to fight what they are calling an "ag-gag" that Rep. Lee Nerison, R-Westby, plans to introduce. They believe it's aimed at disrupting undercover investigations that have brought embarrassment and financial pressure from customers to dozens of farms across the country after they were exposed for abusing animals.
Nerison's bill is expected to force anyone with video or photographic evidence of animal abuse to take it almost immediately to police.
Such a quick-reporting provision "cuts short investigations and sweeps animal abuse under the rug," said Vandhana Bala, general counsel for Mercy for Animals, an advocacy organization that has used undercover investigations to document two apparent cases of animal cruelty on Wisconsin dairy farms over the past 18 months.
Undercover investigations seek to show a pattern of cruelty and who is responsible, and rapid-reporting laws undermine that opportunity, Bala said, adding that law enforcement officials are under no obligation to continue the investigation.
Opponents of such a bill also may be able to argue that it's not constitutional. "It's a blatant disregard of your right of free speech," said Robert Drechsel, a UW-Madison journalism professor and expert on media law.
Nerison said the bill he plans to propose is different from controversial "ag-gag" laws adopted in seven states because it wouldn't prohibit anyone from going undercover on farms to investigate and use cameras to show examples of animal cruelty.
"It's a focus on reporting abuse, not just recording abuse," said Nerison, chairman of the Assembly Agriculture Committee. He said he has no timetable on when he'll introduce the bill.
But Bala said regardless of the mechanism, the intent of "ag-gag" bills is the same: to limit investigations. A law with a quick-reporting approach was enacted by Missouri in 2012, but similar proposals were rejected in several other states, including California.
Nerison said he's going to introduce the bill at the behest of farmers and others who told him their reputations have been put on the line by undercover investigators with poor knowledge of farm operations.
"It's constituents who are worried about people coming on (their property) and shooting a video or putting it on YouTube when they weren't doing anything wrong. That could affect the character of the person farming," Nerison said.
"Just about every farmer I know will gladly let anybody come on (their farm) and they'll show them their operation because they are proud of the operation and what they do," Nerison added. "If you're doing it according to the best practices and know how you have to do it and then somebody takes a video and says it's abuse and puts it out there, it affects the farmer's reputation."
But Bala said an "ag-gag" bill in Wisconsin could further endanger animals in a state where law enforcement officials already have taken no legal action against obvious examples of animal abuse.
Mercy for Animals last year conducted an undercover investigation at Andrus Dairy Farm in Shawano County. Video published in November shows workers kicking and punching cows and using garden shears to cut off cows' tails.
Mercy For Animals reported the incidents to the Shawano County Sheriff's Department, which conducted an investigation. But the district attorney's office declined to file criminal charges, saying the actions shown in the video do not constitute criminal abuse.
"Law enforcement's response to this investigation was unconscionable and utterly irresponsible," Bala said.
The abuse investigations can have financial repercussions for farms.
The Andrus Dairy Farm video led Great Lakes Cheese in Ohio to announce that it was halting purchases of cheese made from Andrus milk. Another Mercy For Animals investigation in 2013 led Foremost Farms to stop purchasing milk from Wiese Brothers Farm after video showed animal abuse at that operation in Brown County.
You have free articles remaining.
Nerison told Assembly Speaker Robin Vos last month in a "term paper" that the bill proposal was going through final revisions. But he said last week that he's still crafting language for the proposal and would welcome input from representatives of animal rights groups.
What Nerison said he doesn't want is a carbon copy of laws passed in Iowa and other states that ban investigators from lying on job applications to gain access to a farm or shooting video or taking photos without consent.
Some states shy away
Last month, a Washington legislator introduced a bill similar to Utah's law that criminalizes undercover taping on a farm.
"I don't think that's the proper way to handle it here in Wisconsin," Nerison said. "I don't like taking a bill from another state and just taking that language and putting it in Wisconsin. I'd rather have it fit for the state."
Taking a different tack, Missouri in 2012 enacted a law requiring farm employees who videotape suspected animal abuse to report it to authorities within 24 hours.
But other states have rejected such proposals. In Tennessee, Gov. Bill Haslam vetoed a bill with a 48-hour reporting provision in 2013 after the state's attorney general opined that the bill was constitutionally suspect under the First Amendment and also could violate the Fifth Amendment right against self-incrimination.
Haslam also said he feared that the law repealed parts of a state law shielding journalists.
Drechsel echoed the First Amendment concerns.
"First, it's intended to discourage you from gathering the information, and secondly, the government has absolutely no authority to require citizens or anybody engaged in perfectly legal activities to report to authorities that they are engaged in it. That's nutty," Drechsel said.
"I can't find the words to express just how dumbfounded I am by this."
Questions of legality
Constitutional questions were a big reason why 17 states have defeated "ag-gag" proposals, Bala said. Despite those concerns, she said, Utah, Missouri, Iowa and Idaho — states with Republican-led legislatures like Wisconsin's — have passed such bills since 2012. Iowa, Idaho and Utah also have Republican governors.
"It's also important to note that, typically, these bills have been introduced after an undercover investigation was produced," Bala said. "So Wisconsin is a case in point in every aspect here."
Bala welcomed Nerison's invitation to offer input for the bill. So did Melissa Tedrowe, the state director of the Humane Society of the United States, who believes food safety, environmental protection and worker's rights groups will join animal rights groups to oppose the bill.
"We want Wisconsin to be on the cutting edge of open and transparent, humane and sustainable agriculture. A bill like this is not a step in the right direction," Tedrowe said.
Bill McCoshen, a lobbyist for the powerful Dairy Business Association, said the trade group is interested in and is following the issue but declined further comment.
Other groups such as the Farmers Union said they are waiting to see the final language of a proposal.
"We have a lot of respect for Assemblyman Nerison," said Tom Quinn, the executive director of the Farmers Union.