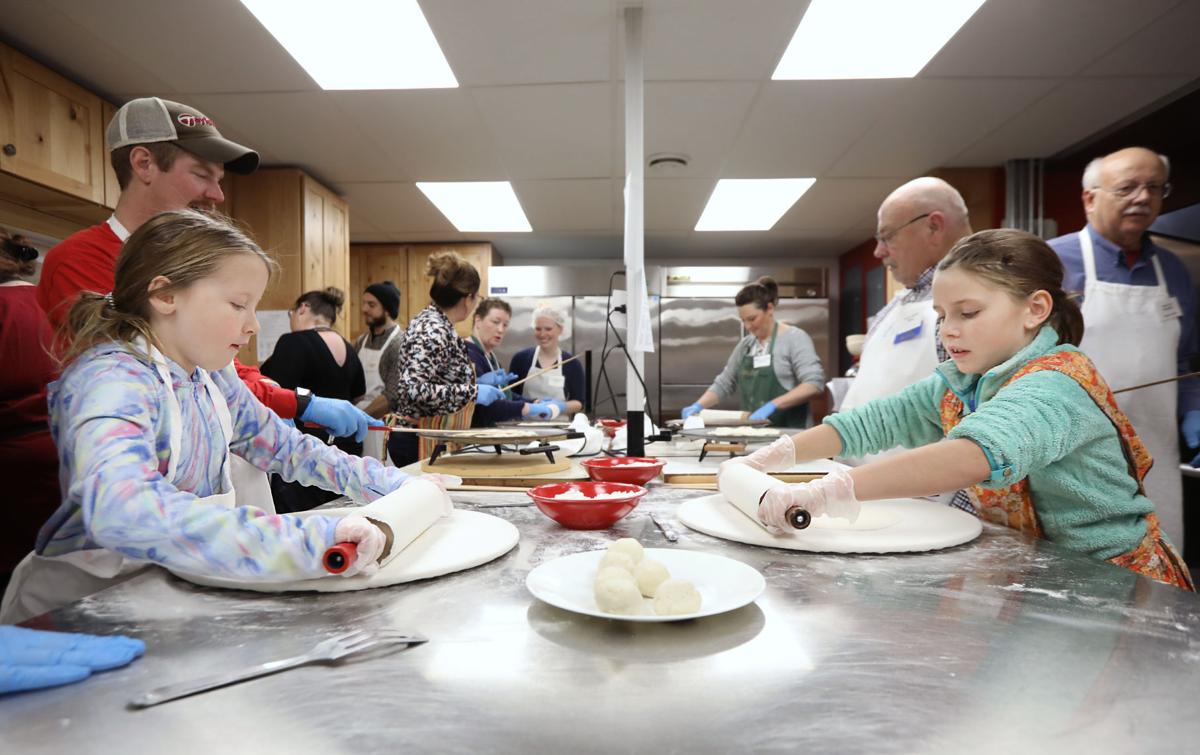 STOUGHTON — Lefse can be topped with just butter or eaten plain.
Some add cinnamon and sugar or maybe jam, while others prefer varme polse, a hot dog wrapped in the thin potato- and flour-based-flatbread. A Norwegian burrito can include dried cod, known as lutefisk, potatoes, cranberries and rutabagas.
But Saturday wasn't about eating in this Norwegian enclave in southeastern Dane County.
Instead, it was about forming, rolling, frying, folding and learning. The two lefse-making classes at the Sons of Norway Mandt Lodge, which drew about 80 people from throughout southern Wisconsin, was also about preserving tradition, improving on old techniques and camaraderie.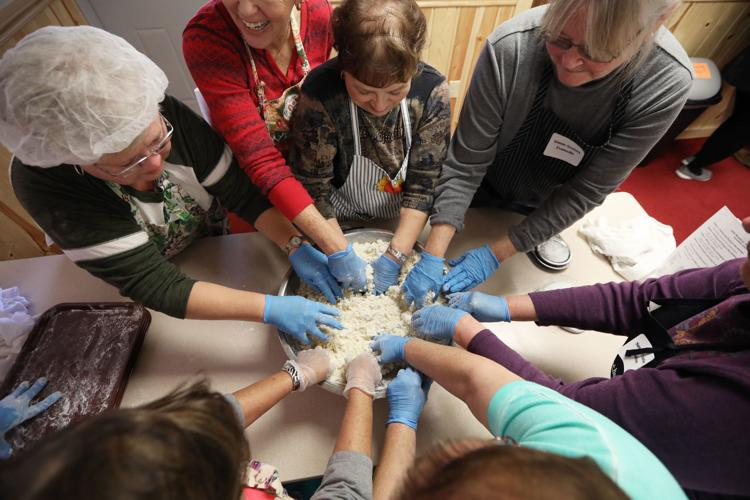 The classes, each two-hours long, sold out more than two weeks ago and a third probably could have been added.
"It went viral on us but there's a definite need," said Darlene Arneson, president of the lodge. "If we're all afraid to share our recipes or afraid to share our techniques, that's not right and that's how you lose traditions. It's fun for us to share our background and culture."
Lefse-making classes at the lodge have been held off and on over the past 10 years, and another will likely be held in the spring, according to Arneson.
Students, who paid $20 each on Saturday, came from as far away as Onaslaska near La Crosse and Chaseburg in Vernon County, but also from Middleton, Milton, Janesville, McFarland and Watertown. Another 16 people from the lodge volunteered to make seven batches of dough on Friday and then spent Saturday teaching. Each class, one in the morning and another in the afternoon, was broken into five groups of seven or eight students, who went from station to station learning each step in the process. By the end of the day about 800 pieces of lefse were produced and scores of people left with tips, new recipes and enthusiasm to continue the tradition.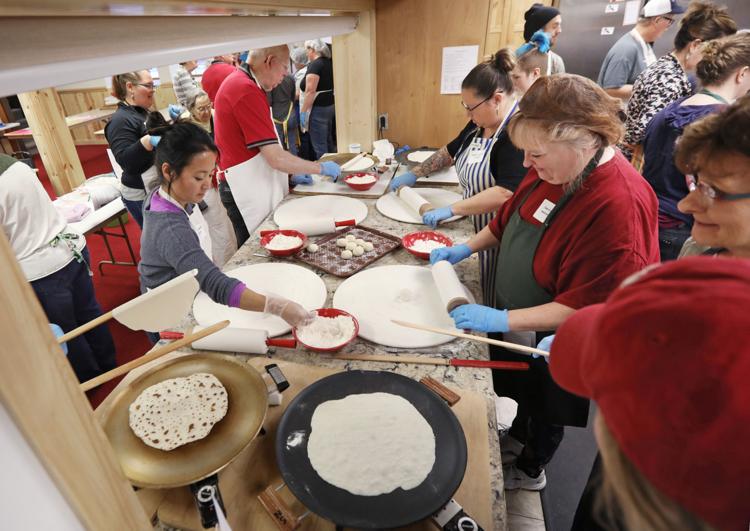 Jennifer Cornelius, 40, grew up near Hollandale in rural Iowa County and as a child made lefse with her mother. Cornelius now lives in McFarland after more than 20 years living around the country and abroad due to her and her husband's military careers. She came to Stoughton on Saturday with her mother, Vicki McCauley, 65, of Middleton, and niece, Mallory Allen, 10, of Dodgeville.
"I've grown up with (mom) always making it but I have no confidence making it without her," said Cornelius, who was given the class as a birthday gift. "Coming here is just amazing to get the history of making it other than just from my family. There's no one way to do it and, like anything else, whether it's tamales or if its schnitzels or whatever, they all have their own story."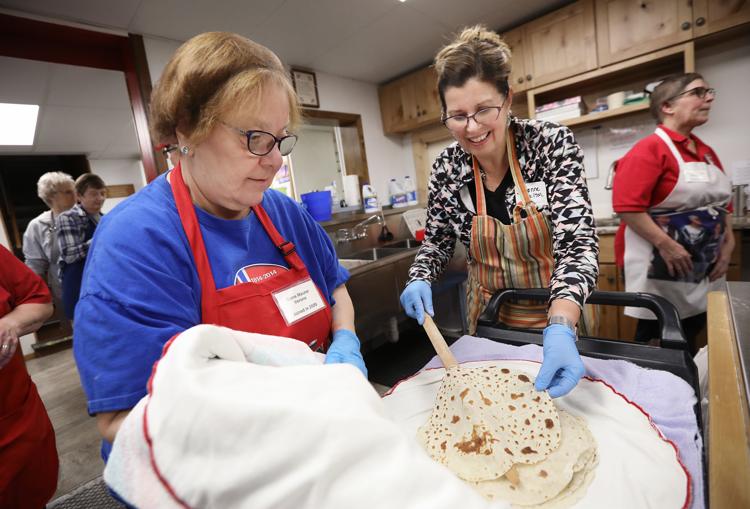 Cornelius, her mother and niece started their class in the basement of the lodge by pulling out chunks of dough from a bowl and forming 1.5-ounce balls. A digital scale helped the effort.
You have free articles remaining.
"Yes," Mallory said, as she formed a ball that hit the mark on weight. "I just love lefse."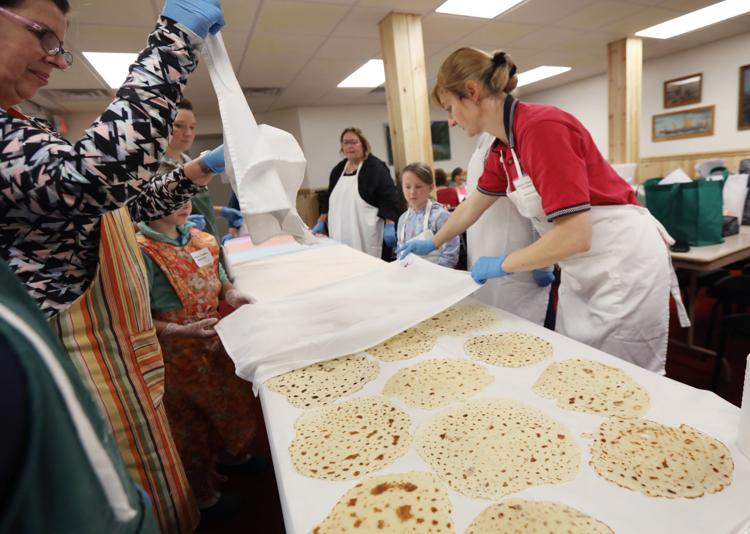 The recipe for lefse is pretty straightforward but can vary from household to household. Most call for potatoes, flour, lard, margarine, salt, sugar and water. The traditional way uses boiled potatoes that are then mashed or riced, but for large batches, instant potatoes are commonly used.
"This product works really for us," said Joyce Foss, who joined the lodge in 1996, when she had no clue how to make lefse.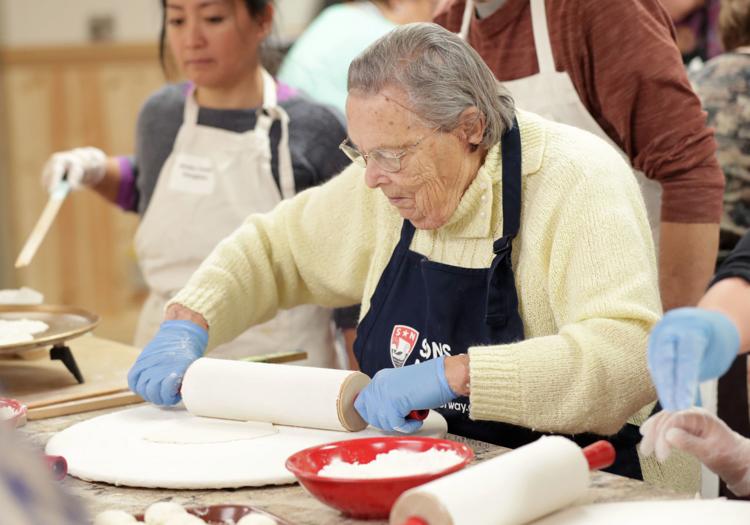 Norwegians began arriving in the Midwest in the 1840s, with large populations settling in Minnesota and Wisconsin. The Sons of Norway formed in 1895 in Minneapolis and today there are chapters throughout the U.S. and Canada. Wisconsin is home to 26 chapters, including those in Madison, Mount Horeb, Wisconsin Dells, Monroe and Janesville. The Stoughton chapter was founded in 1926 and is now located at 317 S. Page St., in a former Norwegian Methodist Church purchased by the lodge in 1970. The lodge is now next door to the Livsreise Norwegian Heritage Center and across the street from the Stoughton Historical Society.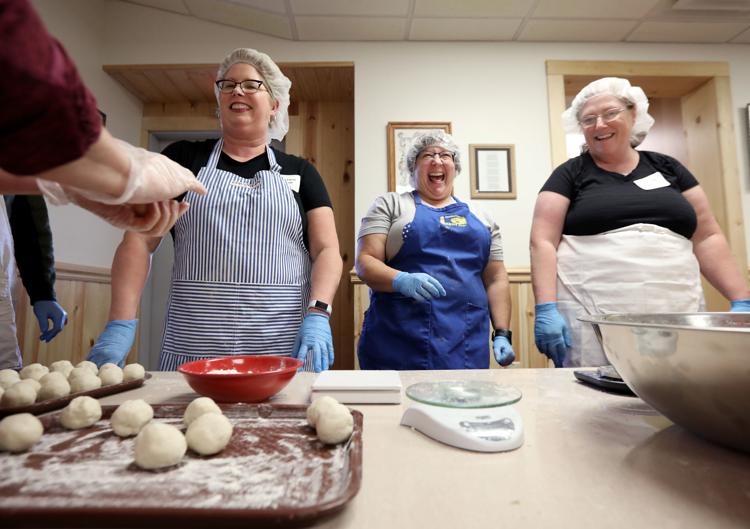 The organization hosts concerts, dinners, speakers and other cultural events that can include bake sales and breakfasts. The Edvard Grieg Chorus, a Norwegian men's group from Madison, will perform at the lodge on Dec. 12, Acanthus wood carving is being taught on Tuesday nights and next spring a rosemaling class for beginners will be offered.
In 2002, the lodge had 160 members but is now at 238 after adding 28 new members in 2017 and 38 in 2018. Many of those are younger in age.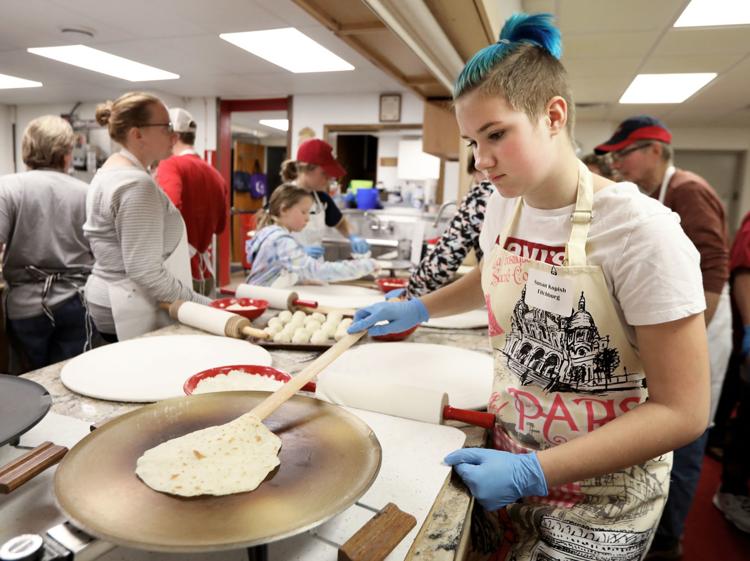 Jens Arneson, 28, heads up sports and recreation events at the lodge but on Saturday he was guiding Emma Brown, 8, of Stoughton, in how to roll out the 1.5-ounce balls of dough into 6-inch to 8-inch circles and then transfer a raw lefse flat round onto a heated griddle using a lefse stick.
"It's a nice easy tradition that you can do," said Arneson, the son of Darlene Arneson. "There's some complex dishes that get passed on from generation to generation but lefse's not really one of them. It's kind of a Norwegian staple. It's a quick easy thing to learn to do."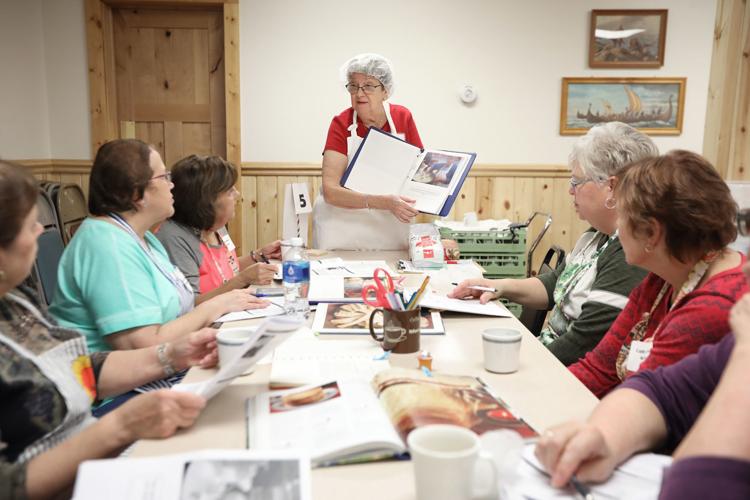 Emma, who had never made lefse before, had taken a Norwegian cookie-making class a year ago and her mother, Chris Brown, wanted to expose her daughter to another aspect of Norwegian cooking. After carefully using a flat stick to flip the lefse on the griddle so it could cook on the other side, Emma transferred the cooked lefse to a stack at the end of the kitchen counter. Minutes later the stack was moved to a cooling table in the dining room of the lodge, where towels were used to keep the lefse moist before it was folded and bagged.
Neither Emma or her mother have Norwegian lineage but don't have any German cooking traditions.
"We just like to do stuff together, baking and cooking and stuff, and I thought she would enjoy it," Chris Brown said. "We've lived in Stoughton for 13 years so we wanted to get involved with this."
[Editor's note: This story has been updated to correct the spelling of lutefisk.]
Barry Adams covers regional news for the Wisconsin State Journal. Send him ideas for On Wisconsin at 608-252-6148 or by email at badams@madison.com.