In late February, Myra Hoye learned her lease would not be renewed, giving her 60 days to vacate her apartment.
Soon, Nelson Turner got the same news. So did Angela Lesure, and LaDonna Hunt, and Ruby Timberlake, and many others.
All were living in a neighborhood on Madison's Southwest Side where a group of new investors purchased several million dollars worth of rental housing, including the 90-unit Orchard Village Apartments, 5806 Raymond Road.
The new owners took to upgrading the units while also raising the rents and tightening the leasing standards. They told neighbors they intend to turn around a troubled area, and they are doing just that, many say approvingly.
Yet the improvements have come with a cost. Many leases have been terminated, thrusting some people, including children, into homelessness.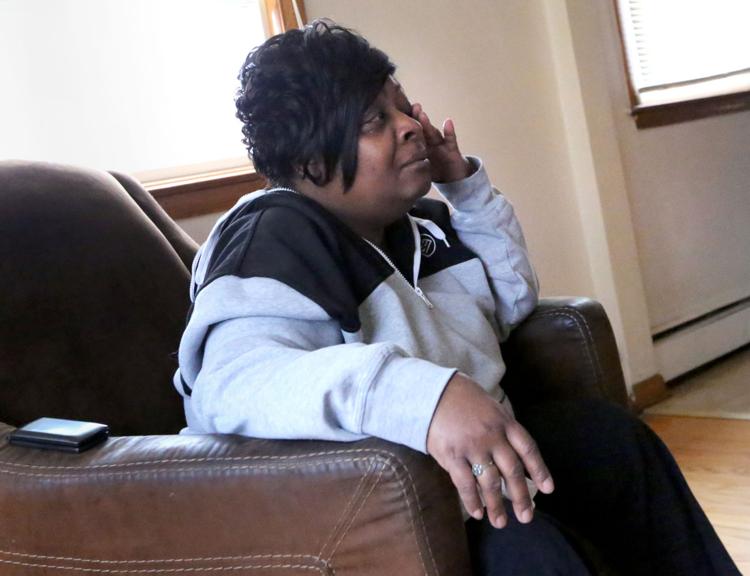 Social workers and housing advocates say they are seeing the same scenario play out across the city. It's another ramification of the city's tight rental market and new state laws that give housing providers greater discretion in screening tenants. With vacancy rates so low, landlords can charge more and be picky in choosing tenants.
"A lot of companies come in, buy a lot of properties, tighten up the screening standards, and not renew most or all of the people there," said Mike Bruce of Joining Forces for Families, a Dane County program that places social workers in neighborhoods with the greatest needs. "They put on a new coat of paint, do maybe a little bit of landscaping, and charge $100 or $200 a month more in rent."
This can be a brutal scenario for people with any sort of barriers to housing, such as low incomes, criminal convictions, poor credit scores or prior evictions, said Bruce, whose office is across from Orchard Village Apartments in the Meadowood Neighborhood.
Housing providers secured more discretion in screening applicants, and they can boot tenants easier.
"There's just nowhere for them to go," Bruce said. "So what we see is people doubling up, sleeping on couches, doing whatever they can to find a place, while a totally overburdened shelter system is trying to figure out what to do."
Josh Gierach, the lead investor in Orchard Village Apartments, said he is not unsympathetic to what is happening. He has successfully cleaned up other troubled properties, he said, and sometimes that has meant causing hardship in the lives of the people forced out.
But he said his first responsibility is to provide safe, well-maintained properties for the tenants who are following the rules and for the residents of the broader neighborhood.
"I have wrestled with the homeless situation. I'm well aware of it," he said. "When we go into neighborhoods, there is a massive amount of displacement that takes place. I don't know how to solve the crime problem without that happening."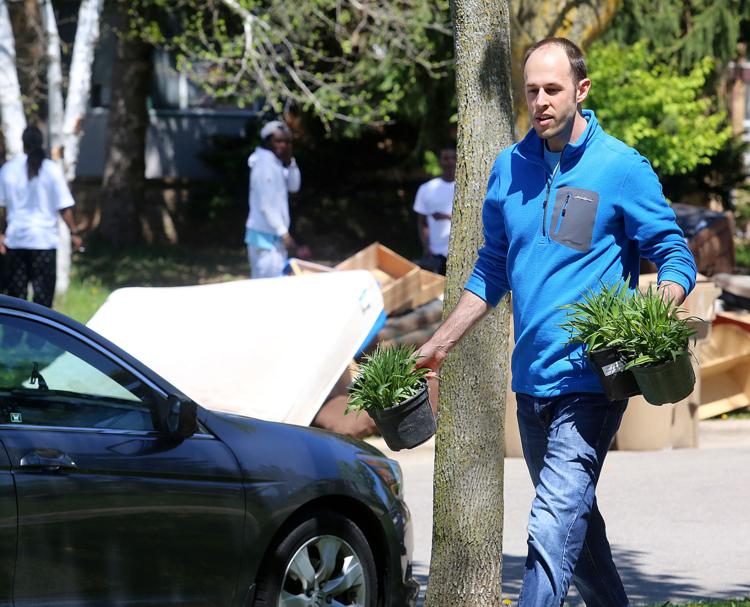 'Shocking things'
Gierach, 35, owns j.k.ROCK Property Management. He took over the apartments in September and inherited "some pretty shocking things," he said.
Crime was widespread, from open-air drug and gun sales to youth vandalizing the property, he said. Of the 90 units, 11 were vacant and "in terrible shape," Gierach said. Tenants in about 40 units were either behind on rent or consistently not paying on time, owing $38,000 cumulatively in late rent, he said.
"You can't run a business like that, and you certainly can't make the improvements like we're doing when you give away free rent," Gierach said.
Upgrades include new light fixtures, landscaping and flooring. Rents have increased an average of $100 a month, topping out at $979 for a two-bedroom unit.
Because of the problems he encountered after taking over, Gierach said he decided to require all current tenants to reapply as their leases come due. Generally, the new standards require good landlord references and gross household income of more than $2,000 a month, Gierach said. Any "delinquent housing accounts or rental judgments" result in an automatic denial. Criminal records from the past 10 years are checked for any convictions related to tenancy or any convictions in areas that would endanger residents or property, he said.
So far, the new owners have issued 19 non-renewals, and there will be more, Gierach said. Tenants in 26 units have been offered renewals, and about half are staying on. Some of those leaving told the State Journal they cannot afford the higher rents.
All of this turnover is hitting the nearby Orchard Ridge Elementary School particularly hard. On April 29, for instance, which was move-out day for some tenants, children from four families became homeless, said Pazee Yang, the school's social worker.
Bruce, the county social worker, said it's agonizing in these situations to see the suffering of children, whom he considers the innocent collateral damage.
"Yet there's a tendency for all of us to oversimplify," he said. "This is not a case of 'evil landlord and angelic tenants' or 'perfect landlord and horrible tenants.' It's messier than that."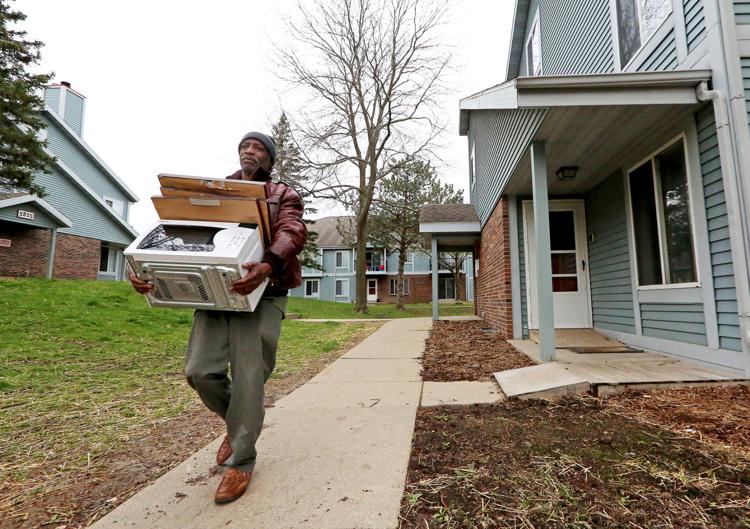 'Homeless forever?'
Riconda Buchanan and Rosevelt Pollard had lived at Orchard Village Apartments with their three children for one year and acknowledge they'd fallen about two months behind on rent after both of them lost their jobs around the same time. Buchanan, 30, said she got a new job within a few weeks and immediately began paying back the late rent.
The couple's lease was not renewed, and they have been homeless since December, living in their vehicle or at motels, they said. Buchanan is irate that Gierach kept the couple's $900 security deposit and assessed them an additional $2,000 for alleged damage to the unit. On top of that, she said the leasing office is badmouthing her to other landlords.
"I guess I'm just going to be homeless forever," she said.
Gierach is unapologetic about the couple. They are "super nice" people but "terrible" tenants, he said.
The city's rental market is extremely tight, and there's a dearth of low-income housing.
They were $1,584 behind in rent when he took over and owed $1,700 when they left, he said. Among other issues, a group of children that gathered at the couple's apartment on weekends was unruly and had broken neighborhood windows, he said.
"They should not be given a place to live anywhere in the United States," Gierach said of the couple. "They are going to bring down any other neighborhood they move into."
Buchanan disputes both the amount of rent she still owed — she says it was around $500 — and the allegation that a child of hers was involved in breaking windows. As for Gierach's comments about her, she said he'll get his due on Judgment Day. "I'm going to let God deal with him," she said.
Gierach was equally remorseless when asked about some of the other former tenants — until Myra Hoye's name came up.
"That's a heartbreaking situation," he said. "She's like the freakin' model tenant."
Hoye, 62, lived at the complex for three years. She said she never missed a rent payment and was not given a clear reason for her lease termination.
"They told me they were taking back the neighborhood and that I don't meet their criteria," said Hoye, who is disabled and receives a federal Section 8 housing voucher to help pay her rent. "I think what they mean is they're just trying to get upper-income people in here."
On the day she had to move out, Hoye was in a hospital due to kidney failure. Her sons moved her possessions into storage. She considers herself homeless now, unable yet to find housing and temporarily doubled-up with a relative.
Gierach said his issue with Hoye was that when her grandchildren visited, they "would terrorize the building and yell and scream." They threw rocks, hit things with sticks, and bent light poles, he said.
"We talked to her about them," he said. "She tried to rein them in." It did not work, he said.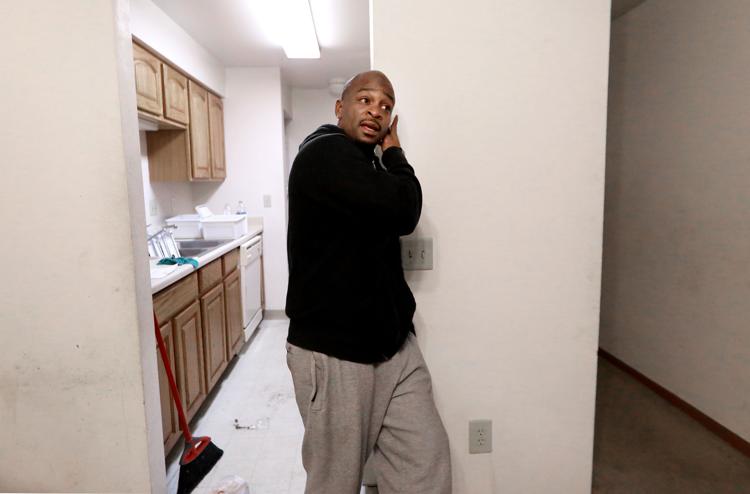 Aggressive approach
If there's a common complaint about Gierach, it is that he is hurting people indiscriminately. In responding to such criticism, Gierach brings up his prior experience managing Tucson Trails, an apartment complex also on Madison's Southwest Side.
In cleaning up that property, he took a slower approach over several years, he said. But that caused tension between the new tenants and the problem ones who remained, he said. He's taking a more aggressive approach this time.
"The problem was so extreme here that there was no other way than to just rip the Band-Aid off," he said. "That's my assessment. I know that's maybe not fair to everyone."
He has tried to minimize the hardship by letting people know about the new standards months in advance of their leases coming due and being flexible on move-out dates, he said.
Angela Lesure, 56, and her husband Allen were among the latest tenants let go. After three years at Orchard Village Apartments, they became homeless on May 31. It is an ironic development for Lesure, who works part-time as an assistant at a Madison homeless shelter. She also facilitates a support group for homeless women.
She said she can't help noticing that almost all of the tenants not renewed have been black, while the new residents moving in, at least in her building, have been white.
"I believe it is a racial thing to a certain extent," said Lesure, who is black.
The allegation is unwarranted, Gierach said.
"Applicants of all ethnicity have been denied, non-renewed, renewed and signed based on the same consistent screening criteria," he said.
Despite working more than 50 hours a week, Cheryl Marten cannot find affordable housing.
Gierach said Lesure and her husband lost their lease because they had been late multiple times on rent and because their dog constantly barked. Lesure vehemently disputed the rent characterization, saying there was only one occasion when the federal Section 8 rental subsidy she receives was delayed, through no fault of her own.
Gierach's approach has made him enemies, but also many friends.
"Thank God for Josh," said Jerry Johnson, a retiree who owns a condo nearby and said the apartment complex had been in a downward spiral before Gierach took over.
"I'm liking the changes," said Benita Burruss, 50, who just re-upped for a third year at Orchard Village Apartments. "Things had become really chaotic and a lot of stuff was going on. I had a break-in, and there were shootings."
There's still work to be done on the crime front. While Gierach was being interviewed at the leasing office by the State Journal on May 4, shots rang out nearby, sending him running to investigate. Police said there had been a fight between four men and a woman on the 5800 block of Russett Road that ended in gunfire, though no one was hit.
Adam Kneubuhler, the neighborhood police officer, said the area generates significant police calls but has made strides in the last two years, which he attributed to hard work by many, including the Meadowood Neighborhood Association and the Meadowood Neighborhood Center.
Kneubuhler said he could not comment on Gierach's screening practices, but he said he has "noticed a drastic reduction in criminal activity at Orchard Village Apartments since (the new owners) took over."
This echoes what people say about Gierach in the Westhaven Trails Neighborhood, home to the Tucson Trails apartment complex.
"Over time, he was able to work with the police department to eliminate bad behavior from that area," said Enzo Ciarletta, the immediate past-president of the homeowners association. "He was a great asset."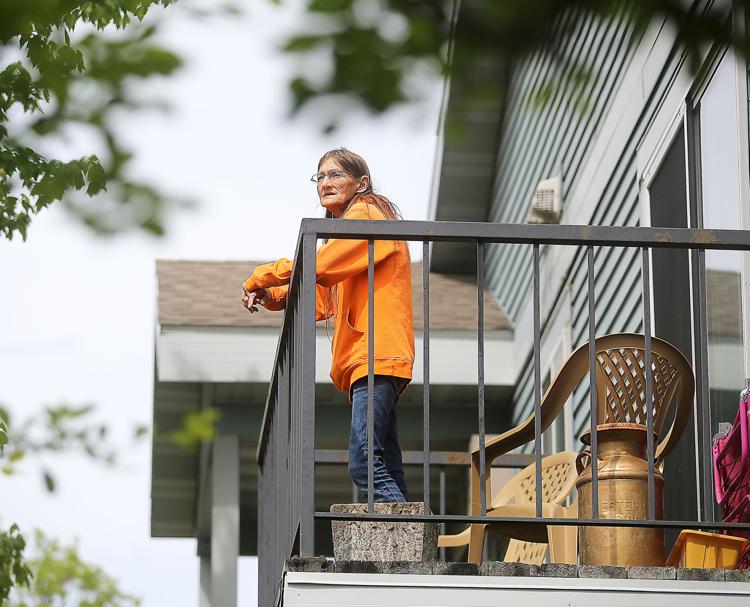 'My responsibility'
Gierach has concluded that he can fix only so many problems.
"I can't help these people deal with alcohol abuse or drug abuse or their relationship issues or health issues or any of these other issues," he said.
There are other resources for each of those specific needs, he said.
"My responsibility, as I see it, is to protect and guard the neighborhood. People need to live somewhere safe, and they need to know that they don't have to worry about whether or not maintenance items will be taken care of."
The Road Home Dane County is among the nonprofit organizations working to provide community resources to the homeless and near-homeless.
"I completely agree that landlords should not have to be everybody's social worker," said Executive Director Kristin Rucinski.
Yet she wondered if Gierach had considered partnering with The Road Home or one of several other organizations that offer free case management services. These programs provide employees who walk alongside of higher-risk tenants, helping them problem-solve so that they can stay in their housing.
It's an approach that both landlords and tenant advocates say can work really well. Even if Gierach were to set aside just one unit at Orchard Village Apartments for this approach, it would help, she said.
Gierach said he wants to be part of the solution but that he participated in a similar program many years ago at Tucson Trails. The results were "hit or miss," he said, and he's not eager to try again.