Hattie Paulin was not one of those little girls who grew up dreaming of her wedding day.
But that's what she gets paid to do for others as the Wisconsin Union's wedding director — coordinating catering, arranging tastings, setting up seating charts and so much more. It is a career she never set out to do, but after overseeing her first wedding in 2013, she was hooked.
"It was so fun and so fulfilling to plan and execute people's love stories," she said.
Paulin, 34, will oversee at least 77 weddings in 2019, though the number could rise with some last-minute additions. She's planned 314 weddings in the six years she's worked for Wisconsin Union, according to a spreadsheet she keeps.
She considers herself a big romantic.
"I love hearing about or watching a love story," she said. "Whether I am curled up on my couch sobbing watching 'The Notebook' for the 20th time or tearing up at every father-of-the-bride speech, I love it all."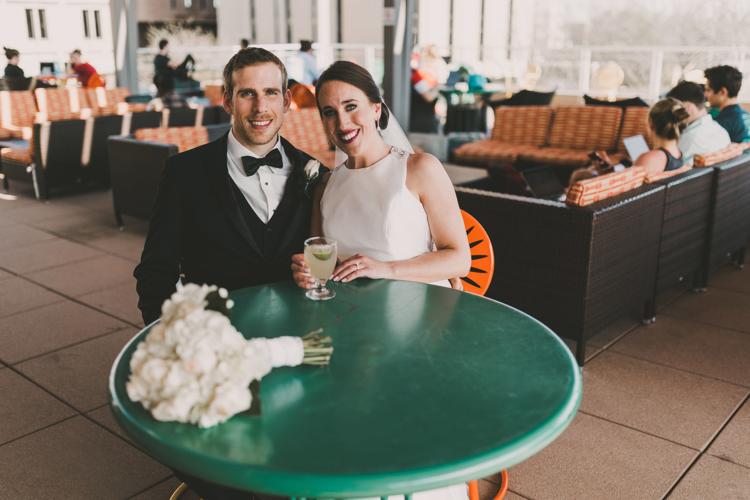 Tell me about your background and how that led you here.
I'm a Madison native. My great-grandma Hattie and grandpa John Bach had one of the earliest grocery stores in Madison, Bach's Grocery. It was located on Monroe Street. My grandpa John later opened a bar and restaurant called Alt n' Bach's where I worked growing up, and that fostered my love for the hospitality industry. I graduated from Madison Memorial and went to Madison Area Technical College where I got a degree in meeting and event management. The courses weren't like wedding planning. That wasn't on my mind. Growing up in a restaurant, I knew I didn't want to go into that. I did an internship over one summer at the Door County Visitor's Bureau. I thought I would go into private event planning or corporate events or catering. I knew hospitality was my calling.
Where did you go after graduation?
Biaggi's, an Italian restaurant in Middleton, hired me out of school to be their catering and event manager. I learned so much in the time I was there, probably a little over a year. Then I saw the Wisconsin Union was hiring for a catering manager and event coordinator at Union South. This was about six years ago. The job was going to be about 10 weddings a year and more of a catering role for me. And I remember thinking, "I think I can handle 10 weddings." Over time, the Union recognized the need for a full-time wedding director to oversee things. Ten years ago, there wasn't Pinterest or social media. They have made weddings to be much more of a production than in the past. So the position was created around 2017 and I got it.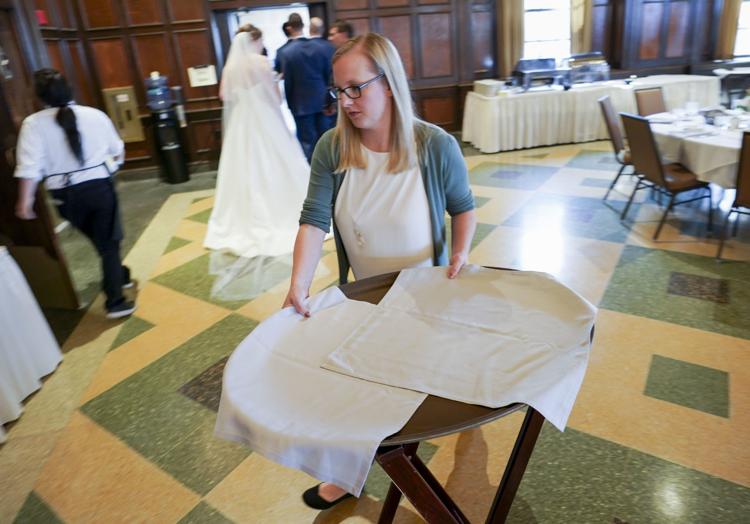 What was your own wedding like?
Very low-key. I got married before I got into wedding planning, which is good because there was a lot less pressure. I had a simple wedding in one of the city's parks. It was a very short, probably five-minute ceremony with a judge. It was a fun reception afterward. There was a taco bar.
How does the wedding lottery work?
We held the first wedding lottery 12 years ago. On the first working day of every month, we hold a lottery for weddings 18 months later. So the April 1st lottery was held for couples getting married in October 2020. Tickets are pulled and the order in which they're called determines the order that brides pick their wedding dates. The lottery prevents concerns that could arise with a first-come, first-served line, such as line-cutting.
You have free articles remaining.
Register for more free articles
Stay logged in to skip the surveys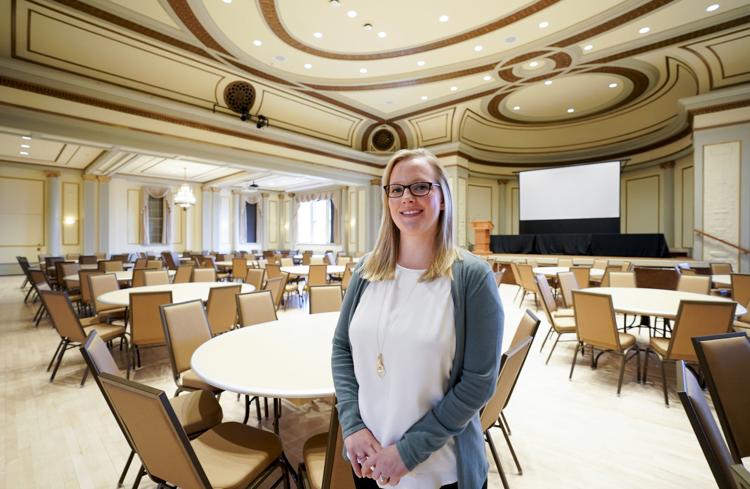 What are some wedding trends you've noticed?
Great Hall in the Memorial Union is most popular among the ballrooms. It seats up to 300 guests. At all of our venues, I'd guess about 40% have both the ceremony and reception in the same place. May, June, July and August are our busiest months. Blush seems to be a very popular color right now. A lot of couples are opting out of a large wedding cake to pick a different dessert, like doughnuts or Babcock ice cream.
I imagine it's a pretty hectic job on summer weekends for you.
The most weddings I've had in one weekend is nine. On Saturdays, I'm usually in by 8 a.m. I've had weddings with 400 guests and 40 guests. There are days I serve the bride and groom their dinner. Why not serve them on their special day? I become really close to the couples. It's the best part of my job to make those connections. I sometimes feel like I'm a part of their family. When I get to leave depends on the individual wedding, but it's typically after the meal or the first dance. Usually around the time the "Shout" song starts, that's my exit.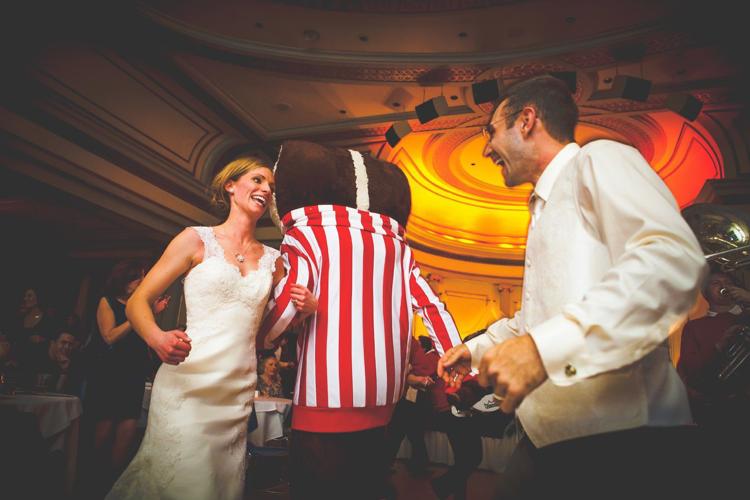 Do you have any fun stories to share of particular weddings?
I mean, I've seen everything. I've pulled up a bride's Spanx before. There was one wedding here at Memorial Union where the fire alarm went off during cocktail hour. Well, we roll with the punches. So I told my servers to grab some bottles of champagne, pick up the appetizer trays and head to the grand staircase outside. We arranged for some group shots out there and the bride emailed me after the wedding to say those photos were the best of the bunch.
Why should someone book a Wisconsin Union wedding? Is it mostly alumni?
Not all couples are UW alumni, but many are, or they have some connection to the university. I hear stories of couples who met on the Terrace as students or they had their first date there. I'd say that Union weddings are completely customized. There's no cookie-cutter menu, so I've had couples bring in recipes from their grandma. I've had family members go to the kitchen to show our chefs how to make their dish. If there's a dish that means something to you or a dance you want performed, I will be here to execute it. There's also the student aspect. I have an intern for each ballroom. The servers, staff, bartenders, they're are all UW-Madison students, so that gives the wedding another layer. We're teaching students time management, communication, teamwork, that sort of thing.
We're just starting to offer an outdoor wedding venue we call the Sunset Deck. It's up above on the side of the Terrace facing Lake Mendota and can fit about 200 people. It's available for limited dates.
What do you do when your life isn't tastings and seating charts and linens?
I have an amazing husband and two young kids, ages 3 and 5, so I stay busy! We love being outside, riding bikes, cooking or walking our new puppy, Tripp.