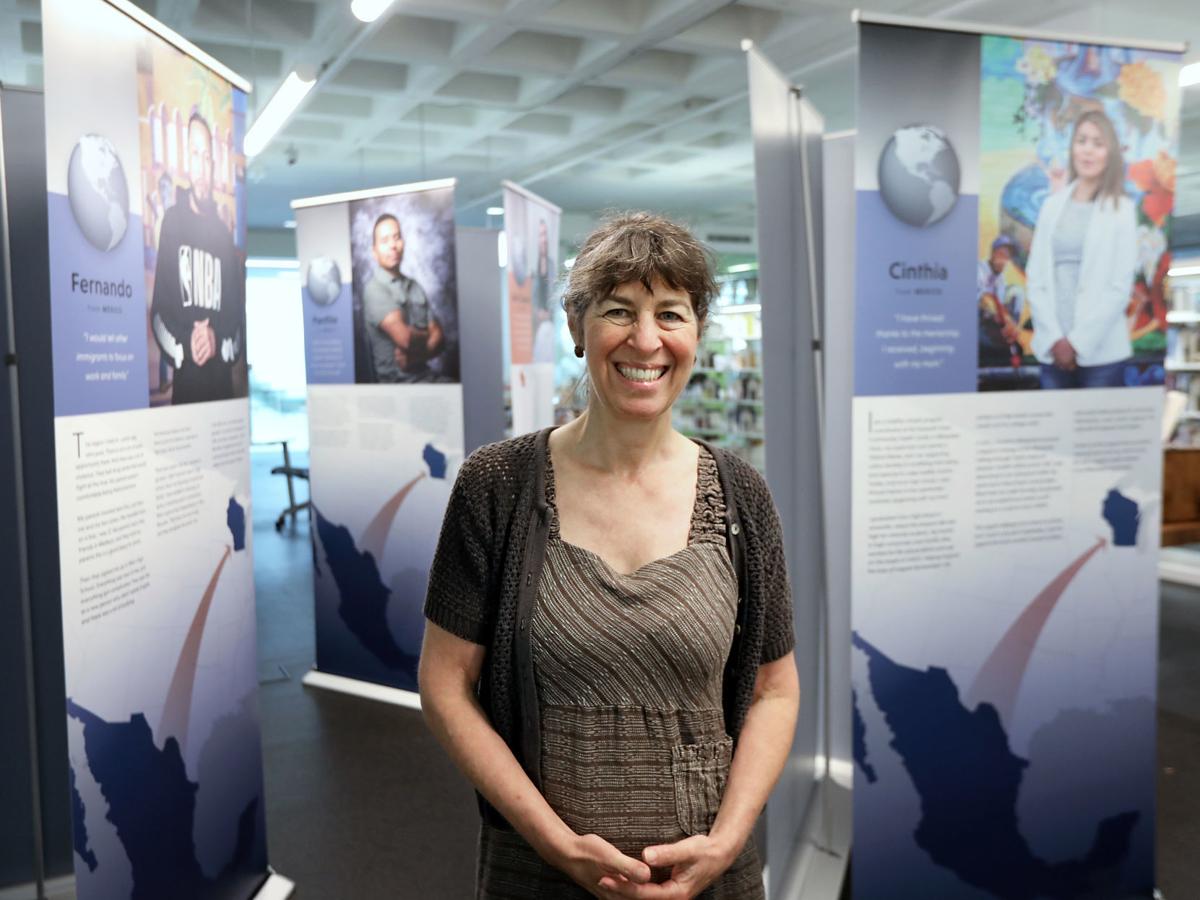 Dena Wortzel grew up traveling the world but is making her mark in Wisconsin as the executive director of the nonprofit Wisconsin Humanities Council.
Her organization, based on Regent Street across from the Madison School & Community Recreation offices, is focused on supporting and creating programs that use history, culture and discussion to strengthen community life for people throughout the state.
A traveling exhibit on immigrants from Mexico, Central and South America who now call Wisconsin home is making the rounds through Dane County and is scheduled to visit libraries, community centers and other organizations in 2020. Another program, Love Wisconsin, is a digital storytelling effort designed to share stories from the state's diverse population. Included are topics such as farming, opioid addiction, a Finnish community in Bayfield County and a volunteer first responder program in rural Jackson County.
The humanities council also has a program funded by the Mellon Foundation to improve the public's understanding of media and to help journalists cover certain topics better.
The program last year put on a workshop for journalists in the Madison area so they can better understand water issues. In Wausau the topic pertained to law enforcement and the media, Eau Claire was about poverty and in Superior it was about how to better inform the public as traditional media outlets scaled back.
Wortzel, 58, is hoping to launch a program next year that focuses on water issues in Rhinelander, Green Bay and the Kickapoo River watershed in southwest Wisconsin.
"There's just so many different water issues. It's something that's crucial to everyone everywhere in Wisconsin, and we need that information," said Wortzel. "I've always been concerned about communities and a great believer in the way culture informs the way we understand the world. I've always loved learning about different places, people and cultures. That's certainly enriched my life."
Wortzel has been with the humanities council since 1994 and its executive director since 2008. She and her husband live near Hollandale in rural Iowa County.
What's the difference between your organization and the Wisconsin Arts Board?
They're a state agency and get much more state money than we do. They have double the budget that we do. We're an independent non-profit, though we have an affiliation with the UW System and our own independent board. The arts are things like paintings and that sort of aesthetic creative expression. Where as the humanities, in terms of disciplines, are history and literature and philosophy. The humanities are the study, essentially, of what it means to be human. When the National Endowment for the Humanities was founded, one of things I like to quote in that founding legislation is this wonderful phrase: "Democracy demands wisdom and vision in its citizens." So we, and our 55 sister councils (around the country), are in the democracy and wisdom business.
The idea being that if we understand as individuals and as a society who we are, where we came from, what our history is, what our traditions are and what our values are and what we share and how we're different, then if we can understand those things then we're much better prepared to deal with the challenges that we all face as individuals, as communities, as a state, as a country. It's about deepening our knowledge and understanding and thinking about it and being able to have that critical reflection. And just the joy of discovery of learning about the world and feeling one's self and one's world and being larger as we learn and see ourselves in that larger context of community, state and globe.
The importance of your organization may never be greater considering the political climate.
I, personally, and my staff and board feel just an incredible weight of responsibility to the people of Wisconsin at a time when there seems to be so much mistrust and misunderstanding. We're here to help build bridges and to help people hear one another's stories. That's why we took on the Love Wisconsin project and formed that partnership. That's something that has helped people see one another as human beings and see through personal stories who we are.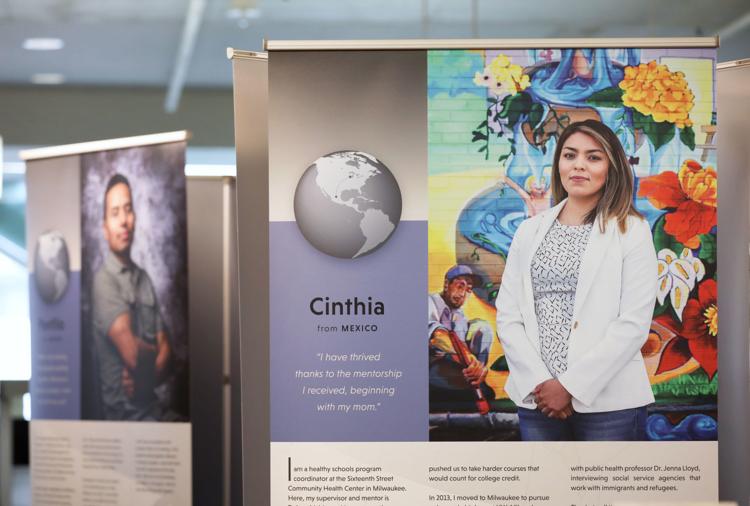 How did your media and democracy project, "Beyond the Headlines," come about?
We began (it) in spring of 2018. As citizens, if we're going to deal with all of the different challenges that our communities face in Wisconsin, we need information. The news media have a critical role to play in providing the residents of Wisconsin with the information we need to face those challenges. So, what we did with the project is work with journalists and community leaders in a number of communities to identify a particular community issue and then bring journalists, community leaders and the broader public together to talk about that issue. So that community members could really see the journalists as a resource for them and really demonstrate in a very tangible way around a particular issue what that role of the local journalist is.
How did "Immigrant Journeys from South of the Border" come about?
About a year ago, maybe, we said, "What are we going to do about how poisonous and just how divisive this conversation is about immigration? How can we use the humanities to help people have a different kind of conversation given that there are all kinds of immigrants living in Wisconsin?" That's part of who we are. We've been a state of immigrants forever. So how can we have a better conversation, and we returned to the idea of doing it through stories. And at the really red-hot center of this debate it is the discussion of the border and specifically immigrants coming from Mexico and Central and South America. So we've been talking about the people from that part of the world who are here in Wisconsin today living here as part of who we are. So I went to the folks at Centro Hispano knowing that they have a wonderful reputation in the community. So we did a traveling exhibit that shares the stories of real people, and Centro embraced this and found people in the community who were willing to come forward and tell their stories.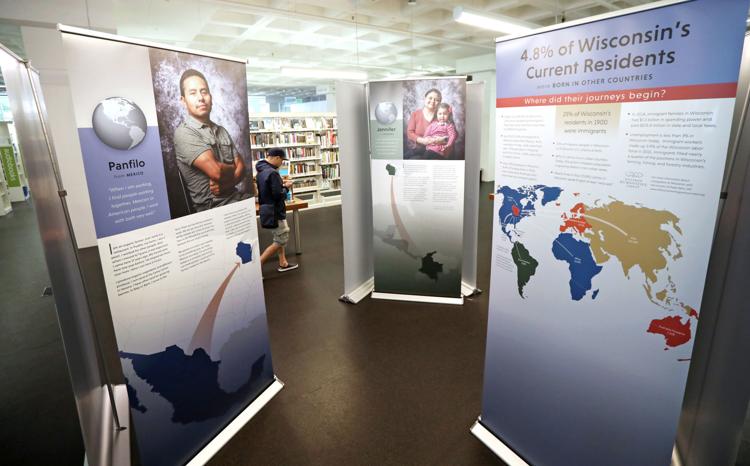 The exhibit is traveling Dane County and will in 2020 travel throughout the state. But do you want this to be more than a static display?
We work with libraries, but I want to do more than just stick it in a library. We want to work with the local members of the Latino community and figure out with them what type of events we can plan around it and what kind of conversations we can have and best use this so a community that is often a bit unseen can make more connections. Ultimately I'm hoping that what we'll see through this exhibit, like we've seen in other projects, is that we're literally helping people connect with one another who might not have otherwise.
Be the first to know
Get local news delivered to your inbox!