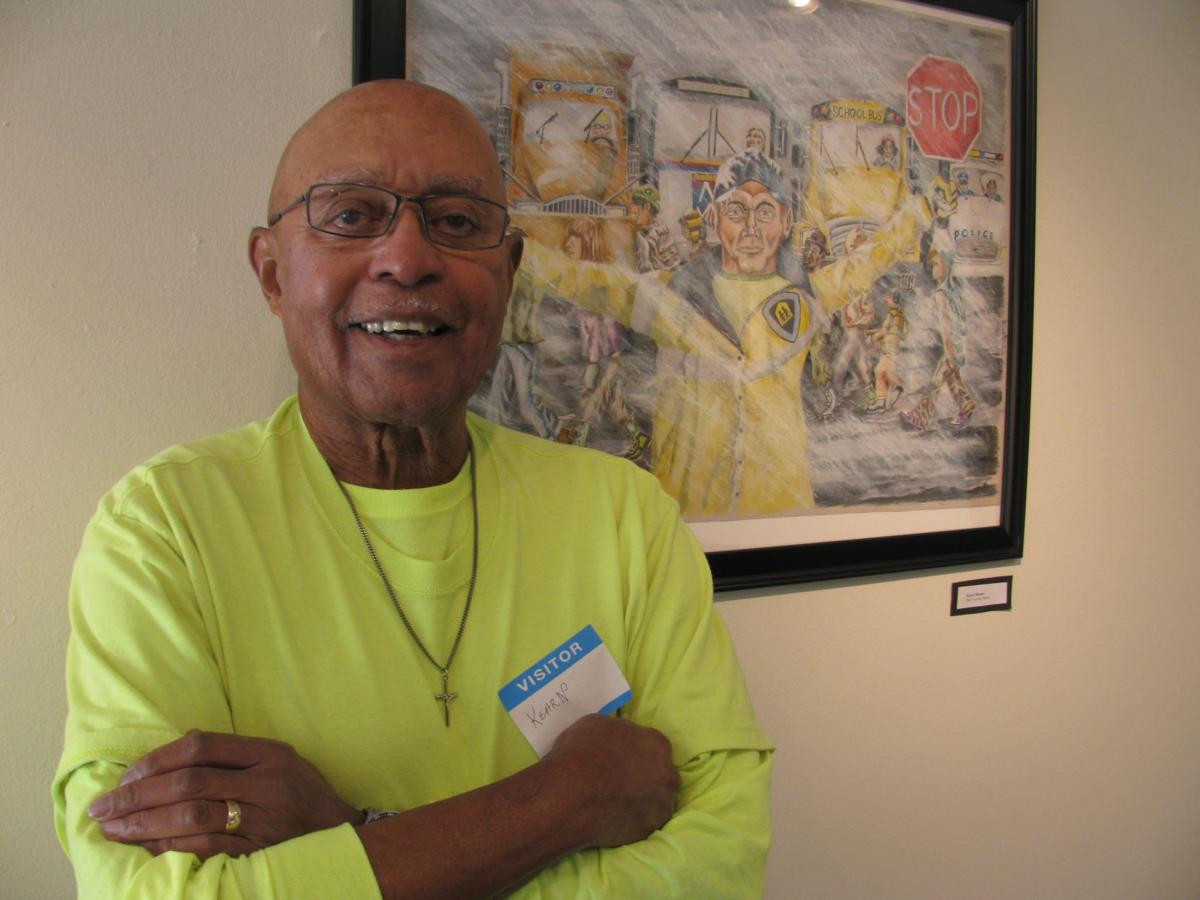 Whether in a car or on foot, people who pass through the intersection of Pflaum Road and Maher Avenue early on a weekday morning have their day brightened by a big wave from Kearn Blocker.
A crossing guard at that corner for five years, Blocker shepherds children of all ages — from Glendale Elementary, Sennett Middle and La Follette High schools — to their school buildings.
Blocker has such a friendly reputation that drivers stop their cars to give him cookies. He received an award from a La Follette High School marketing teacher designed to honor someone who goes "above and beyond" in his job.
Blocker, 76, was an art teacher for nearly half a century. And he creates his own art, as La Follette Assistant Principal Beth Steffen discovered when she saw one of his drawings on display in a show at the Madison Senior Center.
Steffen and La Follette art department head Brady Nichols invited Blocker to exhibit in the school's art gallery, which is open by appointment. The one-man show runs through Nov. 4.
Blocker, who recently celebrated his 51st wedding anniversary with wife Stella, is part of a long line of teachers: His father taught art, and his mother was a teacher before she started a family. Daughter Kimberly Lodewyk and son-in-law Brent are both teachers in Madison elementary schools. Blocker taught for 47 years in his hometown of Gary, Indiana, and in the Denver area.
His pieces in the La Follette show are done in colored pencil and graphite, and range from portraits to still lifes. One illustrates a bad-weather day in the life of an East Side crossing guard; another was inspired by the 2011 protests at the state Capitol. Others depict the Old West or the African-American 9th Cavalry of the Civil War era, known as the Buffalo Soldiers.
You have free articles remaining.
You are an associate Buffalo Soldier?
I grew up in Gary, Indiana, watching westerns. All I saw was white soldiers, white settlers, white frontiersmen. I had no idea that African-American soldiers played a role (in that history). I was in my mid- to late 20s before I found out about the Buffalo Soldiers. I started making compositions, drawings and paintings from the information I discovered. I have never served in the military, but in 1992, I attended a convention in Fort Leavenworth, Kansas (and exhibited artwork there), and was made an associate or honorary member of the Ninth and Tenth Horse Cavalry Association.
Why did you teach art for 47 years?
I enjoyed it. ... Art is one of the subjects that will hold students' attention, and will keep them in education. ... It's also involving students in a process where they will find success in using art as a background to succeed in other areas. When I retired, I found myself going back to my own individual work. Being retired and being a crossing guard — using that time in between the morning and the afternoon crossings, plus weekends — allows me to do my creative work.
What brought you to Madison?
My daughter, son-in-law and two granddaughters. The daughter is the youngest of our three children, and when she left (Colorado) we found that "empty nesting" is for the birds. We missed them tremendously. And when she and her husband suggested that we join them in Wisconsin (in 2008), we did not hesitate.
How did you become known as the "waving" crossing guard?
When we moved here, we realized the pension would not be enough. I saw an ad for a crossing guard job, but I hesitated — I knew about the winters here. ... (When there are no pedestrians to cross) I just started waving to the school bus drivers. Then I started waving to the Metro bus drivers. And as I waved to the bus drivers, I could see the drivers in the cars waiting behind them all trying to wave, too, and the thing just spread. It has become quite a thing, and I've been surprised how much it's meant to people. Around the holidays I get the Christmas cards, the Starbucks cards, things of that nature. It gives me a charge to find out they appreciate it. That's just uplifting to me.
— Interview by Gayle Worland