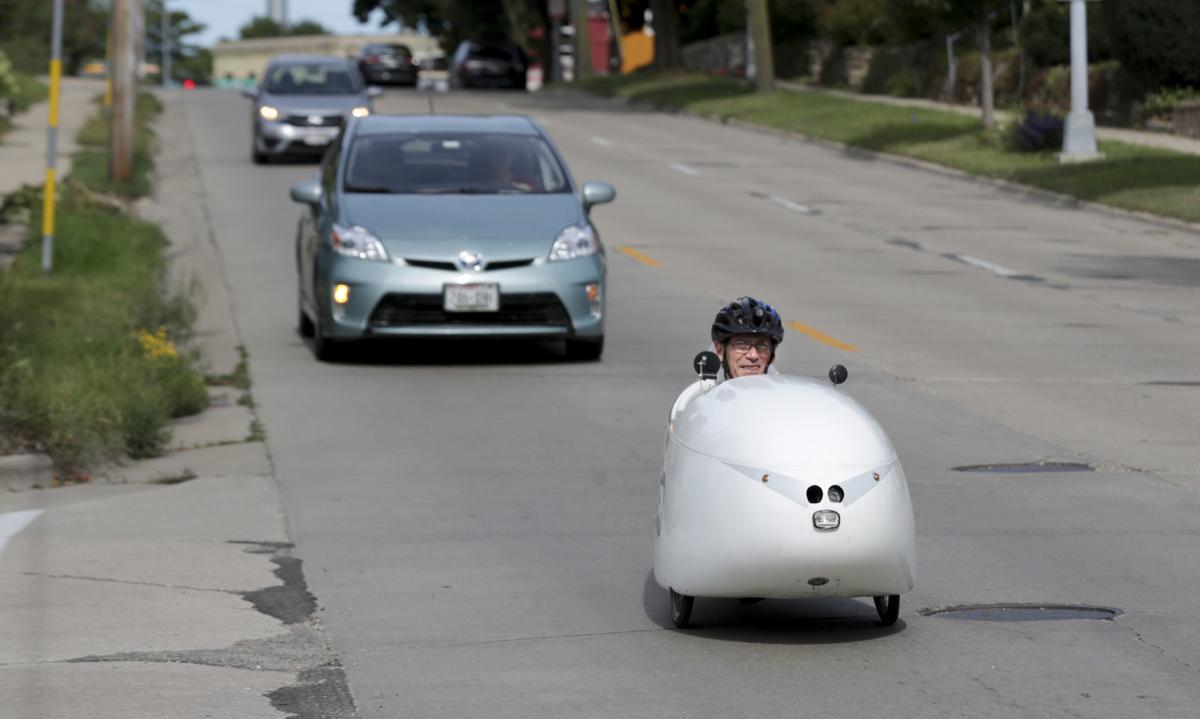 Nick Hein is accustomed to getting looks while tooling around Madison in what to the uninitiated — meaning, just about everyone but him — looks like a very small submarine or a very large multivitamin. Is it a car? Does it have a motor? Is it legal?
The answers when it comes to Hein's two velomobiles (short "e" in "velo," accent on the first syllable) are no, no and yes.
Velomobiles are essentially three-wheeled recumbent bicycles with fiberglass or carbon fiber shells, and while they have a long history, they are still rare enough for Hein to estimate he owns either one-third or 40% of all velomobiles currently in the state.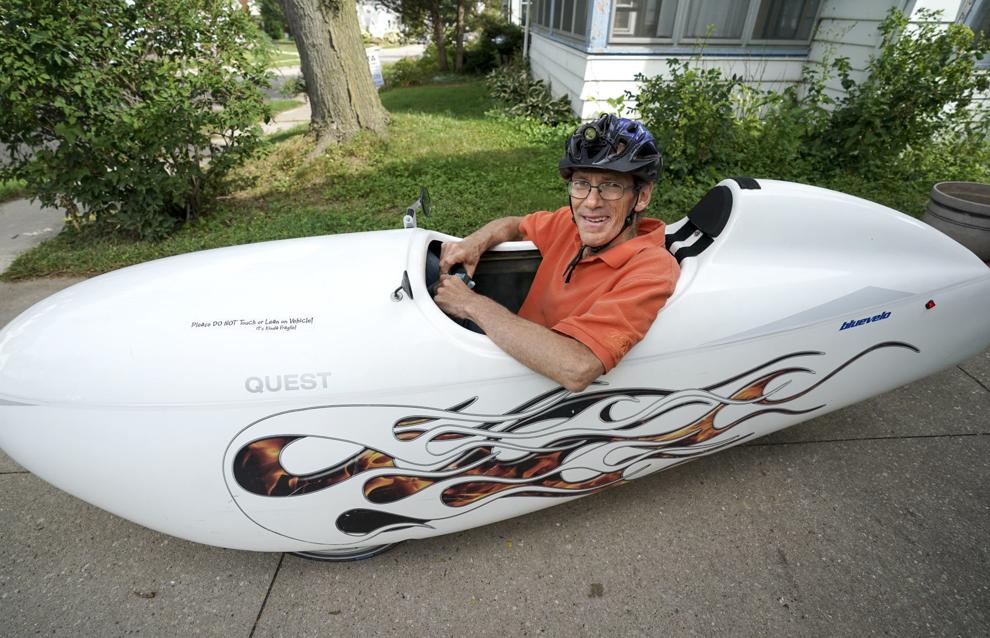 Hein, 62, works as a consultant for a solar energy cooperative and parks his velomobiles in the driveway of the home he shares with his fiancée near Olbrich Park — a home that, coincidentally, his grandparents owned from 1931 until the early 1970s.
"In 2011 my fiancée bought it and in 2016 we met and fell in love," he explained.
Where does your interest in velomobiles come from?
I've been interested in them since high school when I first came across the International Human Powered Vehicle Association. In the 1970s there were people who were trying to bring recumbents back to riding and racing, and the established racing organizations had outlawed them in the '30s. Since they couldn't get into their races, they started their own organizations for rallies and racing. And I read about this in high school in a Bicycling magazine issue in about 1975, and so I was interested in them because they are faster, safer and more comfortable. You're sitting down lower so if you have to stop suddenly your feet are the first thing on the scene of an accident. You don't have as far to fall and they're faster because you have less wind resistance. There were briefly some companies that manufactured them. There's probably been about 2,000 of them made by commercial operations and they're spread worldwide.
Where does your passion for bicycling in general come from?
It's really not environmental. It's really kind of selfish. I like the kind of person I am when I can go places under my own power. And this vehicle, I can lift it myself, I can pay for maintenance, the fuel is just what I would usually eat anyway. I got my driver's license the day I turned 16 so nobody would bug me about it, and then I didn't drive, unless people asked me to do something for them. (My fiancée's) got a car and we use that occasionally but it's just in the driveway 99% of the time.
And what kind of person are you?
Fit, light, strong. Any aggression I have I take out on the pedals. I sleep well. I have a good appetite. The times when I didn't ride regularly, I felt heavy and unenergetic.
What kind of response does the velomobile get?
It's always positive. Occasionally, people say where can I get one, and then they hear the price (laughs).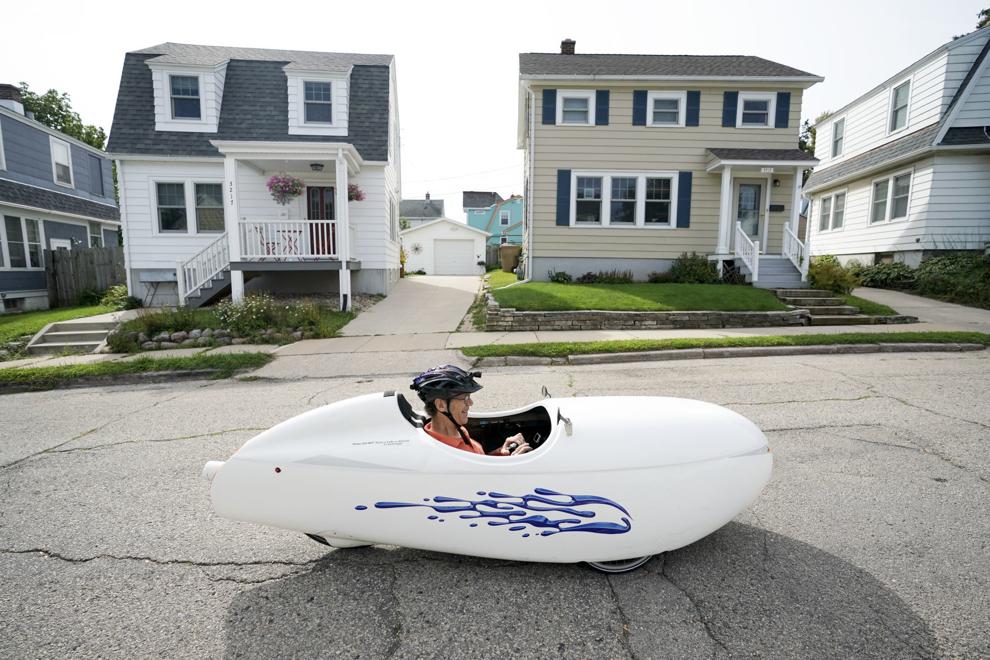 Do they know it's a bike?
Not always. Most people recognize, mainly because they see me on the trail, and they know you're not supposed to have motorized vehicles on the trail. They assume that it's pedaled.
Why haven't velomobiles caught on?
Mostly because of awareness. There are people who spend as much money on a bike that doesn't give them any more useful days to ride.
What's your take on e-bikes? Are they cheating?
I got my first electric bike in 1996. I had been a purist and figured it's OK if somebody needs that, but I'm able-bodied. But with an electric bike I was able to go anywhere in Seattle on an 80-degree day without breaking a sweat. So that makes it a 60-pound fair-weather car instead of 6,000-pound car. I worked at a couple electric bike shops and sold them to customers, like a woman who was coming back from being hit by lightning or coming back from massive surgery. They weren't up to the strength where they could ride with their friends yet and a motor allowed them to be social with this group while they were riding.
You're developing an enclosed drivetrain for bicycles?
This is what cars have and have had for 100 years. Enclosed weather protection for the machinery, weather protection for the riders — why don't we expect that from our pedaled transportation? If they're going to be our regular transportation then they should give us the amenities that our current regular transportation has.