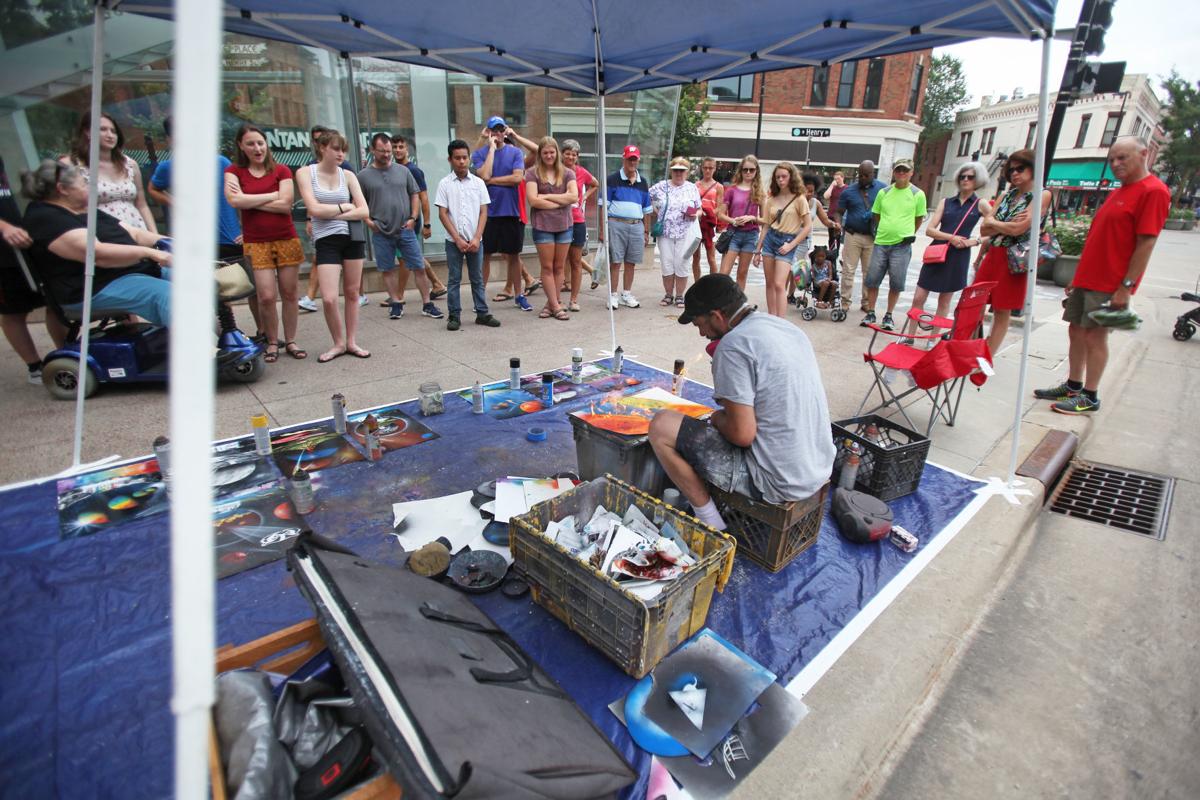 Seven years ago, Travis Knapp's outdoor spray paint art business was almost kicked off of State Street.
Knapp, who calls himself the "Spray Paint Guy," has been creating paintings of cosmic scenes for patrons and passers-by Downtown since 2002, attracting crowds of up to 50 or more people who watch as he sprays layers of vibrant colors from aerosol cans onto white poster boards.
He uses stencils, bowls, plates, fire, scissors and his fingers to create astrological landscapes with moons, planets, volcanoes, waterfalls and Madison icons such as the state Capitol or Bucky Badger, which he sells for about $30 each.
A type of performance art Knapp picked up when he lived in San Diego, each work takes around five to 10 minutes to complete, eliciting wide eyes, applause and "oohs" and "ahhs" from the crowd.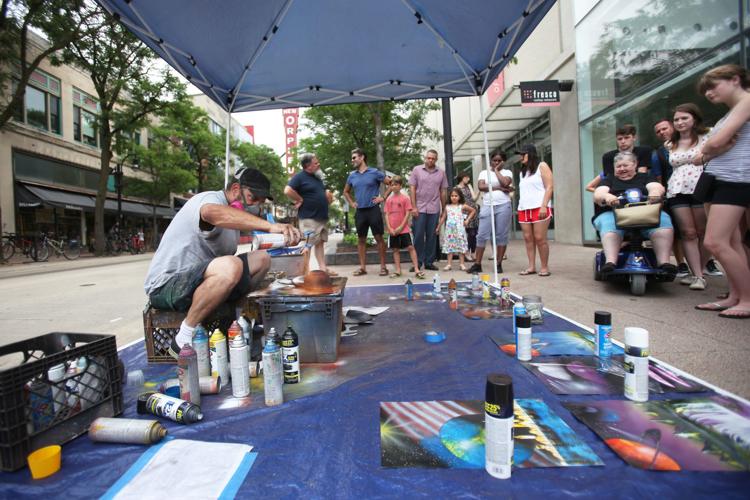 But in 2012, the city was considering shutting down Knapp's performances amid complaints from residents about the smell of the paint and traffic hazards created by the crowds, Knapp said.
Going into a public meeting on the matter, Knapp said he thought it was going to be the end for him and another State Street spray paint artist at the time, "Cosmo Joe."
"My anxiety has never been higher in my life," Knapp recalls. "I thought for sure I was going in, and the city was going to say we don't care about you, you're a little guy — you're gone. Walking into the room I was going in like I was going to my own funeral."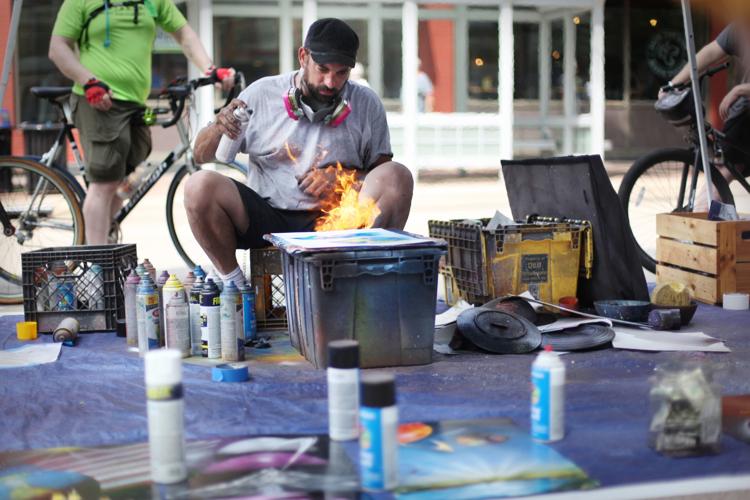 But city staff and residents, who Knapp didn't even know, came and spoke in his favor.
"A whole bunch of people showed up in my defense and said, 'This is what State Street is about. We want him down there,'" Knapp said.
Because of the support of strangers, he said, the city approved an ordinance that allowed him to continue performing and making his art in the heart of Madison. He now has a permit as a small business owner Downtown.
"I have complete freedom of expression, which is fantastic," Knapp said. "I love Madison, and I love the fact that Madison loves me."
I've seen you paint before and you really do attract a lot of people. What is that like?
The reason I paint on Dayton and State in front of the Overture Center is because where I used to paint, on State and Gilman, my crowds got so big the cross-traffic — like the buses and cars — couldn't see across the intersection. So it was causing a hazard, which in a weird way is a huge compliment to me. So they moved me to a different area, which is even better now.
You made a mural Downtown, too? How did that come about?
A friend of mine, Crystal — who is a fantastic artist — we were approached by a guy named Andy, who used to own Yellow Jersey, which was the oldest store on State Street up until about probably seven years ago. He had us paint a mural in 2007 on the Sacred Feather side of Yellow Jersey, and it's still there to this day.
You have free articles remaining.
Where did your idea to do the spray paint art come from?
This is an art that originates from Mexico — like the Mexico City area is where they came up with the style of painting. I used to live in San Diego, which is like Northern Mexico. A good friend of mine taught me some of the basic tricks of the art, and I just kind of went my own way with it.
I've always drawn and painted and done different things, but this kind of caters to my ADD (attention deficit disorder) a little better. I can't spend two weeks on something and not lose interest. I get bored.
When and why did you come to Madison?
For about 12 to 13 years, I traveled around painting, doing arts-and-craft fairs and events and shows all over the country wherever it was warm. One year I was up in Michigan visiting some friends, and Art Fair on the Square was going on here, so I came down here.
It was the first time I was in Madison, and I dug it. I had a good time, so I stayed the whole summer. I just kept coming back here, and I loved it. The people here are different than anywhere else in the world. People here are more friendly. They're more genuine.
I first started coming here in 2002. Then I moved here full time in 2006.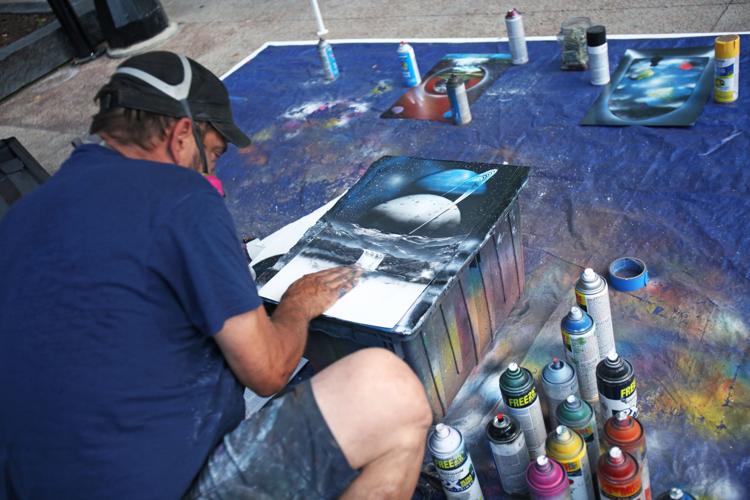 What is your job outside of painting?
I have a career. I work in a chemical department at Future Foam in Middleton. I make foam for Ashley Furniture and other companies.
What else do you like to do in your free time?
I love working on motorcycles and riding my motorcycles. That's my No. 1 passion. I love sitting around the campfire with a cold beer. Just being outdoors. I love being outdoors.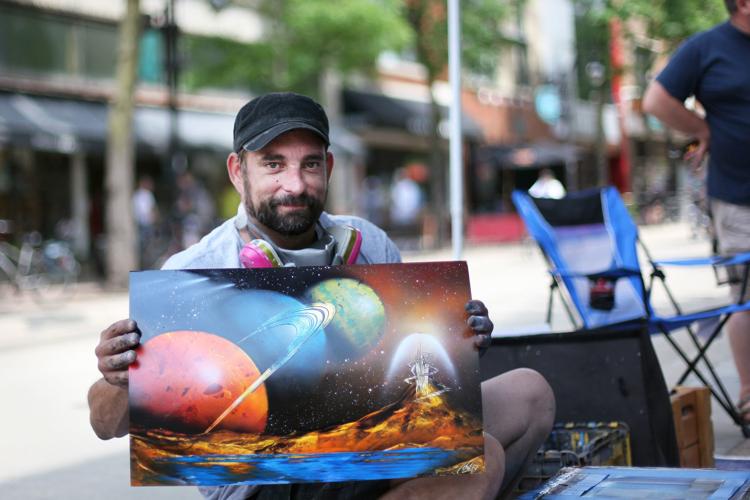 What do you love about spray painting on State Street?
It's a passion of mine. It's something I really enjoy doing.
Just about every weekend I pick out a kid in the crowd and I give him a free picture. And I tell him the way you're going to pay for it is to do something good for somebody else in the next 24 hours.
Whether it be wash the dishes for Mom, or something like that — pay it forward, good karma. I try to explain that to a kid, you know. If you can impact one kid, then that makes a huge difference.
How does it feel to see the looks on kids' faces when you're done with a painting?
That's my No. 1 inspiration. If I paint a picture, and say there's a family standing in front of me, and I look up and the two kids have a shocked look on their face — and both their parents have the same look on their face — that gives me the goosebumps. That's what it's all about. That's what moves me. That's what inspires me.