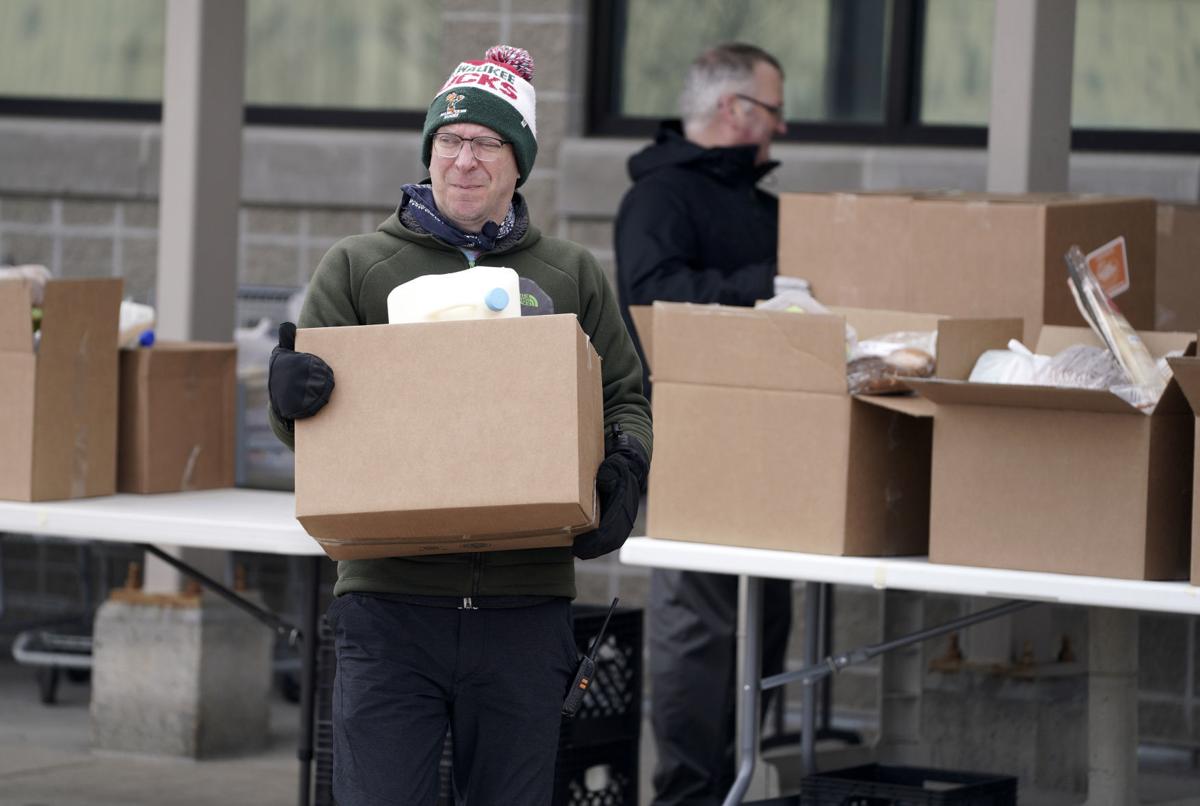 A quarter century ago, Chris Kane left his native Iowa and found home, both in place and vocation.
Born and raised in Dubuque, Iowa, Kane earned a bachelor of science degree in psychology from Iowa State University and lived in Ames, where the school is located, for a couple of years after graduation. But he found central Iowa wasn't the most happening place in the mid-1990s, either economically or culturally, and was looking for something more.
In 1995, he moved to Madison and began working at St. Vincent de Paul's service center on Williamson Street, which at the time housed its food pantry and voucher programs. He became food pantry manager when the nonprofit moved that operation to 2033 Fish Hatchery Road on the South Side in 2005.
Now Kane is director of client services at St. Vincent de Paul, a position he has held for nine years. In that job, he manages client programs that are based at the Middlecamp Center for Vincentian Charity on Fish Hatchery Road, including the food pantry, clothing and furniture programs, and helps enroll people to use a charitable pharmacy.
Kane, now 50, is married to Brittaney Smith, who was born in Houston, Texas, but grew up in Madison, and they share a home on the East Side with their three cats, Ruby, Tanner and Nick. He enjoys reading and hiking as many national and state parks as possible, as well as stretches of the Ice Age Trail.
What attracted you to St. Vincent?
Growing up in Dubuque, though enjoyable, it is certainly not the most diverse place. So getting a chance to meet people from all over, with much different experiences and backgrounds, I found really rewarding and hooked me on the work.
How does the pantry work?
We operate a client-choice food pantry where each household gets to spend a certain number of points based on their family size. People will go through the pantry with a volunteer who helps keep track of the points spent and then load up their car when they are finished.
How much food is provided on a weekly basis and who gets it?
Our service area includes all of Dane County, and people will typically get about five to seven day's worth of food. We give away about 5,000 pounds of food every day we are open. That's over a million pounds a year — a lot of food.
Where does the food come from?
We get the majority of our food from Second Harvest, some from Community Action Coalition, UW Provisions, community food drives, and local grocery stores. Trader Joe's has been a great partner since they came to Madison.
What are the biggest misconceptions about the pantry?
For one thing, most of the people that are using the pantry are working. It's pretty common knowledge that the rental vacancy rate here is very low and cost of rent relatively high, so even full-time workers or people working multiple part-time jobs may struggle to support their family. Almost everyone else is either disabled or elderly and living on a fixed income.
Has the COVID-19 pandemic changed how the pantry operates?
Right now, we are doing drive through, curbside pick up. Ordinarily, eligibility is once every 30 days, and being a Dane County resident below 200% of the federal poverty level, but at this point anyone that needs to get food we are here for them, and we're encouraging people to come back in a couple weeks if they need to.
How does the clothing and furniture program work?
People are eligible to get a clothing voucher every six months, $35 per adult and $25 per child. They redeem that one of our thrift stores in Dane County. We give away about $325,000 worth of clothing every year. Furniture eligibility is every five years. We provide inflatable air mattresses and bedding so people do not need to sleep on the floor and an array of living room and kitchen furniture and utensils. We are unable to operate either of these programs right now.
The pharmacy eligibility is to be uninsured and below 200% of the federal poverty level. Our formula includes most common medications, including insulin. The pharmacy has continued operation during the pandemic with the exception of not taking new patients right now, which requires a face-to-face, approximately 15-minute application process.
What are the biggest challenges presented by COVID-19?
Well, it's been tiring work, quite frankly. We are seeing nearly double the amount of people in need than we would normally see, and we are planning and implementing at the same time, and making sure everyone stays as safe as possible.
What have you learned about our community?
If you are running programs that require a lot of volunteers, you couldn't ask for a better place to do it than here.
Financial donation are needed now, more than ever, with our temporary closing of our thrift stores. It allows us to direct help to the most crucial areas of need. To make a donation, go to svdpmadison.org/donate.
Be the first to know
Get local news delivered to your inbox!