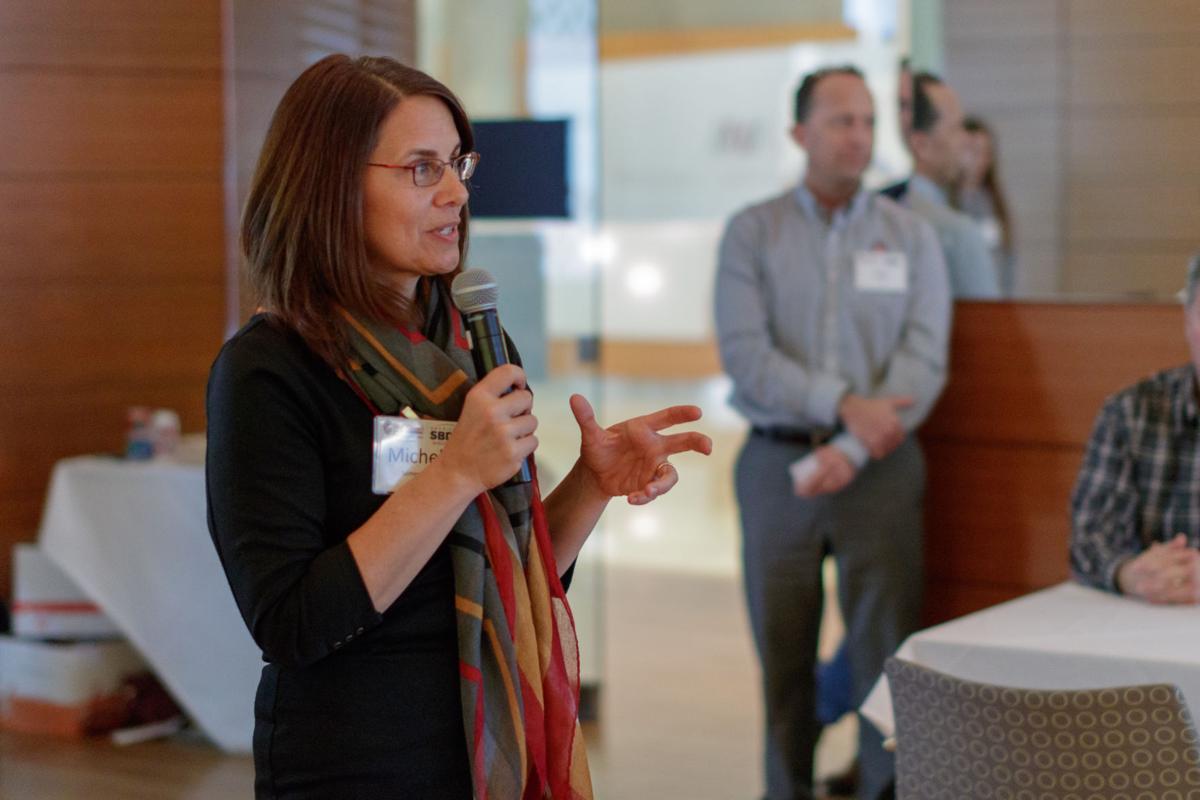 Michelle Somes-Booher had been helping entrepreneurs and small business owners get their companies off the ground long before she became director of the Small Business Development Center in Madison.
Somes-Booher, 49, manages a team of eight employees at the center, which is celebrating its 40th year along with the rest of the federal Small Business Development Center program. She and her team help anyone from entrepreneurs with an idea written on a paper napkin to owners of growing small businesses who need to learn to manage larger teams.
With a few generations of entrepreneurs in the family, Somes-Booher, a Michigan native, was familiar with the idea of taking a risk and starting a business. After graduating with bachelor's and master's degrees in business from Central Michigan University, Somes-Booher took her own leap into small business ownership by opening a paint-your-own pottery studio in 2005.
While she wasn't an especially artsy person, Somes-Booher said, she saw a need for more experience-based businesses in the college town of Mount Pleasant, Michigan. She worked with a supplier and consultant, who expected an artist needing help with the business end but got a businesswoman needing help with the kiln. Because of her acumen with running the business in Mount Pleasant, that supplier asked Somes-Booher to work with other similar businesses around the region who had the art skills but not all the managerial know-how.
She ran her studio and taught management at Central Michigan until she moved to Middleton about 10 years ago with husband Doug Booher, who took a job at Rural Electric Supply Co., where he is vice president of sales and marketing. She taught at UW-Baraboo Sauk County and Edgewood College, and began working as a consultant at the Small Business Development Center. In 2016, she took over as director of the center, where she and the team provide free, confidential consulting for businesses just getting started or for those looking to grow, as well as workshops and noncredit courses in entrepreneurship.
The center is based in Grainger Hall on the UW-Madison campus and is open to anyone in Dane, Columbia and Sauk counties. The center follows the federal Small Business Administration definition of a small business, which is any company with fewer than 500 employees, but Somes-Booher said her center's "sweet spot" is with startups.
The center doesn't have a focus on any one industry over another, so Somes-Booher and her team have worked with manufacturers, software developers, construction businesses and more.
What is it you like about working with small business owners and entrepreneurs?
For me, it's very energizing to see somebody's idea and then try to help them build out that idea and get beyond what I would call the basics. A lot of people can get excited about an idea, but how do you break that down into actionable pieces and then figure out what it's going to take to not only start it but sustain it? That to me is fun.
What kinds of businesses do you and the center help the most?
Sort of our sweet spot is the startup realm, so people that are thinking about starting a business, we have great programs to help them do that. Up to that 50-employee range is kind of our sweet spot. We work with a lot of people around 10-12 employees because that's when they start to assemble a management team or leadership team, and it's our job to help them strategize and help them through the process.
What kind of business niche do you prefer working in?
We see ourselves as generalists, and so it's the variety that makes this job very interesting. It's just being able to help people add infrastructure to their business and to help them scale, whatever that scale means to them.