Ricardo Marroquin is driven to bring his love of reading to the masses, whether they be elementary school students or inmates.
The 29-year-old South Sider has since April 2019 been one of three people regularly in charge of the Madison Public Library's Dream Bus, a 32-foot-long, 2,700-item library on wheels that spends hours each week visiting schools, community centers and other places in Madison and Sun Prairie.
When not working or taking classes for his associate degree at Madison Area Technical College, he also volunteered — in the days before the COVID-19 pandemic — at the Dane County Jail's two small libraries.
Madison's public libraries only recently reopened to in-person traffic, but after a three-month shutdown at the start of the pandemic, the Dream Bus started making the rounds again in mid-June 2020. Patrons still aren't allowed to roam the bus' stacks, but workers bring bins of items to the curb and will retrieve what people want from inside.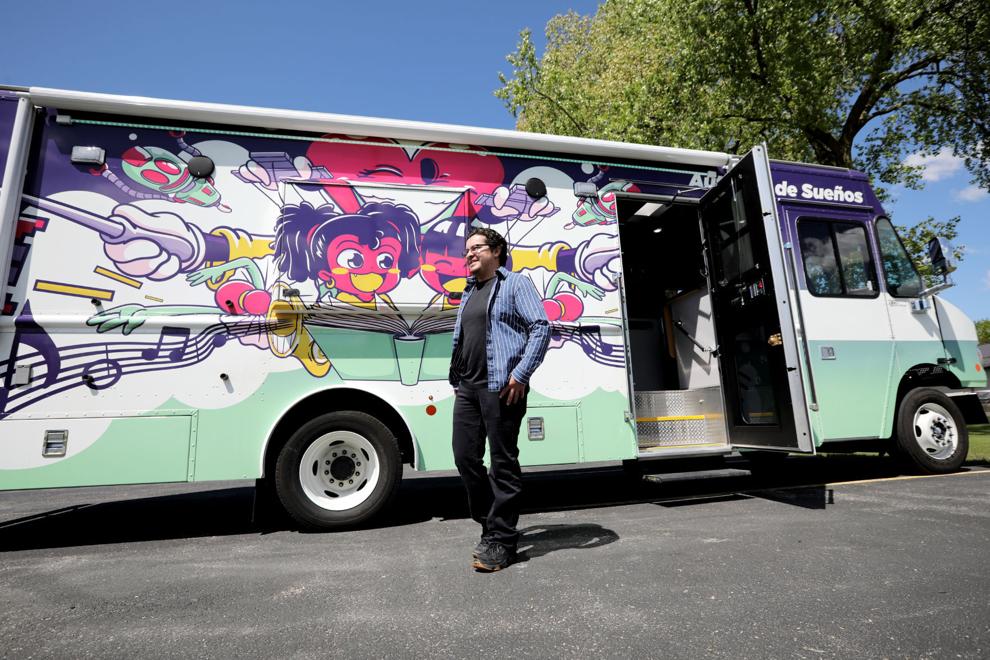 Did the Dream Bus see more interest with libraries closed?
Yes. I have also heard just the appreciation of the Dream Bus being able to be a little bit more flexible for doing things outside. Also the satisfaction of just having people kind of browsing through the books to see what's out there.
Do you miss having people on the bus?
I do, yeah. Just because it's a small place, it definitely could get really ... it's kind of like a party inside. You have kids laughing, you have parents. You have people looking around.
How often do the materials on the bus change?
We usually try to bring things in every week, especially because things are going out a lot. When we have people who are coming in that are regulars, who are coming in every single week, they want to see something different. What we also offer is the special orders, the (book) holds, especially because our space is limited. There's definitely more children's materials. We have a little bit of everything, but definitely more children. We have a great collection of young adult materials.
How do you keep the books from falling off the shelves when you drive?
Gladly, the shelves are designed to be at an angle that it makes them fall back. That is one part of it. Another thing is the bookends. Having the shelves fully stacked is another way. But also driving very carefully.
What do you drive when you're not driving the Dream Bus?
I am driving my two-door coupe car. Very small compared to the Dream Bus. I also drive a bike and I like roller-blading.
What kinds of books do you like?
I really like young adult books, fiction and nonfiction. I really like Sergio González (author of "Mexicans in Wisconsin"). I like Francisco Jiménez (author of "The Circuit: Stories from the Life of a Migrant Child"). I also just finished reading through a book club for Madison College, "The Undocumented Americans" by Karla Cornejo Villavicencio.
You were born in Mexico City but you and your family came to the United States when you were a child. Why did you choose Madison?
We have family in Chicago, but my mother had a friend who really (said) good things about Wisconsin in all aspects — that it was a friendly, family space.
Tell us about your volunteer work.
I am involved with the Volunteer Center at Madison College — I am a board member there. Before the pandemic, I was doing some volunteer work inside the Dane County Jail at the library there. We basically provide holds for inmates. I am very glad to get a grant with the help of the Madison Reading Project to buy books that are high-quality, sought-after books that have diverse characters, and so once things are getting better and we are able to get inside I definitely want to bring those items in and continue my work there.
What types of books were inmates interested in?
A lot of car books, westerns. They were looking for self-healing books, self-help. James Patterson, Stephen King — they all have their designated areas. Magazines, graphic novels — the graphic novel (series) called "Bleach," which is very popular. In fact I was able to buy almost a whole collection of that manga (Japanese comics) collection through the grant that I got. We definitely want to supply books that are newer and again, that have diverse characters.
---