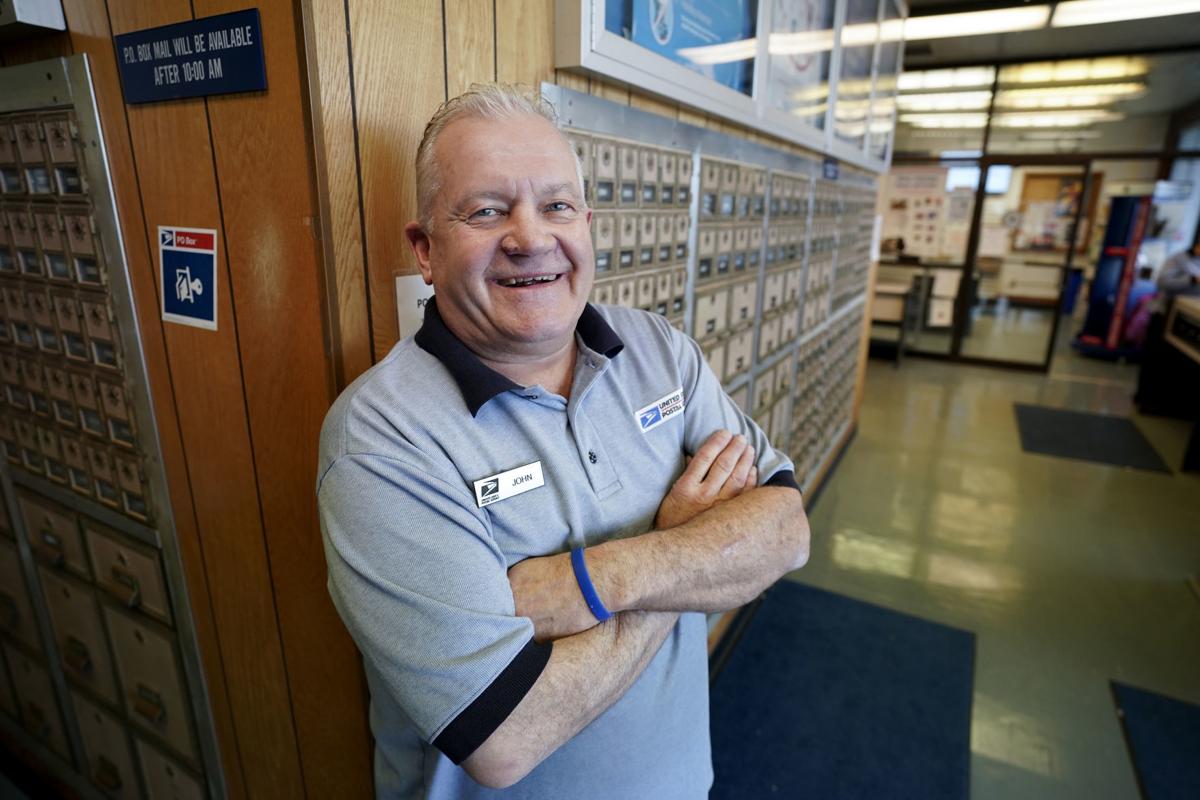 John Marshall is a friendly, helpful presence at the Wingra Drive post office on Madison's South Side.
Marshall, 57, is the lead clerk. He's worked for the post office for 32 years and at the Wingra Drive location since 2001.
He likes the South Side branch because it's close to his parents' house, where he goes for lunch most days. It's also not far from his fiancee's business, Buffo Floral and Gifts, in Fitchburg, where he often helps out when he's not at the post office.
Marshall lives off Buckeye Road on the East Side, but he grew up on Lakeside Street. He was in the West High School graduating class of U.S. Sen. Tammy Baldwin, and said their reunions are always well attended.
"Our class is pretty tight," he said, noting "it's not often that you get to do jello shots" with a U.S. senator.
It seems like the jovial Marshall is always in a good mood, but it's not exactly true. He's not immune to getting sad or blue, he said.
"I just look at my customers and see how sad and blue they are. Then I feel a little better," he said.
Do you feel like you cheer up people when they're here? It seems like if someone comes in and they're in a grouchy mood, after an interaction with you, they walk away smiling because of your positive, outgoing personality. Does that happen a lot?
A lot. Absolutely. A lot. Hey, I put them in their place, you know. Especially the ones with their hands on their hips. They're the best ones.
Do people ever do anything for you, such as send you thank you cards or maybe bake you cookies?
I've had that in the past, yeah. Actually, I just got a thank you card from some little old lady the other day. I don't know what happened to it.
What was she thanking you for?
Sending her packages. One of the carriers brought in her packages, and I mailed them off for her and sent her her stamps.
I've come in here with things that aren't really wrapped correctly, and you'll repackage everything. You just go so far beyond what a normal person would do.
I'm not supposed to (whispering, then laughing).
Do you regularly help people re-wrap packages that aren't wrapped real well?
Sometimes it's just easier for me to do it myself than to watch them struggle over there, cutting themselves with a tape knife or something like that.
So, you've gotten really good at wrapping packages over the years?
That was true from day one.
It wasn't something you learned?
Do you think the post office has been making a comeback because of all of the Amazon deliveries?
Amazon helps a lot, but they don't pay enough for what we charge customers at that counter. They're nickel-and-diming us, I think. If it wasn't for them, we'd probably be gone, I would think. All those letters turned into packages. That's the way I see it. All the Christmas cards and stuff people used to send, but now everything's a package. Carrying mail is not an easy job, especially now. There's a lot of packages. All the students, they order their beds online and their tables. Their water, their paper, their toilet paper. Everything. Their pet food. All that stuff comes in the mail now. People don't go out shopping anymore.
You have to deal with a lot of returns, I imagine.
You order shoes online, they'll never fit, so you've got to send them back, right?
Do you always get to listen to the radio during work?
Okay. What station is this?
101.5. I have to change it in the morning (from what his co-workers have on). The music today ... Here's what it all sounds like: Uh-ooh, uh-ooh, uh-ooh. That's what every song sounds like. Uh-ooh, uh-ooh. Oh baby, baby, baby. That's what every song sounds like. All the good music was made in my day.
Be the first to know
Get local news delivered to your inbox!