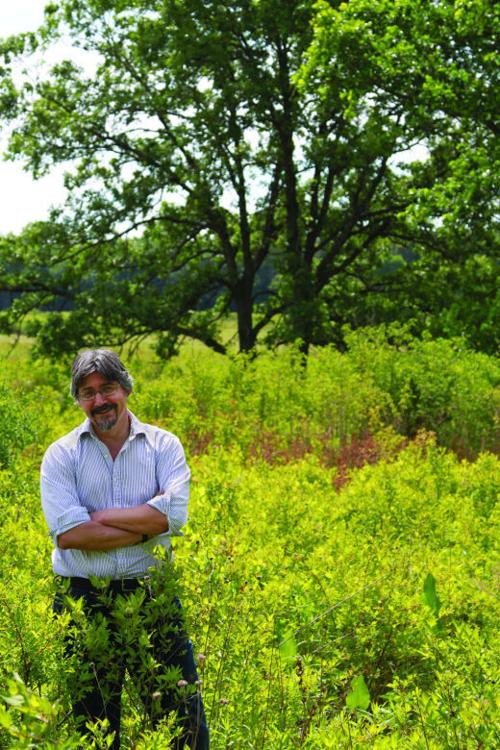 Paul Robbins has been director of the Nelson Institute for Environmental Studies at UW-Madison since 2012.
Born in Washington, D.C., Robbins grew up in Denver and came to UW-Madison for undergraduate study because, in his words, "this is the world's finest educational institution, with an unbeatable record for public service and engagement. Plus, it was a lot of fun in the 1980s."
Robbins, 47, earned his bachelor's degree in anthropology, got a master's and doctorate in geography from Clark University, and taught at the University of Iowa, Ohio State University and the University of Arizona, where he led the School of Geography and Development, before returning to Madison.
Can you talk a bit about the Nelson Institute's overall mission, along with any new initiatives you're excited about?
We're a branch of the university that brings together scholars from across campus — from engineering to the arts, life sciences and humanities — to teach students, to create new kinds of knowledge about the environment, and to serve the people of Wisconsin through engagement.
In terms of science, our folks examine the sustainability of global supply chains, model air quality, and assess the impact of climate on Wisconsin industries and agriculture, among other things. As far as public engagement, we do things like put UW students in Madison schools to work with at-risk kids, address water-quality challenges in rural communities, and put on major public events, including an annual Earth Day conference and our film festival, "Tales from Planet Earth."
Among our new initiatives is an effort to make UW-Madison a cutting edge place to think about urban sustainability and "livable cities." I've got a great job.
Part of that job, recently, involved helping teach a Massive Open Online Course (MOOC) on Aldo Leopold. How did that go?
It was a huge success. More than 5,000 students enrolled from around the world, but especially across the state of Wisconsin. The secret to the success of that class, I think, which was co-taught with my colleagues Tim Van Deelen and Janet Silbernagel, was that we focused on the relationship between hunting and conservation, which is an important part of the legacy of Leopold's "land ethic." Hunting is a part of the Wisconsin culture as well as a tool in wildlife management. We saw enrollment from people and communities who may not always think of the university as a place that addresses their interests and needs. The campus is a big place and this was a chance to show how interested we are in the whole range of issues and communities in Wisconsin.
Earth Day is Wednesday, and obviously the legacy of its founder, Gaylord Nelson, is important to the Nelson Institute. Are there Earth Day Plans this year?
It's going to be a great Earth Day this year. Our conference is (Monday) at Monona Terrace. We have the super-smart and charismatic astrophysicist Neil deGrasse Tyson as our keynote. You may have seen his cool reboot of "Cosmos" recently on TV. The theme this year is making tough choices using the best science we have, which should resonate with people from all walks of life. It should be fun.
Be the first to know
Get local news delivered to your inbox!