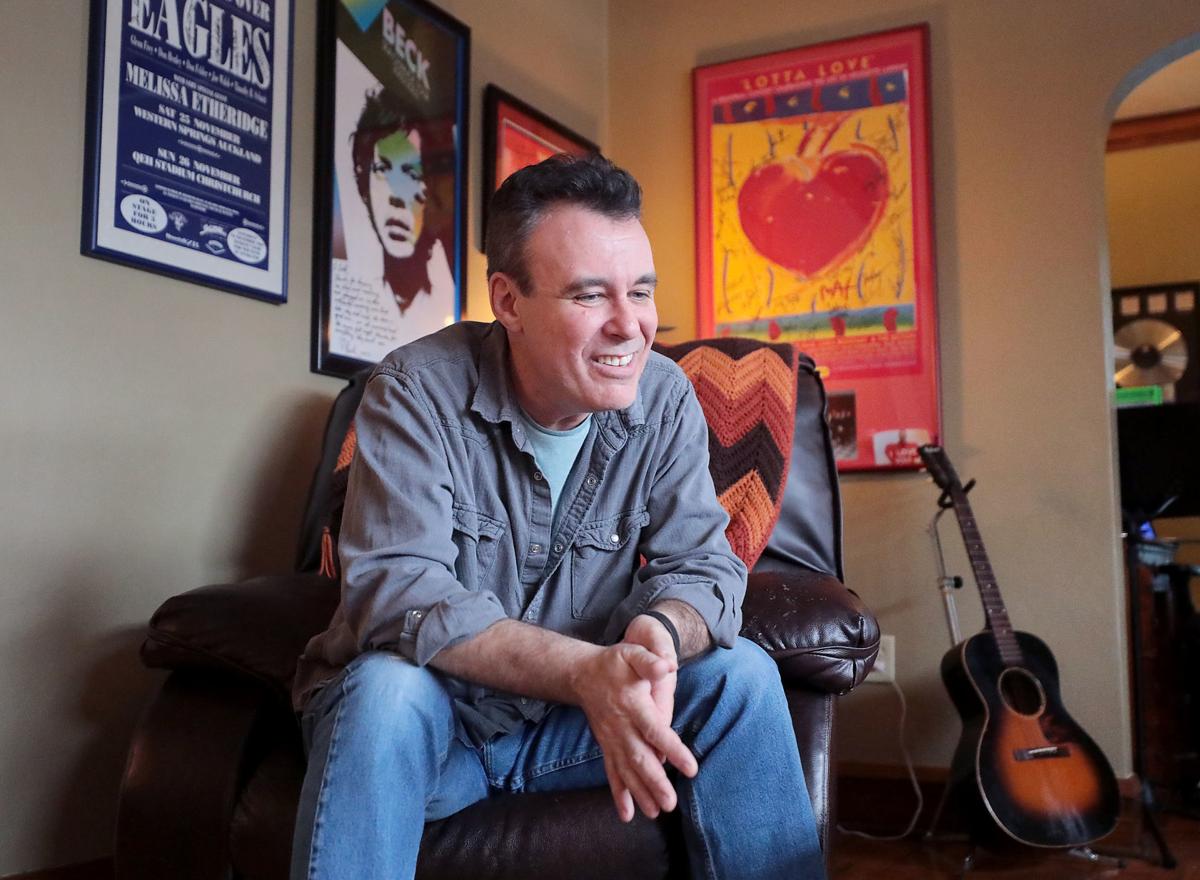 Todd Bowie found a warped record album lying on the wooded trail behind his New Hampshire house one summer. He was 12 at the time, just starting to teach himself guitar after deciding piano and baritone horn weren't cool enough to cut it for a teenager.
Bowie raced home, placed the album, "James Gang Rides Again," on his turntable and heard the voice of Eagles guitarist Joe Walsh for the first time.
A little more than a decade later he would become Walsh's personal assistant and guitar technician, touring with the Eagles through the 1990s and 2000s. It was the launch of a music production career that allowed him to work with some of the world's biggest stars — the Eagles, Fleetwood Mac and Beck.
Bowie still plays guitar at some small gigs and plans to produce a second album of his own, but he retired from the touring life in the early 2000s after about two decades living on the road away from family.
Production work brought Bowie to Wisconsin, and he decided to pursue the college degree he started back in his early 20s. He earned a visual communications degree from Madison Area Technical College and was hired by the institution, also known as Madison College, in 2010. Now he is a video producer in the college's marketing department, as well as an instructor and manager of the student production studio.
"I'm a happier person when I'm not touring," he said. "I love Madison and I love Madison College in particular. It's a great institution and the whole mission of that college, I don't know, it just really drew me in and how many lives we change every day at that place. And every couple years, new classes come in and you just see that little spark in people's eyes that I remember when I was coming up ... it's really, really meaningful."
Tell me how you got into music.
I grew up in a musical family and was a band guy throughout high school. In those years, I played guitar in a regionally successful band in New England called Toiz. We recorded a moderately successful album and backed up bands like Cheap Trick, Foghat and The Joe Perry Project. The band kind of fell apart, as they do. Some of us went out to California in the '80s, and I landed a job right away at a studio called Third Encore as a sound engineer.
How did you end up working for the Eagles?
The studio was co-owned by Glenn Frey, a member of the Eagles. The Eagles had broken up at that point, but Glenn had a pretty successful solo career. He knew I played music and how to do sound, so he asked if I wanted to help him on the road on the weekends. So I became his guitar technician. I made more money in one night than I would a whole week at the studio. It was during those years that I met Joe Walsh. He offered me a full-time job as sound engineer. I did that for several years, and then the Eagles decided to reunite and do an album called "Hell Freezes Over." I was involved in that, and then there was the tour, one of the most successful at the time. We went all around the world. It lasted three or four years and was honestly kind of a blur.
How did the work with other artists come about?
After the Eagles tour ended, I got a call from Fleetwood Mac. They asked me to be a sound engineer and guitar technician for their own reunion album and tour, "The Dance," in 1997. I didn't go on tour with them, but worked on their record, which sold more than four million copies. And then in the early 2000s, I got a call from Beck. I was a big fan of his, so I went on the road with him for a year or two.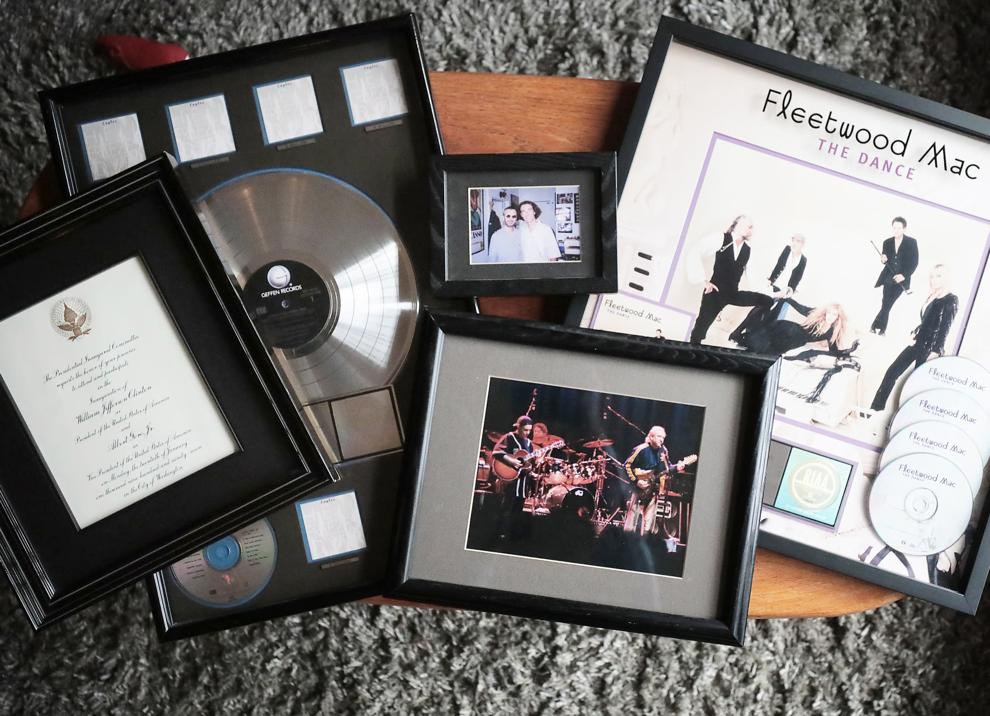 What was life like on tour?
It wasn't always glamorous, and traveling on the road can be kind of a lonely life, really, because you're away from home and you're living in a tour bus and hotels. Although we traveled nice, you're still gone. It's kind of a lonely existence. But how else would I have had those experiences unless I had done that work?
I got to meet pretty much every musical hero I've ever had during those years. I worked a memorial concert for Nicolette Larson, a session vocalist and solo musician who came up in the '70s. She died of cancer and this was a big benefit concert that a bunch of artists put on in her honor — Crosby, Stills, Nash & Young, Jimmy Buffett, Carole King, Jackson Browne, Bonnie Raitt, Linda Ronstadt and Little Feat. There was this whole community of California musicians that were all kind of friends, and it was just really cool to be kind of in the middle of that.
The Eagles were also really involved with the Clintons, and I got to go to the Clinton inauguration. And Joe Walsh is Ringo Starr's brother-in-law, so I got to work directly with Ringo and Walsh on Starr's 1998 "Vertical Man" recording sessions, and also his VH1 "Storytellers" show. These were some of the highlights of my entire career.
Is there any musician you haven't met in your earlier career that you'd still like to meet?
I got to meet pretty much everyone I've ever cared about meeting except for the Rolling Stones. But I have a ticket to see them this May in Minneapolis.
What do your Madison College students think of your former life?
I gotta be honest, when I'm at Madison College, I don't talk about this stuff because a lot of younger people don't know the Eagles!
How close are you with the Eagles now that you're in this new phase of your life?
I'm still friends with Joe Walsh. We don't talk as much anymore just because he's very busy, but I talk to him a couple times a year. The last time I saw Joe and some of the others from the Eagles was when Glenn Frey died in 2016 and I went out for the funeral. But I remember before the funeral, when the news of Glenn's death came, I called or emailed Joe because those two were like brothers. And I said something like, "I'm so sorry about Glenn and please send my condolences to the rest of the Eagles family." Joe sent me an email back, which I obviously still have, and it said, "You know, you are part of the Eagles family."