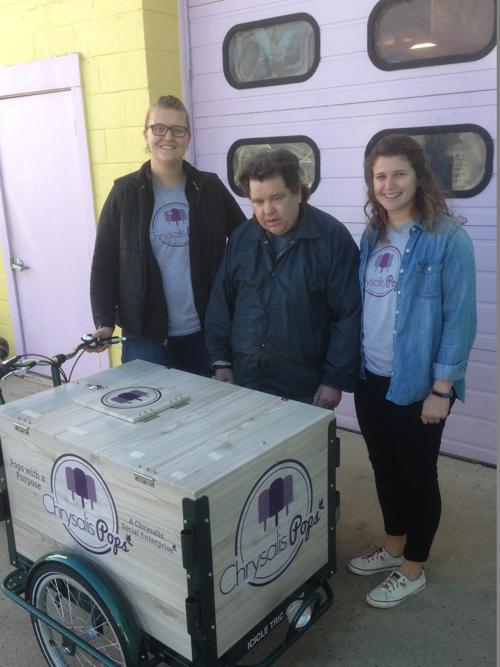 The outdoor treat season lets clients of nonprofit bone up on their skills
You might have seen the gourmet ice pops in flavors including cranberry-apple and rhubarb-ginger on sale at Madison street fairs, farmers' markets or private events over the past two summers. Usually the people selling them brought along their custom-made and cooler-outfitted bicycle to act as rolling stockroom.
Chrysalis Pops are made and sold by clients of the Near East Side Madison nonprofit Chrysalis, which for 27 years has been helping people with mental illness achieve greater independence through work.
Unlike other people selling goods during Madison's long street fair and market seasons, those selling Chrysalis pops are getting more than a paycheck or money for their organization. They're gaining skills they can use later in jobs outside the agency.
Lifelong Madison resident Mark Carey, 53, is among the people who worked as Chrysalis cashier, salesman and ice pop consultant in the summer of 2017.
This was your first year with Pops?
Yes, it was. It gave me confidence. Confidence that I didn't have before. I started to believe in myself. It most definitely helps build those skills.
What's your sales approach?
The customer's always right. "Hello there, we have popsicles!" Greet people as they walk by. They may ask you, "What's the biggest seller today?" At first I was like, OK, I should follow someone else's lead and learn that way. I listen to people the way they would treat customers.
Do you give customers recommendations?
Cold-brewed coffee or mint-cucumber. Those are two of my favorites. The next one is strawberry-lemon. They're made organic.
What are the more popular flavors?
Strawberry-lemon was one of the big ones. (Strawberry) rhubarb.
What are the less-popular ones?
Coffee, which is one my favorites.
Why did you decide you wanted to sell them instead of make them?
Customer service and skills — to learn more skills in those areas. The fun part of it was taking the bus there and back home. A new bus route. A little challenging at first it was, because you're thinking I don't want to get lost on the bus. Plus, I've got another job on my resume.
What would you like as your next job?
Grocery store business or restaurant. I could bag groceries. I can organize best-by dates, stock. Those two things come to mind first — a bagger and a stocker. Simple stuff like bringing the carts from the outside to the inside. So I'm thinking of my skills and where I can apply them. I want to find a job that's fun.
What do you like to do when you're not working?
I collect CD music. That's my hobby. A variety of styles, a variety of genres. Rock music, country music, soul. Orpheum shows. I've seen Kansas, Motörhead, The Bangles. Unfortunately the lead singer (of Motörhead) died recently. I got to see him before he passed.
Do you have any favorite performers?
A band called Breaking Benjamin, Kansas, The Bangles, Fleetwood Mac, Crystal Gayle, Sheena Easton, Juice Newton, Billy Joel, Paul Simon, Elton John. I spent most of (my money from working with Pops) on CDs.
How many CDs would you say you have?
Too many. I take them in and trade them for other ones (at) MadCity Music Exchange. They've been a really great service of music for me. I have three iPods actually. My landlord programs CDs into my iPod for me.
— Interview by Chris Rickert