During her seven years of working at the Madison Greenhouse Store on Williamson Street, Mia has moved up the ranks and now holds the position of "supervisor."
Her responsibilities? Befriend any customers who come through the door, provide emotional support snuggles for employees, spin in circles, give "high tens" and sneeze on command, said store owner Tiffany Olson.
"She's a bit of a celebrity," Olson said of her dog Mia, an 8-year-old Havanese. "She has tons of friends."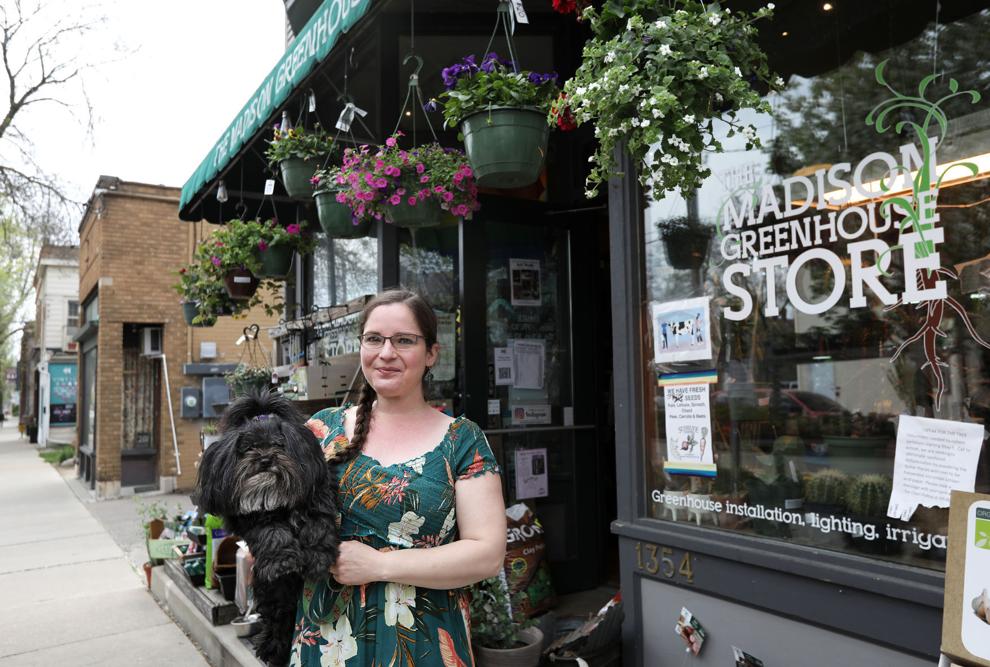 Mia is just one of the many charming attractions that draw people to the Madison Greenhouse Store, which Olson has owned for just shy of four years. The 1,000-square-foot building at 1354 Williamson St. has more than 1,000 plants spread across tables, hanging from two sets of pergolas and sitting up on wall shelves.
The store also has seed packets, bags of dirt, pots, wind chimes and even some frogs that snuck in during deliveries, Olson said. She got a glass tank to give the frogs a home.
On a partly cloudy day when the outdoor air was dry from the recent lack of precipitation, Olson's store was humid and lush.
"A great thing about the store is that it's kind of a therapy place for people," Olson said. "People come in, and they're just surrounded by beautiful plants and can take the time to really enjoy them. It's pleasant, quiet. We've got this beautiful little dog that wants to say hi to you. I think especially in the dead of the winter, it's nice to go into a place that's kind of homey, but (also) verdant (and) full of life."
Whether at her store or at home, Olson spends her days surrounded by plants. She has about 120 plants of her own in various rooms of her house, including a 9-foot-tall coffee tree and a Christmas cactus that's more than 100 years old.
"It's hard to not accumulate too many plants," Olson said. "I am running out of space, but that's when you start hanging things from the ceiling and mounting things on the wall."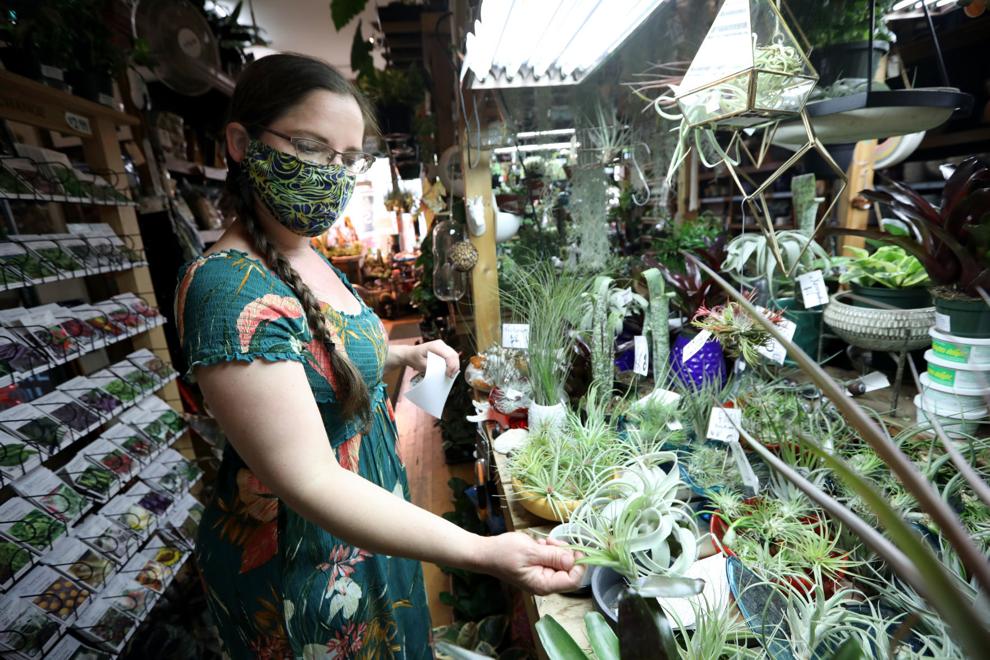 Olson, 37, grew up in Texas and then Wisconsin. She studied art education and French at the University of Texas in Austin, but when she graduated there were few jobs available because of the city's increasing population.
She found a job as an organic gardener, which she said was a "life-changing experience." Olson worked outside in the sweltering Texas heat tending to people's flowers and plants. She said it was "backbreaking labor," but she loved it.
"I'd already been into plants, but it really took it to the next level," she said.
About 10 years ago, she came back to Wisconsin and fell in love with living in Madison. She said she "decided to stay here forever."
When her friend Jordan Hosking decided to open the Madison Greenhouse Store in 2013, Olson told Hosking he could display some of her paintings, which are vegetable-themed landscapes. About a year later, Olson started working at the store — work that she found joy in because she got to make people happy by helping them learn how to take care of their plants.
Olson bought the store with the help of her parents after Hosking decided to pursue a business designing greenhouses and after the second owner wanted to sell. Olson is now the third owner of the popular store.
"I found it to be very rewarding. It was just a really neat place to be," Olson said. "I had a lot of ideas and visions for ways we could build and grow on the store. When I was proposed the opportunity, I was really excited to take it to the next level and really make it a great resource for the community."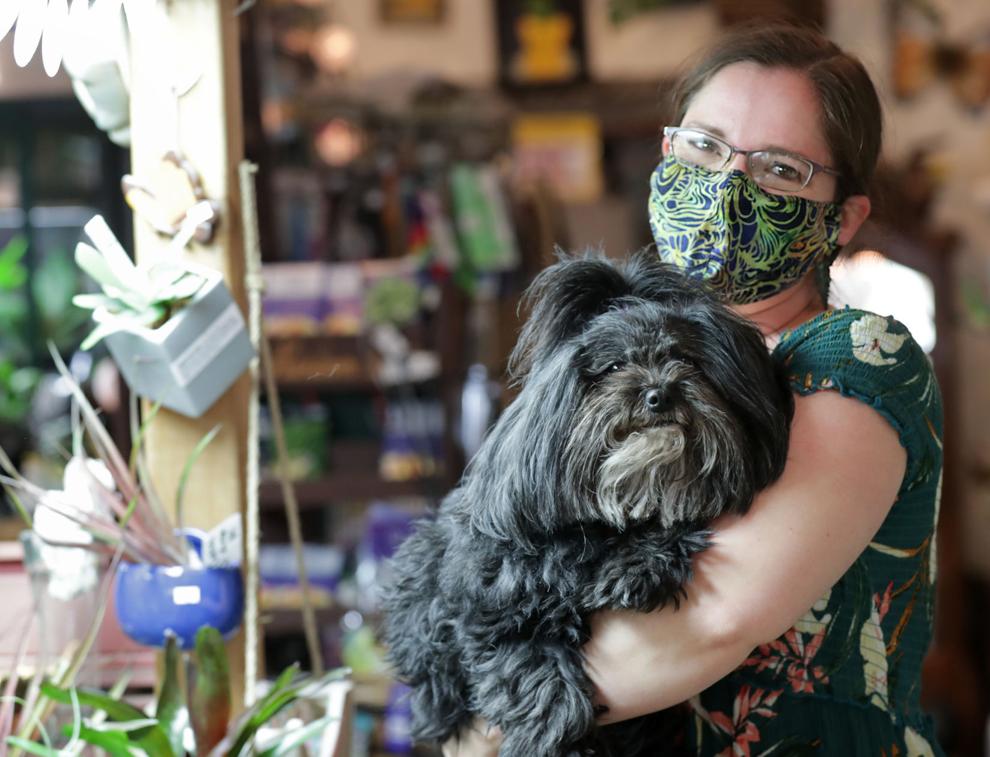 Does Mia have any other personality quirks?
She's just a really sweet dog. I love how much joy she brings to people, and I love how she remembers people that I don't even recognize.
It was sad, though, for the beginning of COVID. I furloughed all of my employees, and Mia and I ran the store alone, which was all curbside pickup and delivery. At least for the first two weeks of that, she just sat at the front door, staring at the front door, waiting for her friends to come see her. She did not understand, 'Where did all of her friends go?' She was so glad when people started coming back around again.
How has your store been doing during the COVID-19 pandemic?
The store's been doing really great. There's obviously difficulties associated with everything going on. We're still really keeping our capacity low, which logistically can be difficult, but everybody does really appreciate (it) so social distancing is still possible.
As far as the plant business goes, there's been a huge boom in interest for both outdoor and indoor plants, and suppliers are having a really hard time keeping up.
Last summer, there was a period where I could not get tomato cages, and almost every soil was out of stock, and there were no spray bottles. Now things are somewhat better, but there's a serious plant shortage. I had to order everything for this spring back in January. And even very common house plants are just not available. In the end, we have to kind of fight to get any kind of inventory that we have.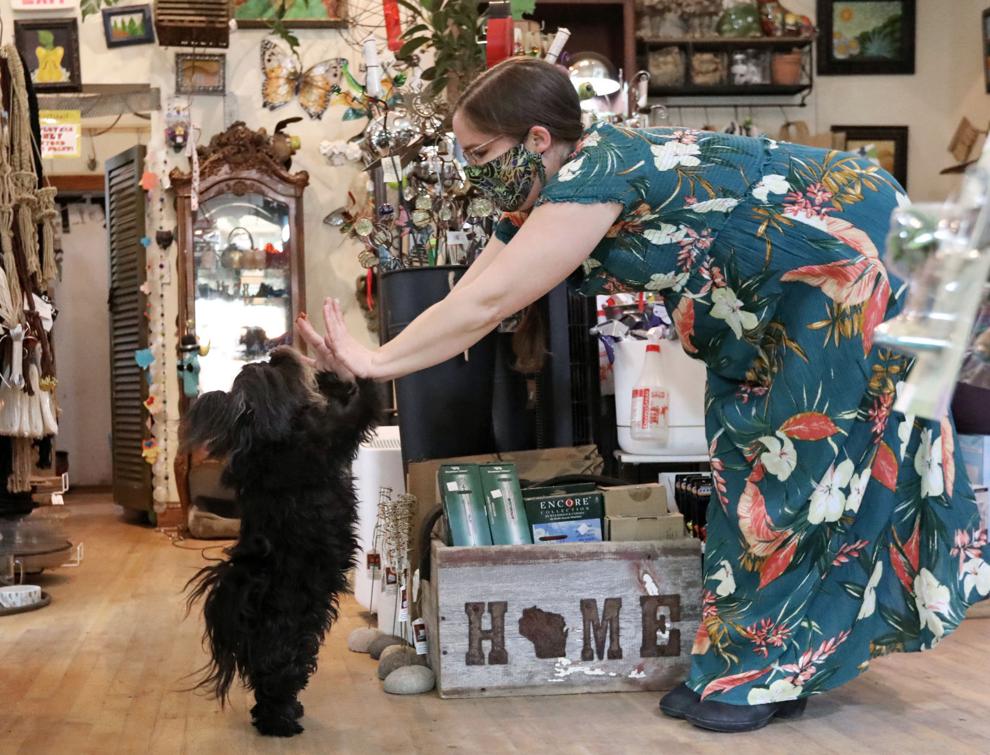 Can you explain your paintings?
They're paintings on canvas. I call them edible landscapes. So when you look at the painting it looks initially like a landscape, and then when you look more closely you see that it's actually an arrangement of vegetables or other things. I use actual vegetables as models.
I sometimes will base it on a landscape. Other times I will base it on a recipe. So I take all of the ingredients for a recipe and make them into a world. It's nice because I get to eat my models.
How do you take care of so many plants?
I developed a method where I try and do all of one room each day and some days I'll do multiple rooms. So I kind of work around the house in that way.
I'm very particular about water quality. We have a terrible tap water system (in Madison). I only use reverse osmosis water. My tank can only make so much water, so I have to spread out the watering throughout the week to take care of everybody.
I imagine each of your plants are special to you in a way. Can you explain how you see your relationship with your 120 plants?
I do feel like my plants are all my friends. I saw something recently where somebody said, pets are the new children and house plants are the new pets. I obviously couldn't take care of 120 pets. But I love all the plants individually, and I do name some of them, but obviously not all of them.
There's certain ones that bring me more joy than others. There's some that are more finicky than others, but to make the finicky ones thrive is more rewarding.
EDITOR'S NOTE: This story has been update to correct the spelling of Jordan Hosking's last name.