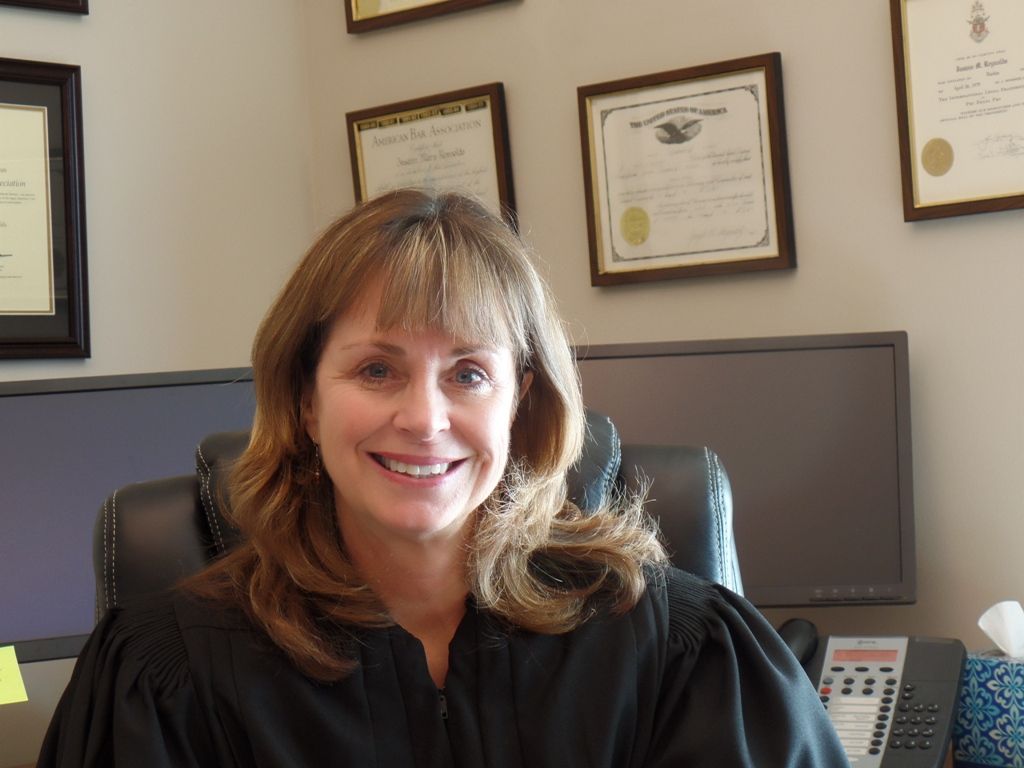 From the time she was in seventh grade, Dane County Circuit Judge Josann Reynolds knew one thing: She wanted to become a lawyer, and then a judge.
She didn't wait a terribly long time to become a lawyer, graduating from UW Law School in 1981 at age 24. But becoming a judge took a little longer, with a side trip to Australia to run a scuba shop.
Reynolds had applied for a judicial vacancy in 1990, but knew she was too young. Her childhood ambition was realized in September when Gov. Scott Walker appointed her to fill the vacancy created by the retirement of former Circuit Judge Maryann Sumi. Nobody is challenging her in the spring election.
The Greendale native joined the Madison firm of Jenswold, Studt, Hanson, Clark and Kaufman as a law clerk and eventually made partner, working a lot of insurance defense cases and prosecuting ordinance violation cases as counsel for some local municipalities, including Middleton and McFarland.
Then in 1995, she moved to Australia and although she spent some time in Madison, she didn't return permanently until 2009.
How does a seventh-grader decide to become a lawyer?
I did a forensics speech on Clarence Darrow, and that's when I decided I wanted to be a trial lawyer, and ultimately, someday, a judge. And from seventh grade on, I never wavered from that.
How did you wind up in Australia?
Well, I fell in love and I married an Australian. He agreed to live here (in Madison) because I didn't want to leave my career. And six months later, his son was diagnosed with a very rare, aggressive cancer. So I took a leave of absence and we went over to Australia. He had surgery, we came back, and I continued with my practice. And it metastasized in both lungs. We buried him two weeks before our second wedding anniversary.
When we were over there on the second leave, we bought a boat and learned to dive. And he said, I can't go back and sit in Madison while you practice law. We put a desalinator (on the boat), we put on a dive compressor, we refurbished it and he and I went to New Guinea and the Solomon Islands and went diving.
And then we realized we had to earn a living so we went back to Australia and (in 1998) bought a dive/snorkel operation in a little piece of paradise called Port Douglas.
What was that like? That's a very difference experience from being a trial lawyer.
It was challenging and exciting and fabulous and demanding. And highly competitive. And then I had my daughter (Searra) in 2001, which was absolutely the most wonderful thing that ever happened. I had been told I couldn't have kids because I'd waited too long, so she was a double blessing.
Your marriage ended and you came back to Madison. What did you do?
I started looking for a job. And then Sipsma, Hahn and Brophy needed someone to try a complicated divorce and a real estate dispute, and they hired me to handle those two cases with Ken (Sipsma). And we got great results from both of them, and I was back in the courtroom where I belonged.
What made you decide to apply for the bench again?
I never wavered in that objective. I just needed to re-ground myself, get the experience, the support in the community. People remembered me. My list of supporters was really humbling. So I got a lot of encouragement and support from people I respect a great deal.
What do you like to do in the Madison? What are the things that attract you to this area?
There's always something to do. I now am a single mom, so my activities revolve around my daughter. We bike in the summer, ski. She's a much better skier. My world is her world in terms of activities. Last year we went and hiked Zion and Angels Landing (in Utah), so I like anything outdoors and so does she. We're active.