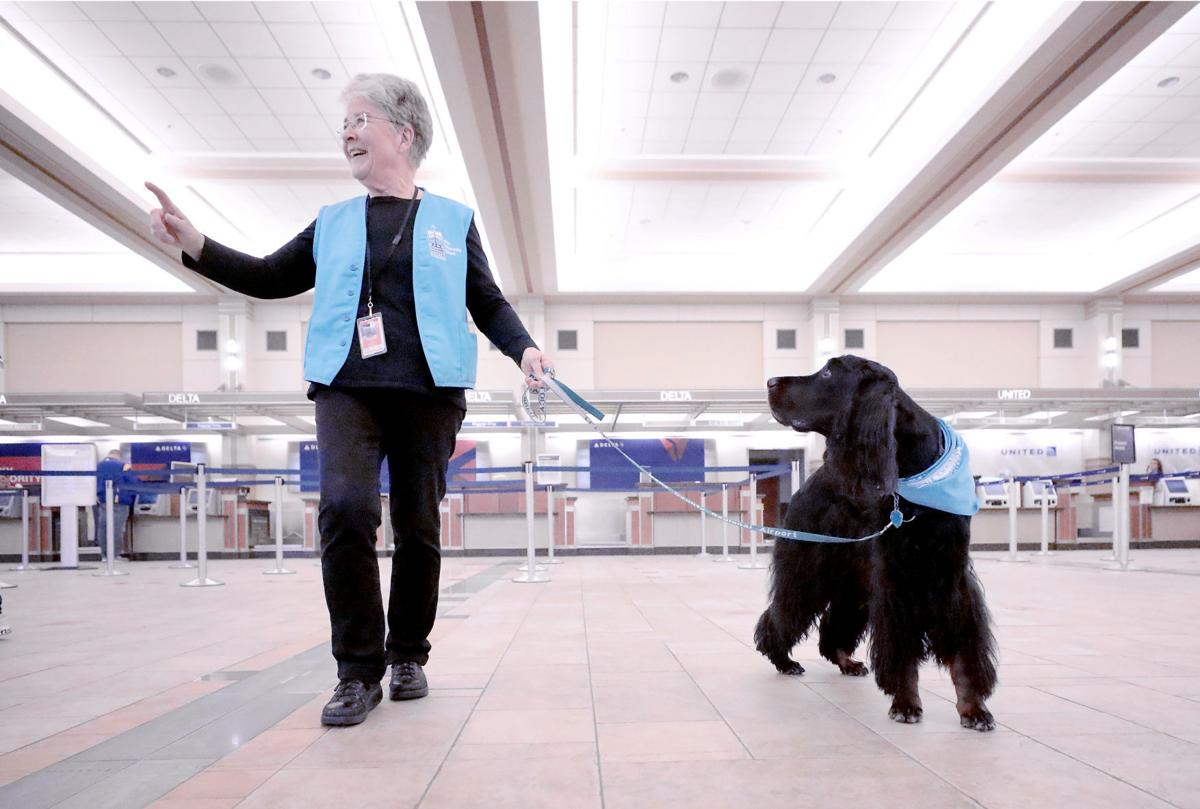 With their lines, security checkpoints and waiting — oh so much waiting — airports are not a place most people visit unless they absolutely have to.
Which is exactly why Pam Prestegard visits the Dane County Regional Airport when she doesn't absolutely have to.
Prestegard is the proud owner of Rocky, a Gordon Setter and one of 10 trained therapy dogs who volunteer their and their owners' time at the airport in an attempt to make air travel in and out of Madison a little more pleasant.
Prestegard sings the praises of the program that began in 2010 with one dog. And as long as there are plenty of treats — bits of carrot and apple, specifically — and people to pet and praise him, Rocky, 9, doesn't seem to mind it either.
Prestegard, 72, came to Madison to go to school in 1965 and never left. She is recently retired from the insurance industry and before that taught high school English. Two of her four grown children still live in Madison.
How did Rocky become a therapy dog?
A local therapy dog group — their coordinator literally ran into us in the dog park one February day about five or six years ago. And I could see this lady watching Rocky, and I thought, "Well, what's wrong?" And she came over and greeted me and kind of watched Rocky and watched how he interacted with the other dogs and the people. And she said, "Have you ever considered doing therapy dog work?" She said, "I can see that he is very good greeting other dogs. He's good greeting people." And she recruited us right out of the dog park.
What kind of training was involved?
Therapy dogs have to be at least a year old to even be considered and they have to have the proper temperament. A very wild, yappy dog or a really aggressive dog obviously would not be good candidates. Then they have to have some obedience training. Then they have to go through a pet therapy course training, both of which are offered by many kennel clubs, including Badger Kennel Club here, which is where I took him. And after that there is a process by which you have to be certified as a team, handler and dog, by one of the therapy dog certifying organizations in the United States. There are some in this area, and we went through Alliance of Therapy Dogs.
The main focus is getting the dog used to a variety of environments. They bring in medical equipment — wheelchairs, walkers. They want the dogs to be familiar with that and not panic or bolt. They will take you out of class sometimes and bring you into other environments to just get them used to doing different things and being in touch with a variety of people. There are rules about how far apart different therapy dogs can be from each other during a group session.
Therapy dog training and certification also involves testing by the certifying organization to determine if the handler has full control of the dog under several different circumstances and in several different community and healthcare settings and to determine if the dog is truly unflappable.
What are some of your more interesting assignments?
The pet therapy work we do with the reading programs in the schools and in the libraries — the Read to a Dog (program). Many of the kids come from backgrounds where they don't have pets. They can't have them in their apartments or they can't afford them or the parents are gone all the time and they just don't have time to deal with something besides their children.
One of the points of the program is if the kids are more relaxed — this is not a teacher watching them, this is not a teacher expecting a certain number of words per minute — they tend to work a little harder at their books or be more interested in them. After a while (one little boy) was sitting there just kind of (petting) Rocky and holding the book with one hand. He was better able to sound out words. He was less self-conscious. That sort of thing happens fairly often.
Are people nervous about flying?
Often I think it's more just kind of annoyed. Travel is not all that easy now. Or sometimes when the airport is very busy like (with) really bad weather. Flights will be backed up. People are just trying to get home or they're trying to get wherever. The whole place is filled and that's when I think our services are most valuable. It just distracts them a little bit. Who doesn't like to just touch a dog and pet them for a minute and talk about their own dogs or their own families?
And does Rocky get anything out of the transaction?
Treats. He likes people. He doesn't generally spend a whole lot of time interacting with any one person but he's always wanting to go up and greet people. And when there are kids around — he likes kids. He likes interacting with them. He'll sit still longer with them. They'll mob him sometimes and he's just as patient as can be.
Be the first to know
Get local news delivered to your inbox!