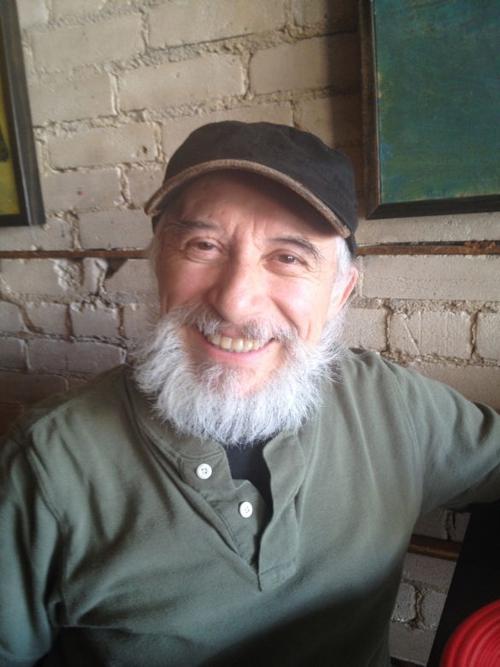 On first impression, it's difficult to tell if Francisco Rodriguez is being himself or the caricature he's created over the past two years.
A Colombian emigrant who skipped around the U.S. before landing in Madison about a decade ago, Rodriguez is better known by the stage name, "Frandu Smith," he uses when he performs stand-up comedy.
There's nothing reserved about Frandu. The 65-year-old's flamboyant laughter and storytelling, combined with his ability to walk into a bar and shamelessly flirt with women a third his age, makes him somewhat of an anomaly to observers. He readily admits that his outlandish sense of humor has gotten him kicked out of numerous bars and restaurants.
After sitting down with Frandu, it's easy to see the complexity of his situation. A few transformative years left him divorced, diagnosed with prostate cancer and laid off from his job with the UW School of Medicine and Public Health's Survey of the Health of Wisconsin. Those events led Frandu to comedy, which has given him a vehicle to cope with his struggles.
Q: Why did you leave Bogota to come to the U.S.?
A: Well (in Colombia in the 1960s) you're either political refugees or economic refugees. We were both … My father was a labor leader. He took me to demonstrations and it became very violent and my father began thinking of moving out. … The way the police were treating labor ... the police began shooting at us and the labor began to fight back.
Q: How did you get into comedy?
A: I had read that (Comedy Club on State) has an open mic night where anybody who wants to (can) get up and say something. I said I'd go on and say, 'Boo!' and I asked (people who had been supportive of his struggles) to say 'Boo hoo!' so that I know they were there. … So I went on the mic and I went, 'Boo!' and nobody went 'boo hoo!' and I thought, 'This is the whole reason why I'm here. I was just going to say thank you. … So I said the first thing that came to my mind ... And they thought that was hilarious. ... I felt so good and I started doing stand-up comedy since then.
Q: So comedy is a way for you to get through tough times?
A: I have nothing and I decided I'll laugh about it. I started (to) bring up my cancer. I tell them I'm dying, but not to worry because they're dying, too. They think that's funny.
Q: At first impression, you wouldn't think anything is wrong.
A: There's nothing wrong. It's just death. I'd like to spend more time with my kids. I hate to leave my youngest in four years. He'll just be going to college. I want to live another 10 years.
Q: What goals do you try to achieve in your comedy routines?
A: I like to do my sets so that when you leave, you remember something I said. I don't want people to leave empty. ... I want my stand-up sets to be reflections of us. I think that if we take a group like al Qaida and we make them laugh — tickle their fancy — I bet we'll have a much better chance at talking to them.
Q: How did you pick the name 'Frandu?'
A: I asked people what they thought of it. 'What's Frandu?' they would ask and I said, 'OK. That's going to be my name.' Fran from 'Francisco,' the 'd' from 'Rodriguez' and the 'u' from 'Rodriguez.' That's the whole name but somebody wanted me to have a last name for me to be on Facebook. They needed a last name, so I said, 'Smith.'