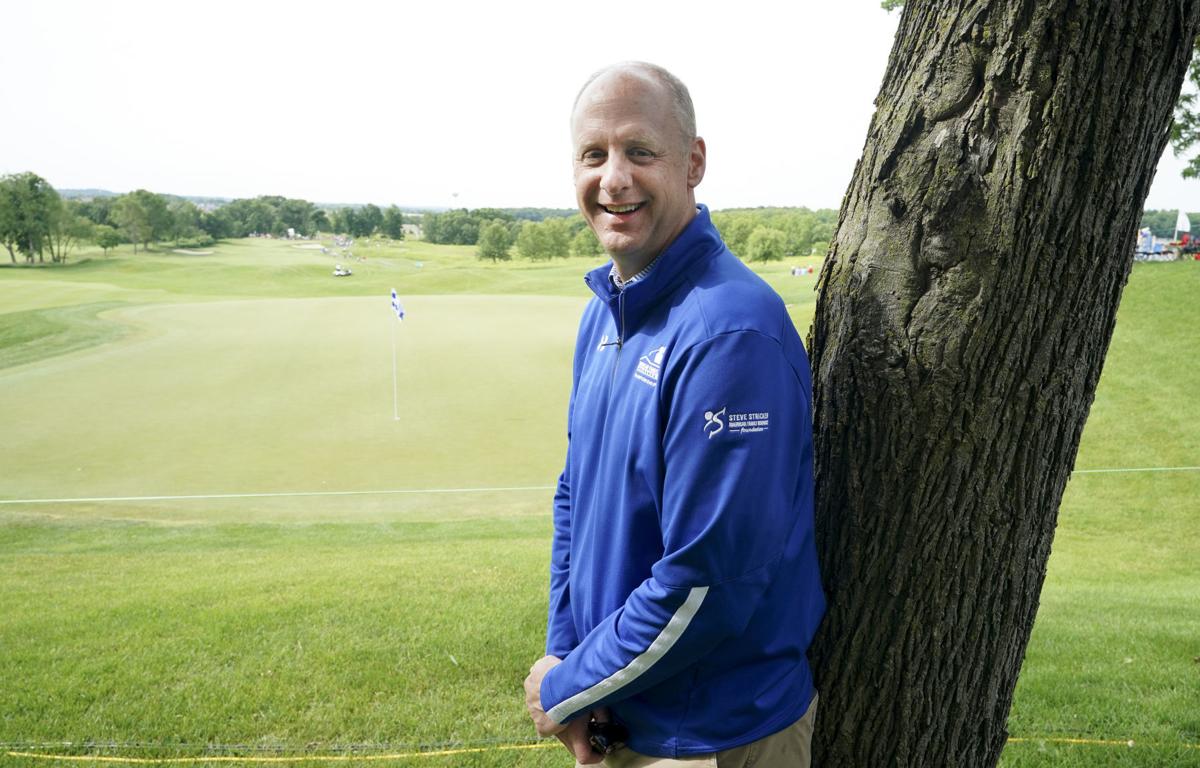 After an eight-year run as president of Edgewood High School, Judd Schemmel left in 2013 to join Madison-based American Family Insurance, where he spent three years as the company's lobbyist in Washington D.C. and the last three as its associate vice president of community investment and partnerships.
Actually, the "partnerships" part was added to Schemmel's job description six months ago, and he now leads all of American Family's expanding network of philanthropic and charitable work. Included in that is oversight of two foundations — the Dreams Foundation and the Steve Stricker American Family Insurance Foundation — and the company's matching-gift, college scholarship, community grants and volunteer programs.
He also has assumed responsibility for the 4-year-old American Family Insurance Championship, the much-acclaimed PGA Tour Champions event that was held in June.
"I've been blessed to work with really good people and that continues today," Schemmel said. "And I'm blessed to be back in Madison."
After graduating from Marquette Law School, Schemmel, 57, worked in the front office of the Milwaukee Brewers, was the staff attorney at CUNA Mutual in Madison and directed a statewide education-based trade organization for private schools. From there, the Madison native went to Edgewood and ultimately to American Family.
Will you describe what you do, especially since your job expanded six months ago?
The community investment side is the philanthropic and charitable work that American Family pursues across the country. The partnership side is the sports and entertainment relationships that American Family has. Those two have been combined and now represent a larger area of community investment and partnerships. I have the privilege to oversee that work.
Was combining those two areas a long time coming?
American Family has had a long and rich history of investing in and giving back to and being a part of the communities where they live and work, where people raise their families and where they do business. The philanthropic side well predates me and the work they've done has been terrific. We've just taken that side of the work in a new direction. The sports and entertainment side has been folded in for about the last six months. We're now fully getting our arms around those relationships, establishing them under new leadership and assessing strategically how those go forward in the communities where they're located. We have the Seahawks, Falcons, Colts, Packers, Atlanta United of MLS, Brewers, St. Louis Cardinals, Summerfest, and we also get involved in some multicultural endeavors in those areas like the National Black Arts Festival in Atlanta, things of that nature.
You have free articles remaining.
American Family obviously has a strong presence in Madison. Is most of the charitable work you oversee local?
No. Our Dreams Foundation pursues its charitable work across the entire footprint of American Family's operating territory. So it's 19 states. The programs — the scholarship program, the granting program, the matching-gift program — are all in their fourth year of existence, just like the AmFam Championship is. So think back to four years ago and the approach to our work in the community, whether it comes through the classic philanthropic side of grants, scholarships, etc., or it comes through something that may be less immediately thought of like a golf tournament, all of that collectively is serving communities and serving people in need in those communities.
In addition to its charity work, American Family has become involved in things such as securing the naming rights at Miller Park and the Amphitheater at Summerfest, and helping to save the lakefront fireworks display, all in Milwaukee. Is becoming more engaged in the Milwaukee area good business or good civic-mindedness?
When we can make an investment in those types of endeavors, we know those are cornerstone things that add to the quality of life that everyone enjoys here in the state. That's a smart investment for American Family. It's also, though, another commitment to the community that American Family is making. So it can fit on both ends and it's OK to talk about things that way. It's OK for that kind of work to be a strong, smart investment for American Family, but also a strong, smart investment in a community asset that serves so many people and so many people can enjoy.
Now that the AmFam Championship is under your purview, how involved are you in the tournament itself?
Honestly, there are times where your best decision as a manager is to lean in and to really become very involved in something. Other times your best approach as a manager is to step back and let those who are really talented do their thing. That's the case here. There are so many gifted people that are involved in this. My job is to assist them in any way that I can, be available to them, be available to the community members and other business partners that are here. But we've got a really strong team that helps to run this and it's smart for me and for us to defer to that group.
Do you have much interaction with American Family's brand ambassadors from the sports world?
I don't have a great deal of exposure to our brand ambassadors. I do have some, but that's an area that falls more classically within the marketing area. But I'll say this, I think by and large American Family has selected really good people. When you think about what J.J. (Watt) has done in the Houston area, it's been remarkable. Almost unmatched in professional sports in terms of the things that he's done. It shows the character that he has. You think of what Kevin Durant has done for the community as well. Derek Jeter and his Turn 2 Foundation. There are a number of examples of our brand ambassadors stepping forward to serve in the community. And honestly, with our new brand ambassador, Christian Yelich, when we first started to talk with him about the possibility of becoming a brand ambassador, he was very centered on wanting to be engaged in the Milwaukee community. He wanted to make a difference in the Milwaukee community.
Was it a difficult transition going back to the corporate world after working in education?
It was. I really enjoyed (education), but it was on my list to look at a larger corporate setting as hopefully my last stop professionally. To have landed in an organization like American Family, I will say to you point blank, I feel very blessed to be at American Family, particularly now. It's got a long, rich history as an organization, but in the last seven to 10 years, with the movement that American Family has made both in the community and as a business in terms of its approach, its breadth, its scope, its reach, it's a fun time to be at a place like American Family.