Ron Dorr is a fitness trainer who specializes in older adults.
He teaches nine fitness classes, with a total of 13 sessions, most weeks in Cottage Grove and Verona and through Madison School & Community Recreation. Participants range from about 50 to 94 years old.
He's also a personal trainer for older adults and leads Stepping On classes, which aim to prevent falls, through Safe Communities Madison and Dane County.
Born and raised in Madison, Ron Dorr, 59, is a father of three and grandfather of two. He now lives in the town of Cottage Grove.
How did you become a fitness instructor for older adults?
I didn't want to do what I did anymore as far as work goes. I didn't have a purpose.
When I was working out one time at Anytime Fitness, I watched a young trainer at a first meeting with an older adult. He pushed her too hard. She ended up limping as she was leaving. She probably never went to a gym again. Another time, they had a 300-pound older man doing box jumps. Wrong exercise for the wrong person, especially because of age and joint issues.
In 2016, I (enrolled in Madison Area Technical College's) fitness and wellness specialist program. Nobody talked about older adults; it was one 15-minute speech. The market's not there. It doesn't pay enough.
But I wanted to focus on older adults, so every project I did was based on seniors. On my own, I got senior physical fitness certifications through the American Council on Exercise. Then I got certified through the Arthritis Foundation, the (American) Diabetes Association, the (American) Asthma Foundation. I wanted to know what I was getting into.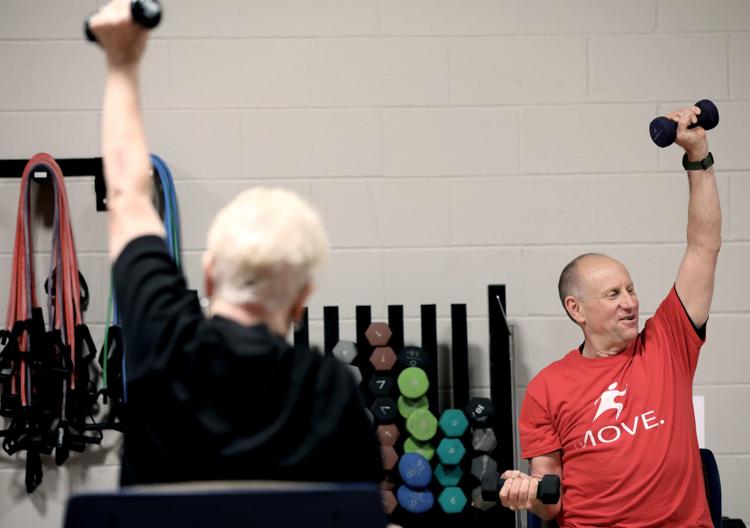 What were you doing before for work?
I was a customer service manager. Companies would hire me to build or update their customer service departments. I worked for Douglas Stewart Co. and The Guild in Madison and Renaissance Learning in Wisconsin Rapids. At first I really enjoyed it. Later, I saw the younger group coming up. At 55, I wasn't as respected. It was time for me to move on. I got a severance package, so it worked for me.
You have free articles remaining.
Register for more free articles
Stay logged in to skip the surveys
Had you been athletic before?
I ran track and cross-country (at East High School). I took a 10-year period off, where I decided drinking and smoking was a lot of fun. Then I got back into fitness. I started biking more. I've done 10 100-mile bike trips. I've section-hiked on the Appalachian Trail and, in Wisconsin, the Ice Age Trail and the North Country Trail. I've run a marathon. I've done mountain bike racing. I've gone on remote canoe trips in the Adirondacks. I've always loved the silent sports.
Next year, I want to try the Wisconsin Senior Olympics. I've run all my life. I've been a middle-of-the-pack kind of runner. I've never been competitive. But at 60 (on July 31), I'm realizing that a lot of my friends are dropping out. I'm still strong. I really want to go out there and fight for the 10K in the 60-64 age group.
How is fitness different for older adults?
The first thing you do before you start training somebody is see how well they stand. Before you go to mobility, you see their stability. Since they've had different injuries and different surgeries, they're going to have limitations. You've got to build modifications. It's not, just, bring them in and run them.
I need to get them to trust that they're not going to get hurt. Younger people think they can push as hard as they can; if they get hurt it doesn't matter. Older adults think, "If I get hurt, I'm never going to do this again." They're possibly right. I need to be very careful with that.
Balance is a huge piece of it. I incorporate balance in every one of my classes. Balance is something in your brain, not in your muscles. When you stop doing it, your brain forgets.
We do longer warm-ups, a lot of stretching exercises. We work more on range of motion. It can be painful to bring those muscles back.
How can you tell if your classes are helping?
People come up and tell me. At an arthritis class, a man said, "I'm a safer driver now because I can look behind me." I see them walking flat-footed, not picking their legs up, but as the class goes on they start to bounce.
How do you maintain enough energy to teach all of those classes?
I am very high strung. But it is tiring. I need the weekends to lighten up a little bit. I do a lot of internal training. I try to eat well and make sure my weight stays down. Sleep. It's just taking care of myself in all of the realms to make sure I'm strong enough for all of the classes.