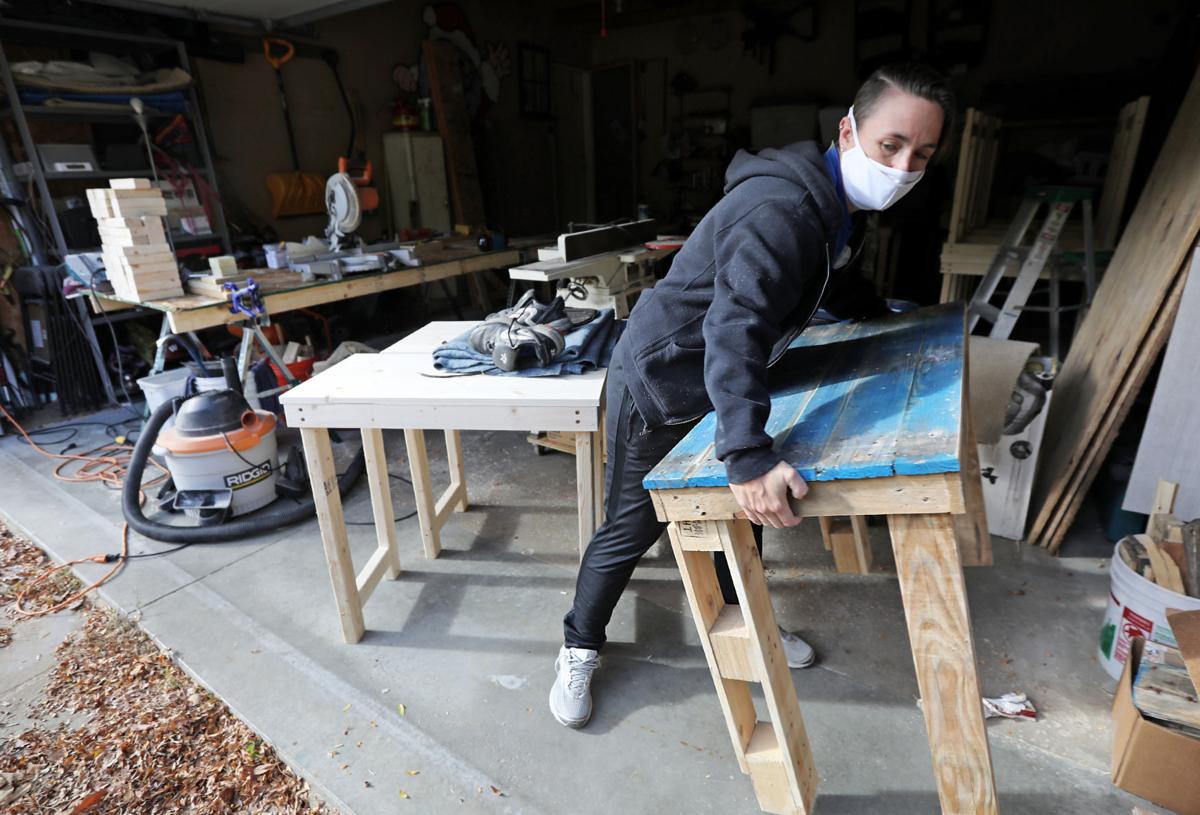 What started this summer as a project for a friend has turned into a desk-building enterprise for educator Jocelyn Lepinski, who so far has made 145 desks, with most of them going to underprivileged schoolchildren.
Lepinski, 42, grew up in Stevens Point with a woodworking father, who put a hammer in her hand as soon as she could hold one. "He used to give me a set of nails and boards and he'd say, 'Go get 'em.'"
She's been doing woodworking and home remodeling ever since. As a teenager, she worked with her father to gut and remodel a house. She got even more experience when she bought her first house in 2005. "Since then, I have just kept going — gutting rooms, remodeling houses with friends, remodeling my own houses, helping my dad remodel a cabin and learning as I go," she said.
So, when a friend asked Lepinski if she'd build her some cabin furniture in May, she did. After that project, she wound up with extra wood and decided to build a desk, which she gave to her 13-year-old son.
With more leftover wood, she built two more desks for a neighbor, and another for her best friend. Once she put the word out about her desk-making on Facebook, she said, "it took off."
The project has kept her occupied during the pandemic. "COVID kind of sucks," Lepinski said. "So, what can I do to stay busy outside of work?"
Lepinski came to Madison as an undergraduate in 1996. Her bachelor's degree is in sociology and women's studies. She has a master's degree in social work and a teaching degree in history.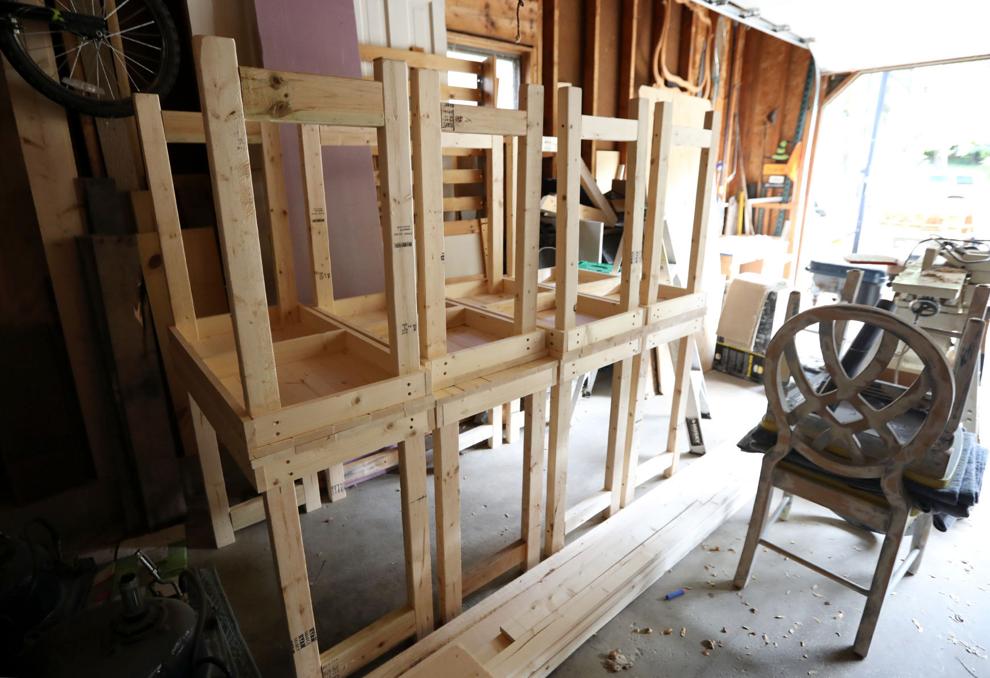 She worked for the Madison School District's alternative education program for 10 years, teaching history for eight. She's in her second year working for the district's central office as a universal systems coach focusing on student engagement in high school classrooms. Her goal is to become a principal.
Lepinski lives on the North Side with her wife, Daisy Quintal, who owns Union Hair Parlor on Winnebago Street, and their two sons, 13 and 8.
So, tell me how you went from one desk to 145 desks.
Since I am a teacher, or I work in the district, people were asking families, "Could you use a desk?" because I said, "I'll make it." It's just my labor. I had free pallets. ... Then before you knew it, MMSD ran that story featuring me on their website. And from there, I couldn't stop it.
Did you ever hurt yourself woodworking as a kid?
Funny story: I apparently hit my thumb with a hammer, which by the way, hurts something fierce, when I was working with my dad in his shop. I started to cry a little and he told me that, "Daddy doesn't cry when he hits his thumb in the workshop." So, I sucked up the tears and went back to pounding nails. I hit it again, which, by the way, hurts even more the second time — trust me, I've done it as an adult — and this time my dad came over to me as I tried to hold back the tears and said: "When Daddy hits his same thumb a second time, he cries." I still follow that advice.
Are the desks going mainly to children who are in need?
Yes, absolutely. In the beginning, I had a handful of friends who were like, "Hey, build one for me and I'll give you money. I'll give it to my kid." And of course those people donated well beyond what it really cost me to build a desk. ... And from there, it was social worker friends, cop friends, teacher friends who were all reaching out to families. I have a social worker (friend) from Dane County. She gave three of those desks away. I had a Dane County sheriff (deputy) that had befriended a family that needed a desk. I don't know these people that are getting desks for the most part. I really don't know who they are.
What kind of feedback have you been getting?
My favorite feedback is when I would drop off a desk and, obviously with COVID, I didn't go inside. I'd text the person. I'd put the desk down and I'd wave and we'd walk away from each other with masks on. And it was usually within 10 minutes of me leaving, I'd receive a text message with a picture of the kid at the desk. It was awesome.
Know Your Madisonian 2020: a collection of profiles from our weekly series