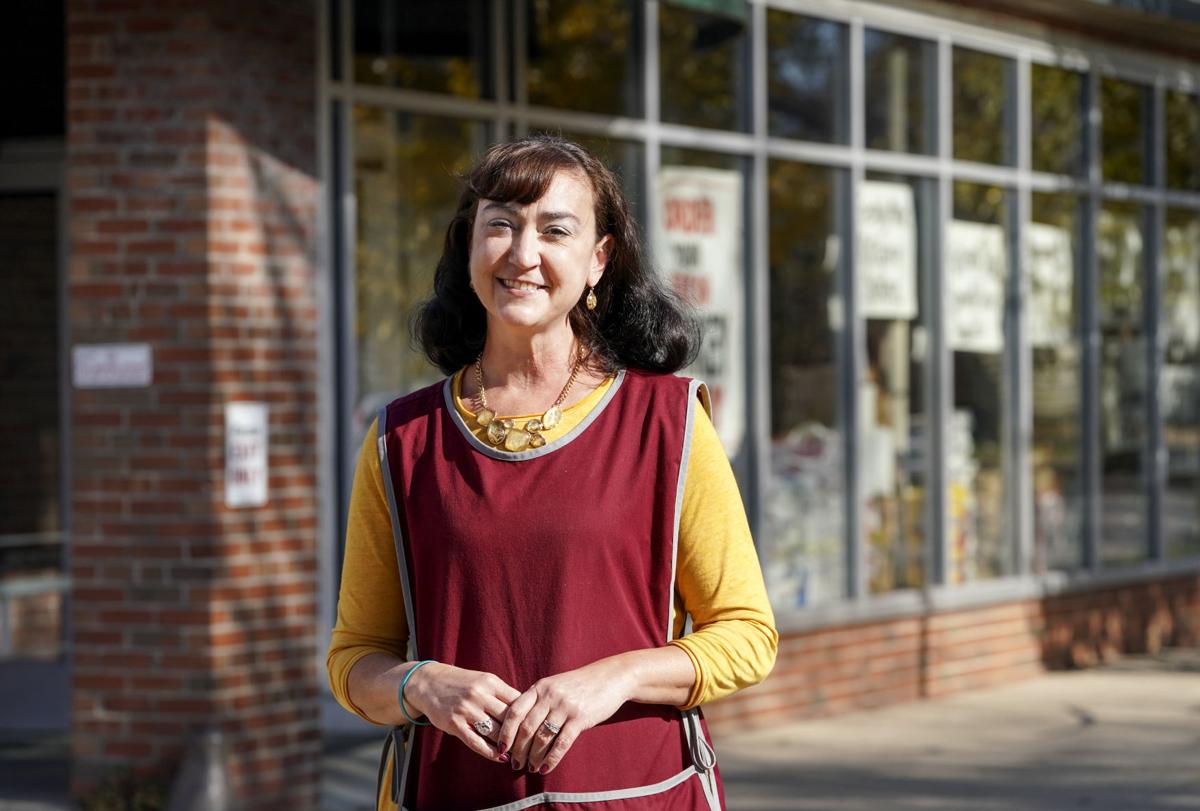 She's been a friendly face at Jenifer Street Market since she was an East High School student more than 20 years ago, and once you meet her, there's really no excuse for forgetting her name.
But if you do and you're in the store someday and need help from someone who knows just about everything about what the grocery sells and what shelf to find it on, just ask for the woman who sings.
Jenny Georgeson, 41, grew up about six blocks away from the market at 2038 Jenifer St. on the border of the Schenk-Atwood and Marquette neighborhoods. The 41-year-old throwback neighborhood grocery that makes its own brats and bread and only recently started taking plastic is so important to neighbors that last year when the store's landlord, Schoep's Ice Cream, entered receivership and the store was at risk of closing, neighbors raised $65,000 to help its owners buy the place and keep it open.
For the last 17 years, Georgeson has lived on Madison's Near West Side with her husband and high school sweetheart, Chris. They have two sons, 13-year-old Carson and 21-year-old Mason. Her parents still live in the house she grew up in.
You've been with Jenifer Street for 25 years. I assume that means you like it.
We're really like family. In high school it was kind of, "Oh, it's a high school job." But the older I got, and I had a child at a really young age, and they were just so helpful. They accommodated to all my needs pretty much and it just became family.
"Family" meaning co-workers or customers or both?
Definitely the people I work with. But also the customers. They come in and it's like, "How's Bobby? Did Bobby get that promotion or did they get into the school they wanted?" I've watched so many of the kids grow and maybe even trained them (for jobs at the store).
Is there anything you can't do at the store?
I have never cut meat. I was a night manager. I would do all the bookwork. I would fill the ATM and clear out all the drawers. I pretty much am the only other Kim (one of the owners). She trained me. I could open the store, make sure everything was set, balance all the books.
Were you surprised the neighborhood stepped up to help the grocery buy its building?
I was not surprised that they would help. I was so surprised that we got it because they put a lot of money in on it, not just the customers but (owners) Kim Dilley and Steve (McKenzie). I'm going to bed thinking around Christmas I'm not going to have a job and that was really sad and then she texted me an hour later, "We got it." It's not even just losing my work family. It's like losing my whole neighborhood.
So you're known for singing along with the music they play at the market?
I'll sing to every song that I know and if I don't know the words, I'll make up my own.
Do you ever get funny looks from people?
Do you have a good singing voice?
When I'm trying, but most of the time I'm just having fun.
Do you have a favorite type of music?
Oldies. I'll be waiting for somebody to use their debit cards and I'll be singing and they'll be like, "You're too young to know this song." There are people who say "the girl that sings." They don't know my name. There was this one night when I worked nights and I thought everyone was gone and Whitney Houston singing "I Will Always Love You" came on the radio and I went over to the microphone not even trying, "I will always loovvve you!" And then somebody walked up.
Tell me something about your upbringing?
My parents have always had at least one, if not three, jukeboxes in their house. I grew up in an antique mall, pretty much. My dad was into coin-operated and rewiring pinball machines. Jukeboxes, pinballs, slot machines, pachinko, anything coin-operated pretty much. He would buy pieces of junk and fix them (and then sell them). A1 (on one jukebox) was always "Brown Eyed Girl." He put that in there for me. And then when I turned 16 he put in "You're 16, you're beautiful and you're mine," knowing eventually I was going to press A1, and I just bawled.
Do people give you a hard time about the Jeny/Jenny thing?
No, everyone says, "It's so easy to remember your name." I'm Jenny at Jeny Street. Or if I answer the phone, I'll be like, "Jenny, can I help you?" and they'll say, "Do you own the place?"
---
Photos: Willy St. Co-op North Mural
I'll sing to every song that I know and if I don't know the words, I'll make up my own.
I'll sing to every song that I know and if I don't know the words, I'll make up my own.