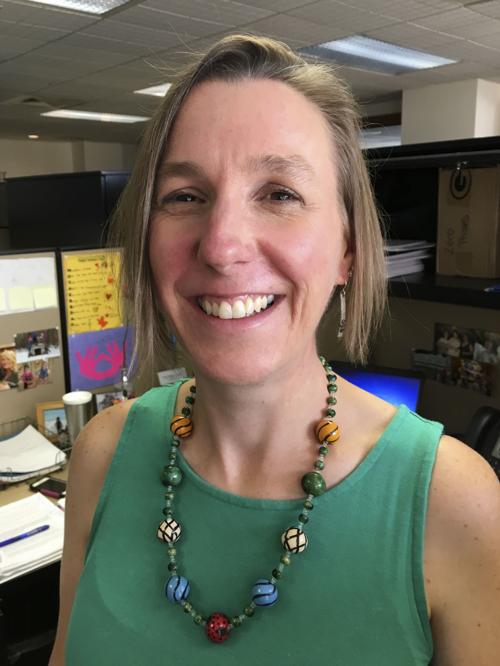 She didn't know it then, but Torrie Kopp Mueller's career of aiding the homeless and needy began with a part-time receptionist job while studying at UW-Madison.
A native of Beloit, Kopp Mueller, 38, had early ambitions to be a high school guidance counselor and earned bachelor's and master's degrees in social work from the university.
In 1999, while an undergraduate, she needed a part-time job and, living near the YWCA Madison on Capitol Square, sought a position there, thinking the YWCA was a gym. At the interview, she learned about its mission to provide emergency shelter and affordable housing, job training and transportation, and to promote race and gender equity.
Kopp Mueller started as a front desk receptionist in the evenings and on weekends and held several positions, eventually rising to housing director her last three years. She became president of the Dane County Homeless Services Consortium board in January 2016.
Early this year, she was hired by the city as the consortium's first, federally funded continuum of care coordinator, managing activities required by the federal Department of Housing and Urban Development and working with homeless service providers. She also serves on the community advisory board for Mendota Elementary School.
In November, the city presented Kopp Mueller with the 10th annual Jeffery Clay Erlanger Civility in Public Discourse Award.
Kopp Mueller met her husband, Eric, at the Ms. PacMan game at the Plaza Tavern near campus. They have two daughters, Josie, 8, and Millie, 6. She enjoys living on the North Side, hiking and camping, and baking.
What did you learn at the YWCA?
Women and families at the YWCA have the same needs as anyone else: safe affordable housing, food, clothes, meaningful daily activities, love, empowerment, etc. What I found is that for some, it is much more difficult to meet these needs. People experiencing homelessness face a lot of judgment in the world, which results in barriers to meeting their needs. You add being a person of color on top of homelessness and it's that much more difficult to get your needs met. The biggest thing I learned is that the women and families I met at the YWCA are some of the most tenacious, hardest working people I know.
Why did you want to be continuum of care coordinator?
I truly believe that we can end homelessness in our community. I felt that changes in our system are needed in order to achieve this and I really want to be a part of guiding our community in making those changes.
What's the state of homelessness here?
Our community has about 800 single adults and 160 families on our priority lists who need housing. These numbers do not include people who are "doubled-up" with family or friends or those who are self-paying to live in hotel rooms. This is a serious issue in our community that we can solve by working together and being strategic with our resources.
What do we need to know about this issue?
Community members need to know that they touch someone experiencing homelessness every day. It could be someone in your kid's classroom, the person making your coffee, an employee at your clinic, the person you walk past every morning and say hello to.
What's most concerning and rewarding?
The most troubling is when policies in our society work to keep people down and make it near impossible for them to move out of poverty. The most rewarding is that I get to work with this population. I have met some amazing people and have learned so much from them.
Has our community made advances?
Our homeless service providers are really embracing the Housing First philosophy and are working together in ways they wouldn't have just a few years ago. We have eliminated individual waiting lists and now have one priority list for individuals experiencing homelessness and one for families. Providers meet every two weeks match people to housing. When providers are having challenges in finding someone housing or keeping someone in housing, they are more likely to come to the group to seek advice, new ideas and support.
Progress is really slow. I have a vision in my head of how the homeless services system can work and it is taking a long time to get there. I need to step back regularly to see how far we have come in the last couple of years.
The only way to end homelessness is through housing. Putting affordable housing in strong established neighborhoods is good for the people who are already there and can provide a sense of stability to those leaving homelessness for housing.
— Interview by Dean Mosiman
Be the first to know
Get local news delivered to your inbox!