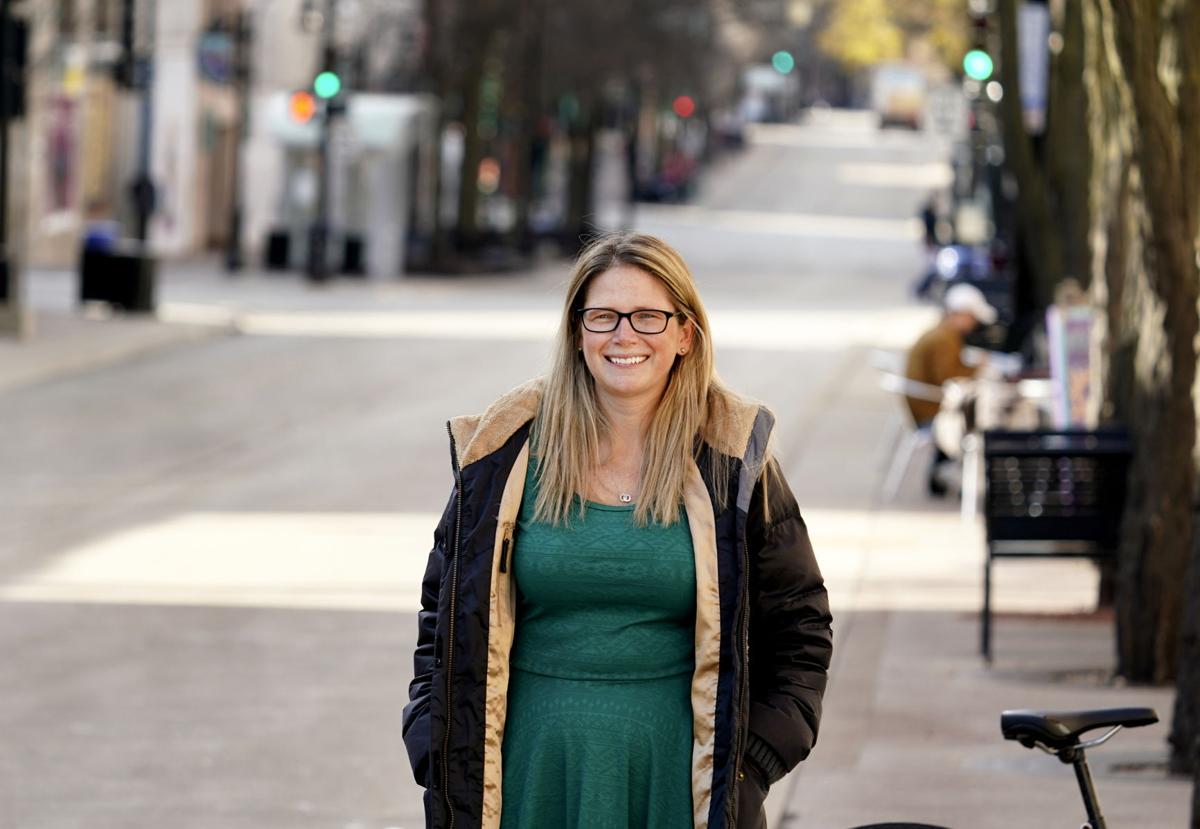 As a young girl growing up in Elkhart, Indiana, the self-described "RV capitol of the world," Linette Rhodes thought she'd follow her parents into that industry and become a secretary.
Today, she serves as the community development grant supervisor in Madison's Community Development Division, a position that oversees federal funding from the U.S. Department of Housing and Urban Development directed to the the city, as well as city support for affordable housing strategies. It's a big job in a community that lacks housing for low-income people and faces a rising challenge of homelessness.
When Rhodes turned 18, her mother told her to go to college or move out, with a hope she chose higher education. Rhodes picked Valparaiso University, and the experience opened a world of possibilities. She studied criminology and sociology and worked at a youth detention facility her senior year, and did some real estate work, and after graduation intended to continue working with youth.
But in 2003, a group of friends were moving to Madison and asked her to come. Rhodes, who had lived her entire life in Indiana, thought it was time to try something new and relocated. Her first job here was a temp answering phones at AnchorBank. Her employer, surprised a temp could handle real estate inquiries, within a week gave her a permanent position, eventually as a loan processer for a lender that worked on affordable housing.
The experience launched a career.
Rhodes saw a need for first-time homebuyers, especially those using down payment assistance programs, to get more attention from lenders, and she pitched and got a position as an affordable housing specialist. In 2010, she secured a "dream job" with the city, starting as a grants administrator focused on home ownership and data analyst on homeless issues.
Eventually, she took on more of a portfolio, and was named to her current position three years ago. She's responsible for about $10 million in federal and other funds for housing strategies.
Rhodes, who enjoys reading and making crafts, gets together with her parents and three older sisters every year for a vacation capped by running a half or full marathon together.
Why did you pursue this career?
I wanted to work in the area of affordable housing because I saw how important safe, quality housing was to create stability for people, in particular youth. I see this even more during the pandemic. Everyone is being told to stay home, stay safe and wash your hands. Where do you go when you don't have a home to keep you safe?
What's the most fulfilling part of your job?
I love this job. I'm truly able to see how we need a lot of different strategies in order to support neighborhood revitalization and community growth. Through the work of my department I can see the success stories that come from our community agencies on how connecting someone, for instance, to stable housing, job skills and just getting them a support system could lead households from homelessness to homeownership.
What kind of need do you see?
On housing, a lot of work to do. We have more need and not enough resources. We also have some state statutes that tie our hands on doing some things, like requiring affordable housing in developments. We are doing our best to work around those barriers.
What are the city's best tools?
In the last year we have created an Interagency Housing Team that has really helped move the conversation of affordable housing strategies. Through this team we have discussed how the Planning Department can review zoning code and ordinances to expand density and streamline approval process for affordable housing development. Those conversations will be at the Plan Commission this next year.
What are the greatest needs you see in the homeless population?
More supportive housing opportunities and property management that is willing to lower barriers on screening. While the city/county focus on expanding emergency shelter for homeless, those sites should be just a stop gap, an emergency situation, until permanent housing can be obtained. Many people grew up with different social circumstances around us and some households may need help navigating systems in different ways than others. We also have households who have had some bad luck in their lives. Maybe they made a few poor choices in the past. We need to give people the opportunity to secure housing and not always look at past mistakes.
What are the major shortcomings of our system?
Besides adequate shelter and housing opportunities, we need to create better coordination with mental health and crisis response systems. I think the county and city are trying to take those steps in the 2021 budgets.
What are the greatest unfilled needs in your area of responsibility?
This next year we will be having a lot of critical conversations about the future operations of sheltering for homelessness, expansion of other housing strategies, and support to our nonprofit partners to expand their contributions to partner with us. Financial resources are a sensitive topic, and we face a lot of different priorities.