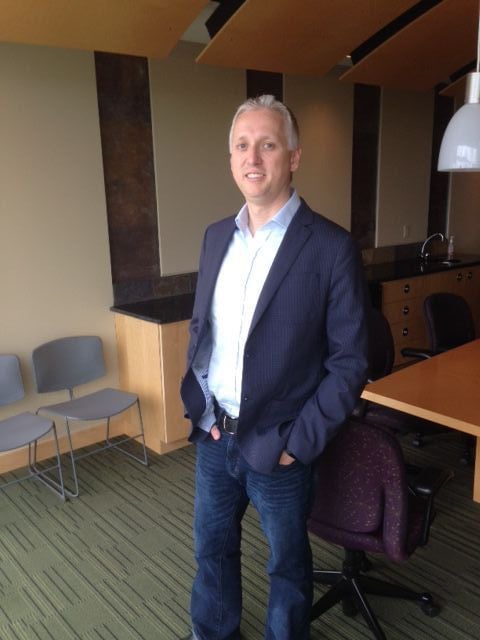 Derek Notman has scuba-dived the cold depths of Lake Superior, braved the streets of Johannesburg, launched a new career in Vermont, and holds dual Irish-American citizenship.
Now he's settled in Madison, where he founded a business providing financial services to entrepreneurs and launched a charity to funnel some of the revenues from his business to support budding entrepreneurs.
Notman is 37 and lives with his wife and soon-to-be 6-year-old son. Among the other highlights of his biography are surfing in the Pacific, Atlantic and Indian oceans and the Caribbean and Celtic seas.
I wanted to have more meaning towards what I was doing and I wanted it to be connected to what I'm doing on a day-to-day basis. I work with entrepreneurs through all stages of their business. I get paid, my business generates revenue from working with these entrepreneurs. So why not start a charity that I can donate money from my core business to this charity and then support charitable organizations?
What efforts does the charitable group support?
Through the (Wisconsin Technology) Council there's something called the Wisconsin YES! competition. It's a statewide contest where it's mainly high school kids, but I think some junior high kids do enter. But they have these startup businesses that they're working on, usually with classmates and teachers and parents. So my wife and I judge some of those, along with a lot of other judges, and we also donate some money to the winner to help them start their business.
The other one is down in South Africa. It's the Branson Centre of Entrepreneurship. (South Africa has) a really troubled past with apartheid and post-apartheid. There is a tremendous amount of unemployment. The crime rate is extremely high.
Here in Wisconsin, for example, really the main thing we have to worry about when we're working on our business is what the temperature is when we go outside. Whereas there they're actually worried about, are they going to get mugged on the way to work? At some point what I'd love to do is bring a group of them here to see how things are done here, but then also bring a group of entrepreneurs from Madison down there and say, hey, this is how things are going on in different countries.
You think you had it tough here ...
Exactly. But what I've also found is that connecting entrepreneurs like that, at the end of the day they're still entrepreneurs. So they can share ideas. They can share tips and best practices, and just getting people together, all these good things happen.
Is there enough volunteer support for entrepreneurship from people in your position?
I think there's more to do. I know a lot of them here locally do try to give back, but really it's tough because there's not enough time in the day to do it. I think I see that after they have had their exit, (after) they build their first company, they have some funds. That can take the pressure off a little bit. They're much more focused on giving back.
— Interview by Chris Rickert