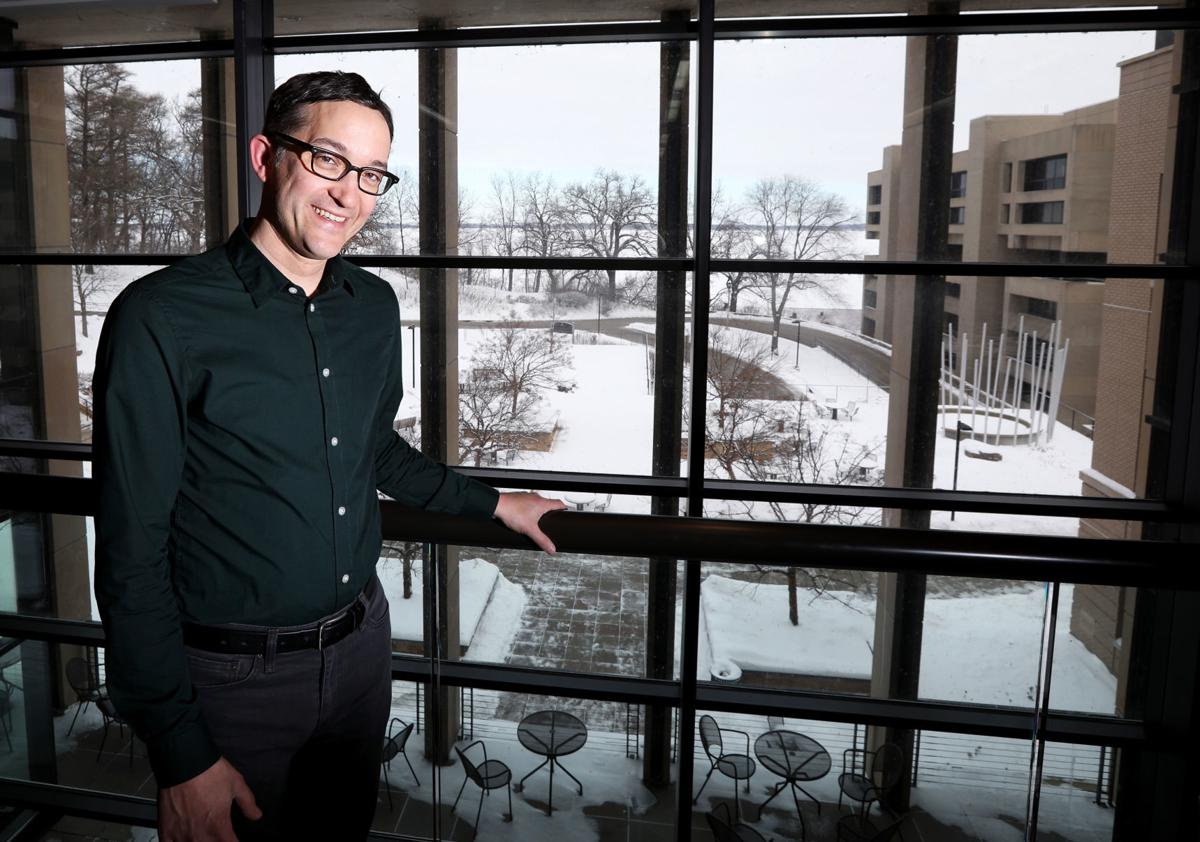 Omar Poler wants to change the way we think about our home.
For Poler, that means helping students and teachers understand how native cultures have been subjugated and learning to see the world differently.
A member of the Mole Lake Band of Lake Superior Chippewa, Poler, 42, grew up in La Crosse before moving to Madison in 2002. He studied history at Madison Area Technical College and later at UW-Madison, focusing on the history of the Mole Lake community.
He went on to earn a master's degree in library science and spent most of the past decade as an outreach specialist for the UW-Madison Information School, supporting tribal librarians, archivists and museum curators across the state.
That work earned him the 2019 leadership award from the Association for Tribal Libraries, Archives and Museums.
"He balances his knowledge of indigenous ways with goals of academia while remaining true to cultural preservation values that culture keepers have shared with him," said Janice M. Rice, a Ho-Chunk nation elder and emerita librarian at UW-Madison.
Poler also helped develop the Our Shared Future Heritage Marker, a plaque recognizing that the university occupies ancestral Ho-Chunk land that the nation was forced to cede in an 1832 treaty.
The marker, which recognizes the sovereignty of the Ho-Chunk and 11 other First Nations of Wisconsin, was dedicated last summer as the first step in a multi-year effort to highlight the history of the first people to make their home on the Isthmus.
What do you do as American Indian Curriculum Services consultant?
I do whatever I can to support learning about First Nations … and try and create learning opportunities and inspire people to want to learn about First Nations.
I go into classrooms, do presentations. I work with faculty, graduate students, anybody who's interested in including First Nations into their classes.
One of the primary things that we do to support learning and inspire learning is the UW First Nations cultural landscape tours.
What is a cultural landscape tour?
They're really an attempt to introduce indigenous ideas, concepts, issues by just taking a walk across campus. No matter where you are in the state, there's a deep indigenous history, and that's especially true here on campus.
Oftentimes when we tell the story of Madison, it begins in 1848 or 1836. But we have archaeological evidence of people on this campus 12,000 to 13,000 years ago. When we begin in 1836, when we begin in 1848, we're only telling 1.4% of the human story of this place, right? We're missing 98% of the human story of this place.
What would people hear on one of your tours?
I go up to North Hall, which is the first building on campus, and talk about the experiences of some of those early students that were here in the 1850s but really as an opportunity to think about what the landscape was like previous to European colonization.
Indigenous people have a very different relationship to land. ... Indigenous people are connected to their place through their culture ... and they have special responsibilities, obligations to place.
What did it mean for them? What did it mean for Ho-Chunk people when they were forcibly removed from this place?
Anytime that a person has an opportunity to really learn about First Nations, one of the questions is: Why did I never have an opportunity to learn this before? How is it that I've been through all these years of school and I'm, you know, 20, I'm 30, I'm 40, I'm 60 and I never had an opportunity to learn this?
I've had people on the tour who say for the first time ever, "I feel like a guest here." And when I am a guest in other places, I learn about those places. I learn about those people.
Growing up in La Crosse, were you exposed to indigenous cultures?
I'm a mixed person. I'm an enrolled member of the Sokoagan Chippewa community on my dad's side. On my mom's side, I'm mostly Finnish. Understanding those two cultures and how they came together in me has been a really important, maybe the most important, part of my life.
Every day I'm trying to figure out how those two world views, how those two different ways of thinking sort of affect me and the way that I see the world.
It's been a process of unlearning. You think you see one place, that you know one place, but in fact you don't. And that place, as you learn, as you grow, it becomes a very different place. You see different things in your place and learn different ways of being human in your place.
What led you to want to study library science?
I might not have been going to classes at Logan (High School), but I was reading.
I have to thank Mrs. Knutson for that. She was really important because I got a lot of detention at Logan. A lot. Because I was late all the time. ... She figured out that I could make up my detention. She had me go to the library and read. And so I spent a lot of time in the Logan library reading.
My family's always been a reading family. My dad was involved with one of the earliest tribal libraries in the state.
When I moved here, I went to MATC first for three years. And when I transferred (to UW-Madison), I was getting a degree in history and focusing on Mole Lake history. I ended up working at the (Wisconsin) Historical Society ... in the microforms room. And the microforms room is the only place where you can access the Mole Lake Sokoagan Chippewa tribal archives, that archives project that my dad was involved with back in the '80s.
It was through the folks that I met at the historical society that I ended up applying to go to the library school.
You talk about the First Peoples' principles of learning. How do those differ from other approaches to learning?
There's these different ways of thinking about the goals of education. It's holistic, reflective, experiential and relational, focused on connectedness, on reciprocal relationships and a sense of place.
Sometimes in classes here, I ask, "Have you ever been outside in a class?"
"No, we've never been out. This is the first time we've ever been outside."
How are we creating these experiential learning opportunities that engage people with place, that connect people to place and think about their reciprocal relationships to place?
Connection to place is of critical importance. Here we are when the Intergovernmental Panel on Climate Change says we have 11 years to transform the human relationship to the planet. Climate change is the most important issue of our time. And is it really the carbon in the atmosphere? Is that the real problem, you know, or is it our broken relationship to place, to land?
So what can we be doing to address that broken relationship to this place? How might education look differently if it was guided by this principle?
Be the first to know
Get local news delivered to your inbox!