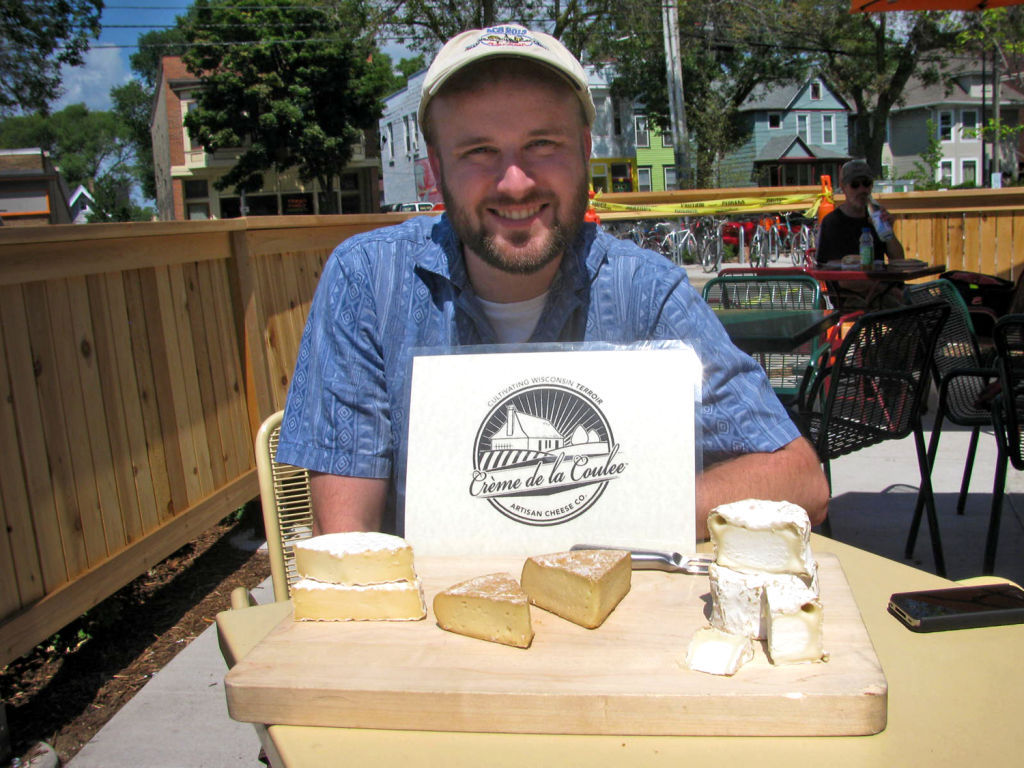 For a guy still in his 20s, Bill Anderson knows a lot about aging.
In his case, his knowledge is about aging or ripening cheese — a skill known as affinage. Anderson is a cheesemaker whose company, Crème de la Coulee, is based in Madison and he has plans here beyond making cheese.
Like many cheesemakers, Anderson's can be a vagabond existence — he makes his semi-soft and soft, French-style cheeses at Willow Creek Cheese near Berlin in Waushara County, then takes it to be ripened at Bear Valley Affinage in Hill Point in Sauk County. His signature style, such as the current Saint Jenifer, is a monastery-style washed-rind cheese like those traditionally made by monks.
Affinage is where Anderson, 29, hopes to make his mark. Future plans call for a retail facility in Madison that would also be a "cave" — a place for the aging, and a place other cheesemakers could bring their cheese to ripen.
Crème de la Coulee cheese can be found at the Westside Community Market, the East Side Farmers' Market, local cheese retailers and also through his cheese of the month club. Another current cheese is Arista, a sheep's milk cheese made by Anna Landmark of Landmark Creamery in Albany with affinage by Anderson.
Do most people think that cheesemakers just make cheese in their own factory on a farm or in a small town?
I get that question a lot. But I'm all over the place.
How many miles do you put on your car?
It depends on the week. Last week I was making cheese and I probably put 400 miles on, easily.
What's tricky about making a French-style cheese?
They're very particular. It's soft; it has a lot more personality to it. Each batch is unique; there's a little variation between batches and that's a natural part of the process. They need to get to the consumer at just the right point. When they start it's kind of bland; there's not a lot of flavor there. Then the rind develops and the cheese starts to ripen and it starts to reach the point where it's ready to go. You have a window that's about two to six weeks.
How has the cheese of the month club gone?
Really well. It was my original way to start the business (in 2012), and it's really picked up. Members have access to really limited-edition cheeses and the newest stuff I'm working on. I have different distribution points around town. There's also a CSA I'm working with, Peacefully Organic Produce.
What are the challenges of bringing a new cheese to the market?
There is definitely growing demand for this type of cheese, but a lot of it is education, teaching people how to properly serve this kind of cheese. You have to let it sit out and breathe for a while before it comes into its own, like a fine wine.
What kind of cave do you plan to have?
It's going to be specialized for soft-ripened cheeses. That's the type of cheese that's not being produced in the state much yet. There's a growing artisanal movement but in this state it's pretty focused on the hard cheeses. One of my favorite cheeses is Pleasant Ridge Reserve, and also Bandaged Cheddar from Willi Lehner, those are pretty hard cheeses and there's not a lot of soft cheeses being made.
What's in the near future?
Building my own cave in Madison. In the next year or two I'd like to have that accomplished. And continuing to work with more cheesemakers as an affineur, helping them get their cheese to market, developing new recipes.
We'd definitely have a retail storefront. It's based on this model of the French affineur, where cheesemakers bring their cheese to the city and have them ripen it there. By having the cheese right there in the city, it's there where the people are going to buy it.
What would your advice be to anyone who wants to be a cheesemaker now?
You have to find a niche that's not being filled, you have to do something unique. And quality, of course; people are looking for that.
— Interview by Jane Burns