Mick Evans has donated three stone sculptures to UnityPoint Health-Meriter, "to give people a sense of peace during hard times," he said.
"Comfort," which depicts a mother and baby, was placed in Meriter's perinatal care courtyard in 2016. "Courage," which shows a polar bear mother and cub, was installed in the hospital's atrium waiting room in 2017. "Hope," which portrays a swallow taking flight, was displayed outside the front entrance last month.
Evans, 70, of Madison, is retired from Oscar Mayer/Kraft Heinz, where he worked for three decades in roles involving equipment and facilities. He and his wife, Sue, have two sons and six grandchildren. Their older son was treated at Meriter 30 years ago for a car crash that was nearly fatal. Their younger son's three children were born at Meriter.
Evan's artistic style is modern classical. "You don't need to put all the features in there to get the point across," he said. "What you're trying to get across is the spirit."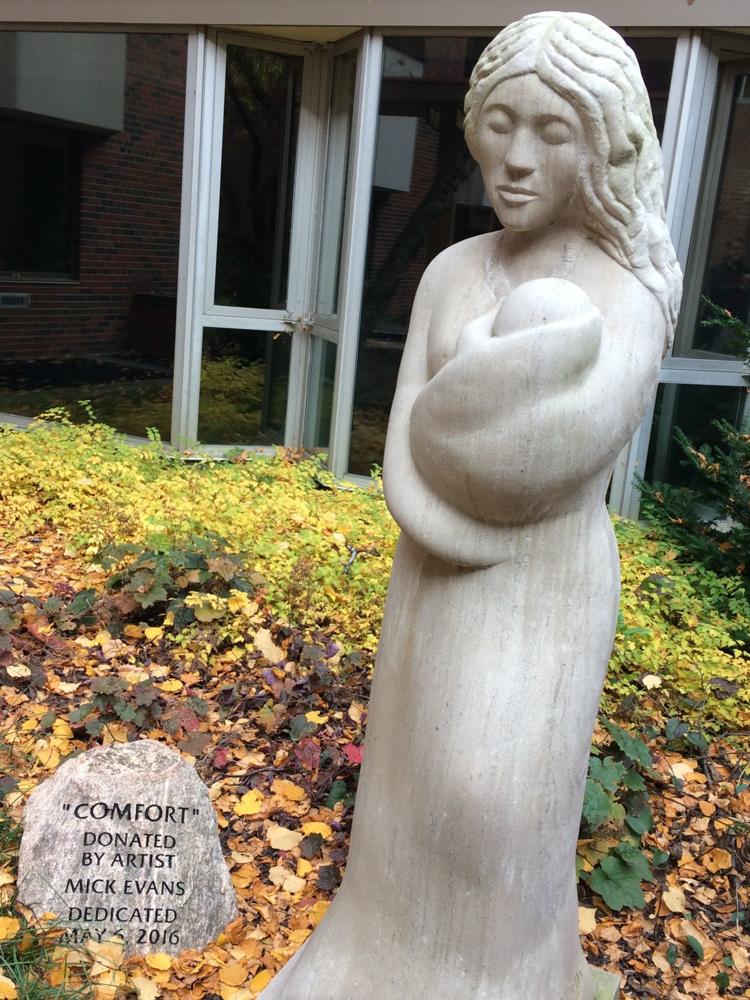 How did you become a sculptor?
When I was a tool-and-die maker, I started making things for my kids. We didn't have a lot of money, so I made a lot of toys. Then I started making things for other people, for Christmas or birthday gifts. I'd make dinosaurs, and people loved them. I made a whale collection out of stone and wood. I started focusing on endangered species, like polar bears and gorillas.
I also do a lot of oil painting. Sometimes I'm in a painting mode, and then I'll be in a carving mode. I only do one project at a time.
What materials and techniques did you use for the sculptures at Meriter?
I use Indiana limestone. I get it from Quarra, on the West Side of Madison. They give me good prices since they know it's for a donation to a nonprofit. Indiana limestone is a great carving stone — similar to marble but a little bit easier.
I use all hand tools. First it's hammers and chisels. It's about 1,200 hammer hits per hour. It does take a toll on your shoulders, your arms, your hands. Then I go to rasps and files. Then I go to sandpaper, all the way from 40 grit to 1,500 grit. Then I go to wool and cloth. On this last one ("Hope"), I did 300 hours just on the polishing alone, rubbing it.
How many hours total did you spend on making "Hope?"
I think it was about 1,300 to 1,500 hours. It's almost a full-time job.
How much does the limestone weigh?
For the first one ("Comfort"), the raw stone was 2,000 pounds. That carved down to 1,300 pounds. The bears ("Courage") started at 750 pounds and carved down to 450. The swallow ("Hope") started at 3,300 pounds and carved down to 2,000.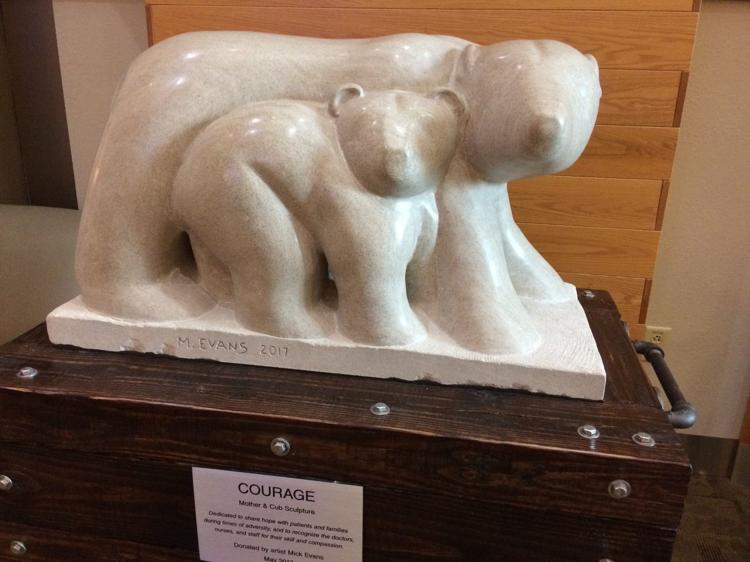 Why did you make these sculptures for Meriter?
My wife and I talked about wanting to do some public sculpture. Without my wife's support, I couldn't do this. It's a team effort. It fills the house with dust. Every day, you have a layer of dust. Her spirit has to be in the carving as well. You have to have a happy home.
We wanted to develop something that would enhance a public place, as a donation. We met Marilyn Rhodes (president of Meriter Foundation), and we just connected. She understood and appreciated the idea. I always have (Rhodes and other people at Meriter) approve the drawings and the progress on (each sculpture), to make sure it's going in the right direction. Artwork is very subjective.
What do you want people to think or feel when they see your sculptures?
You want them to see the beauty. The texture relaxes you. If it was just the rough, carved surface from the chisel, it would leave a totally different impression. You can touch it, feel it; it has a calming effect. Just like any artwork, it's there for your enjoyment, or not. Does it change your conversation? Probably not. But it's there. You can glance at it. All it needs to do is have a small impact. It can be a fragment. I just want the area to be nice.
— Interview by David Wahlberg