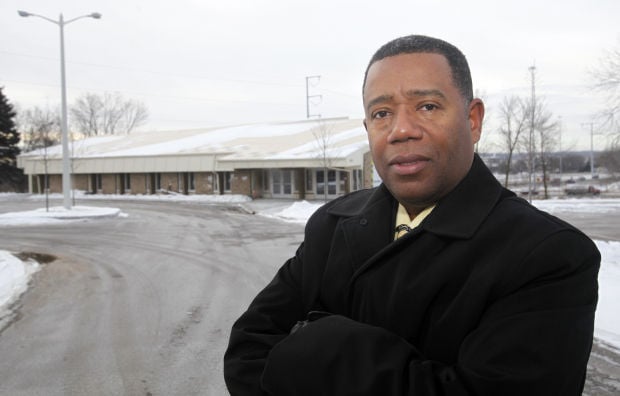 The Rev. Alex Gee admits he had no idea about the response he would get to an article he wrote in December about his personal experiences with the racial divide in Madison.
In the days immediately following publication of his story in The Capital Times, Gee received scores of emails and calls from around the country. People from all walks of life stopped by the Fountain of Life Covenant Church on West Badger Road, where he is pastor, just to talk about the issues and offer support.
But he didn't really feel the scope of reaction to his story until he looked out his office window Saturday in advance of a town hall meeting headlined "Justified Anger."
Traffic was gridlocked on Park Street and Badger Road, cars filled every vacant parking spot in the area and more than 500 people — black and white — made their way to the church to listen to Gee and offer assistance in easing the problems of racial inequality in the community.
"This is overwhelming," Gee told the crowd. "To see this kind of outpouring … I had to make sure this wasn't my funeral when I came here. I was in the office and I watched the people and I said, 'Is there a Badger football game today?' "
Rather than just a football game, Gee is confident that Saturday's meeting will be looked upon someday as a turning point in Madison's racial history. He envisions it becoming the city's equivalent to the civil rights marches in Alabama in the 1960s.
"When we look back over time," he said, "this is going to be something almost like one of those Edmund Pettus Bridge moments where we linked arms and said, 'Doggone it, this is our time, this is our community and we're not going to let it go to hell in a handbasket.' "
Gee understands that it will take more than words and good intentions to make significant change in the community. But he's encouraged that there is a growing understanding of the issues and a desire to take on those issues.
He pointed out that he has heard from leaders from all parts of the political spectrum, from Democratic candidate for governor Mary Burke to Republican U.S. Sen. Ron Johnson — who was in attendance Saturday — as well as from Dane County Executive Joe Parisi and the office of Jennifer Cheatham, superintendent of Madison schools.
"Folks in this community are giving us every indication that they are taking this seriously," Gee said. "Now's the time for action. We don't just need tears and Kumbaya.
"We're at a critical juncture, a tipping point. Madison is really in a state of emergency."
To keep the conversations moving, Gee has formed a coalition of black leaders, initially comprised of Urban League President and CEO Kaleem Caire, Boys & Girls Club CEO Michael Johnson, the Rev. Lilada Gee of Lilada's Livingroom, Lisa Peyton Caire of the Foundation for Black Women's Wellness, Patrick Yates of Fountain of Life Covenant Church, and Keetra Burnette, chief operating officer of the Urban League.
That group has helped set an agenda looking at systemic issues aimed to substantially reduce the racial disparity in the areas of education, incarceration and economic development.
The plan is to take those issues to groups of all stripes throughout the community and try to build solutions over the next 18 to 24 months.
"We want to rebuild hope in the hearts of our youth because they lost hope," Gee said.
"When you lose hope, you become hopeless and you live like you have no future.
"We can change this community. We will be part of the team that can say we didn't just talk about it, we didn't just receive another report, we are part of doing something about it."
Gee has a strong ally in Patrick Sims, vice provost and chief diversity officer at UW-Madison.
"Everything happens for a reason and we're in the midst of grappling with some of the same issues and challenges," Sims said. "So I think it's only appropriate that in my capacity as chief diversity officer that we find ways to partner with everything that's happening here."
Gee is convinced that with everybody on board, Madison can live up to the Utopian vision of the city's founder, James Doty.
"People don't come to Madison to die, they come to dream," Gee said.
"People don't come to Madison so their kids can fail in school. People don't come to Madison so their kids can go to prison and rot in their cell.
"Dreamers come to Madison, and when they feel excluded from the dream they become nightmares.
"All of a sudden, Madison pulls in its welcome mat. Because all these people with strange names and strange eyes and dark skins come and all of the sudden our Utopia looks different.
"We came for the same things as everybody else. It's because we want to dream, too.
"Madison, put the welcome mat back out. We can't undo history, but we better not repeat it."