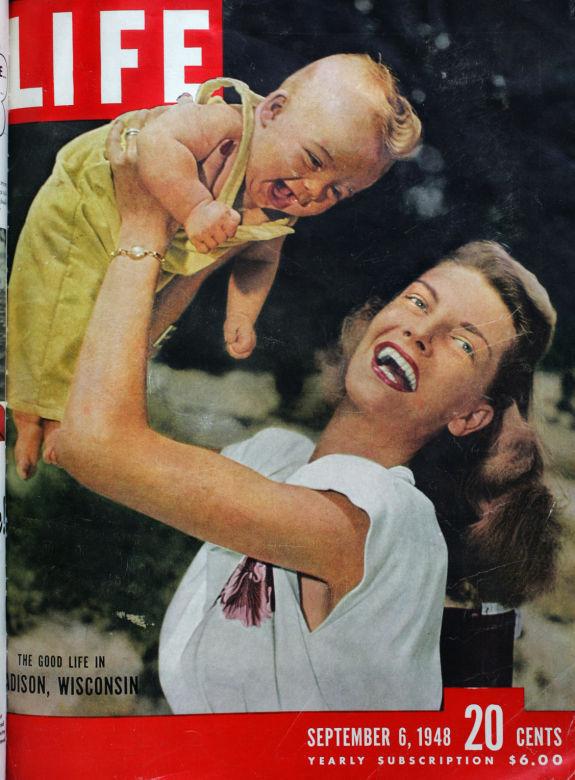 A former Madison woman whose image on the cover of Life magazine helped propel the city into the national spotlight has died, according to family members.
Jeanne Parr died Thursday in Hawaii, where she had retired to the island of Maui after a successful career in radio, broadcast journalism and modeling. She was 92.
Parr left Madison in 1959 to do the weather at a television station in New Haven, Connecticut, but by her departure had achieved local celebrity as a radio host and a subject in perhaps the most famous magazine story ever written about Madison.
For its Sept. 6, 1948, feature story, Life sent famed photographer Alfred Eisenstaedt to Madison for several weeks, where he chose the 24-year-old mother as the subject for the issue's cover. Parr was pictured holding her then-infant son, Charles James Noth, with the accompanying headline, "The Good Life in Madison, Wisconsin."
With a weekly circulation exceeding 5 million at the time, Life had an immense reach, and being featured in its pages represented a landmark moment for the city.
"When they said this was one of the five most outstanding cities, people really wanted to read that magazine, and there she was right there on the cover for all the people that knew her to see," said Rosann Parr, Jeanne Parr's sister in-law and a former colleague at WKOW radio.
"That was a big, big deal to have your town go all over the world with Life magazine. And then to have her on the cover — that was very special."
Parr attended school at UW-Madison and met her first husband, Charles Noth, while she was on a date with another man at local restaurant.
Noth, a former Navy pilot, brazenly interrupted the date after recognizing the officer she was dining with. He later declared he would marry her despite her lack of a Catholic upbringing, said Michael Parr Noth, the couple's middle son.
The two married shortly after World War II and went on to have three sons, Charles, Michael and Chris Noth, who became a well-known actor with roles such as Det. Mike Logan on "Law & Order," Mr. Big on "Sex and the City" and Gov. Peter Florrick on "The Good Wife."
Parr was widowed when her husband was killed in a car crash in 1966.
She used her experience hosting a daily radio show at WKOW to break into television news. Parr eventually became one of the first female correspondents for CBS News in New York.
After working at CBS, she produced several documentaries and wrote a book before retiring in Hawaii. But despite her expansive travels, her son Michael said Madison was always a special place for her.