TOWN OF SUMPTER — A series of strokes over the past 17 years have left Tom Every unable to walk. He has paralysis in his left arm and lives in a Sauk City nursing home.
But his "intergalactic handshake," spirit, desire and never-ending ideas and designs have not been deterred.
So when Every, known by most as Dr. Evermor, is honored next week by the Madison Trust for Historic Preservation, those in attendance should be ready to extend their right hand. But instead of receiving a grip, Every, 78, will likely use the back of his hand to tap the backs of the hands of those he greets.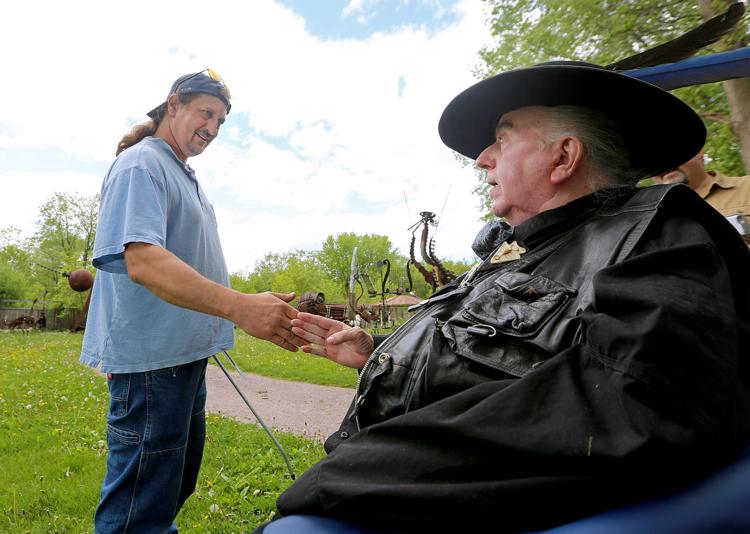 It's Every's way of transferring positive energy. And for those he meets, a chance to connect with one of the country's legendary metal artists who, over the past 35 years, has not only built a five-acre sculpture park along Highway 12 in rural Sauk County but has also created a brand of time-traveling, steampunk-like art that has helped preserve some of the state's industrial past.
"You know, I didn't cut anything apart. I just kind of glued things together the way they were," Every said Thursday as he sat in his wheelchair in the center of his park. "It was real antique (stuff) as it was. Some of the stuff will be 80 or 90 years old, so I'm glad that I saved all of that for you guys."
Every's art can contain gears, fly wheels, tanks, massive pumps, boat propellers, springs, steel tubes and pieces of old machinery. His signature piece of art, the Forevertron, towers 50 feet high, is 120 feet wide and weighs an estimated 300 tons. Built over three years in the early 1980s, it includes an old compressor from a lumber company, a huge telescope and a former decontamination chamber from NASA.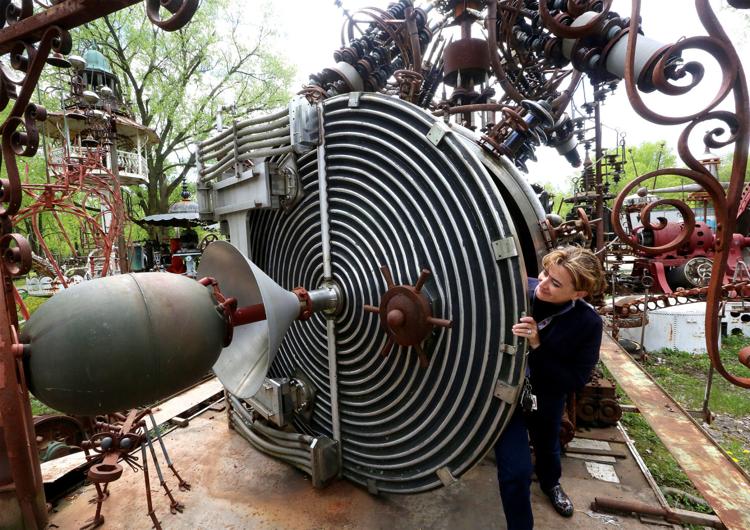 He has built bus-sized bugs with eyes made from dozens of round survey markers, has a 17-foot tall and 23-foot long spider named Arachna Artie, and has constructed the head of an eagle that is 9 feet tall and 14 feet long. There are creatures that resemble pets, spaceships and a flock of dozens of 10- to 12-foot-high birds that make up the Bird Band. Each member holds an instrument salvaged from thrift stores, such as a French horn, saxophone, trumpet and trombone. Every used scrap blades from Fiskars to create plumage.
"Dr. Evermor's use of salvaged industrial materials and reconfiguring them and preserving them in a different form is as much of a reminder of our cultural history as any old home is," said John Martens, vice president of the Madison Trust for Historic Preservation. "I feel that our industrial history is something we need to be reminded more of. Giving this award to Dr. Evermor helps shed some light on what role industry played in the growth of Madison."
Every will receive a "Friend of Preservation Award" at the Madison Trust's annual awards event at 6:45 p.m. Thursday at the First Unitarian Society, 900 University Bay Drive.
Other award winners include the restoration of the Catlin Chapel. It was built in 1878 at Forest Hill Cemetery as a memorial to John Catlin, who helped plat the city of Madison and who would become the city's first lawyer and postmaster. The $3 million restoration of the Al. Ringling Theatre in Baraboo and the renovation of the Stamm House in Middleton also are being recognized, along with the Steensland House. It was constructed in 1896 in Downtown Madison but moved last year to make way for an expansion of Bethel Lutheran Church. The house stayed on the same block but now faces Gorham Street instead of Carroll Street.
Every began collecting old newspapers to turn in to collection centers for cash when he was a child. His love of salvage grew, and for years he had his own salvage company. In the 1970s — before he took on the Evermor name — Every helped Alex Jordan collect and build at the House on the Rock near Spring Green. But in the early 1980s, Every had a falling out with Jordan and a short time later began working on the Forevertron. That project led to hundreds of sculptures and the creation of the park located across the highway from the former Badger Army Ammunition Plant.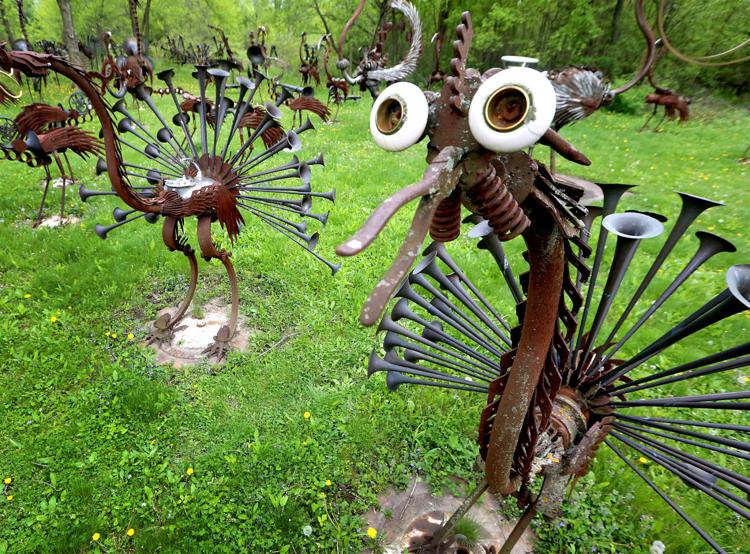 "All the component parts around here, I can tell you about every one of them," Every said. "I just want to make people happy. I try to put humor in everything I can but I'm free flowing on everything I do."
Every has lived in Brooklyn, Stoughton, Edgerton and on the East Side of Madison. Martens said Every's work on the restoration of Edenfred, a historic home in the Highlands on Madison's Far West Side, also was significant.
The Georgian-style mansion was constructed in 1916 for artists to work in peace and is where Every and his then wife, Lady Eleanor Every, raised their four children in the 1970s and 1980s. They married in 1964 and divorced in 1997, but never separated. Lady Eleanor now runs the sculpture park, which is open Thursday through Sunday. Admission is by donation.
Every spends much of his time in a corner of the library at his nursing home, Maplewood of Sauk Prairie, where he has a table, paper, pens, reading material, a painting of the Forevertron and a portrait of himself. A few of his bird sculptures peer through the window.
On Thursday, Every was dressed in all black, including his leather jacket and a fedora adorned with a peacock feather. He wore pins that included a real scorpion and a spider encased in clear resin, and when his cell phone rang, he answered, "Yeah, this is doctor."
This is also where family members bring in boxes of metal for Every to study. He then gives directions on how to use the pieces in a sculpture.
"People think he has died but he has a lot of work to do yet," Lady Eleanor Every said. "He knows his metals and where they are (at the park). We're forever loading things in and out quickly so that it doesn't leave a mess in the library."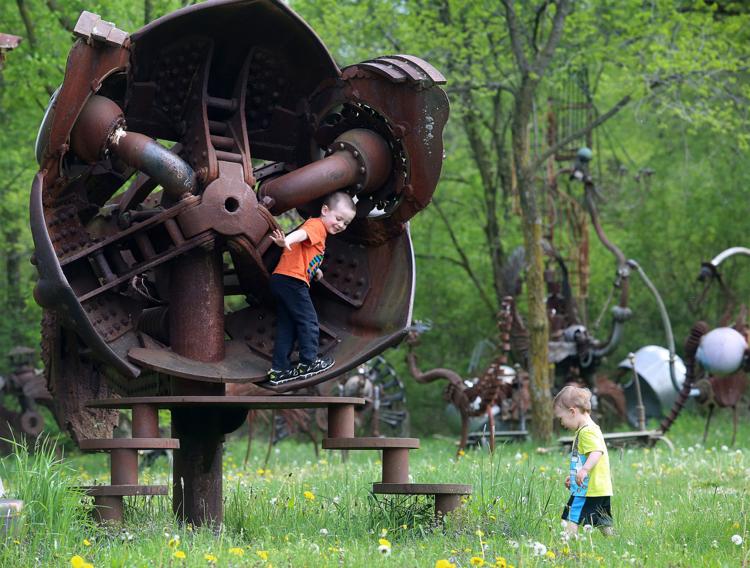 With the weather warming, Every will likely visit the park for three to four hours a couple of times a week. His daughter, Tya Kottler, will use Every's modified 1987 Dodge Caravan that allows him to be wheeled up a retractable ramp at the rear of the vehicle, his head lightly pressing into the sagging cloth ceiling.
Before returning to the nursing home, a detour to Green Acres near Sauk City for prime rib and a glass of Glenfiddich Scotch can be in order.
Every no longer has the physical ability to weld and assemble his sculptures, but his mind is constantly thinking of the next creation.
"If you're a doer you gotta do," he said. "I'm not a trained artist. I'm just fooling around."
Barry Adams covers regional news for the Wisconsin State Journal. Send him ideas for On Wisconsin at 608-252-6148 or by email at badams@madison.com.
Be the first to know
Get local news delivered to your inbox!