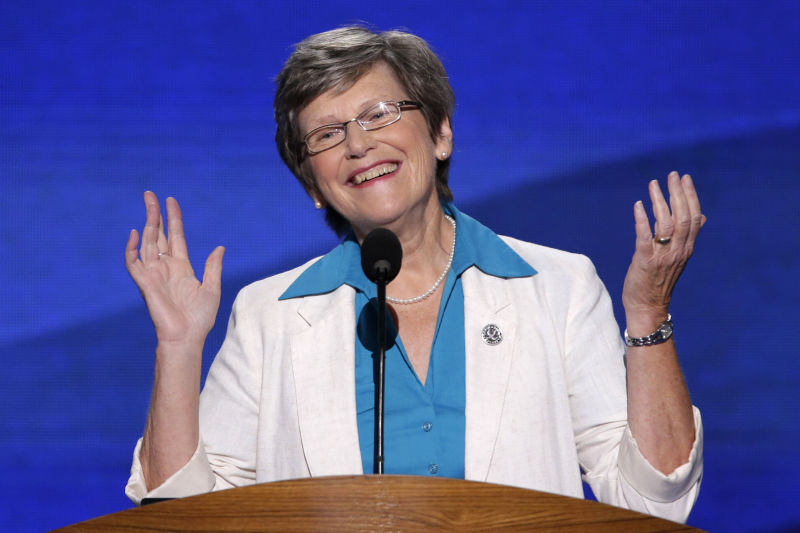 Sister Simone Campbell, who rose to prominence last year defending U.S. nuns against a negative Vatican critique, said Thursday in Madison she hopes the next pope's background includes more years as a parish priest.
"(Pope Benedict XVI) had only one year of pastoral experience at a parish in his whole ministry, in his whole ordained life, so he was always an academic," Campbell said in an interview. "When it came to internal pastoral work, I think he really didn't understand well what it meant to be a shepherd to all of us."
Benedict, who announced his retirement Monday, oversaw a Vatican assessment of U.S. nuns that chastised an umbrella group representing most of them for spending too much time "promoting issues of social justice" while not speaking out enough against abortion and gay marriage.
"I think we made him nervous," Campbell said of Benedict. "We engaged with the people and were seen as credible leaders."
Still, Campbell praised Benedict for speaking up for those "at the economic margins of our world," and for challenging developed nations "to be responsible and not just be takers from our planet."
Campbell, executive director of Network, a Catholic social justice lobby, was a lead organizer of the "Nuns on the Bus" tour last summer that criticized Janesville Congressman Paul Ryan's federal budget proposal. She is particularly popular among politically liberal Catholics, while her more ardent detractors have called her a heretic.
She addressed last fall's Democratic National Convention, drawing complaints of inappropriate partisanship.
Thursday, Campbell did not shy from politics as she spoke to a sold-out crowd of about 215 people at the 13th annual faith-labor breakfast, sponsored by the Interfaith Coalition for Worker Justice of South Central Wisconsin. It was held at Holy Wisdom Monastery in the town of Westport.
Campbell spent considerable time delineating this country's income gap, calling it an "intolerable" disparity that is "undermining our democracy." She blamed trickle-down economic policies and said she was "horrified" on Wednesday when Wisconsin Gov. Scott Walker announced he is rejecting federal assistance to expand Medicaid coverage.
"He claims a pro-life stance, yet denying people health care is, to me, an anti-life stance, so he's not being consistent," Campbell said in an interview. (Walker has said he will work to increase health coverage in Wisconsin through other means.)
She applauded President Obama's call Tuesday to increase the minimum wage to $9 an hour, but said it really needs to be $12.50 an hour to keep people out of poverty. "He didn't go high enough," she said.