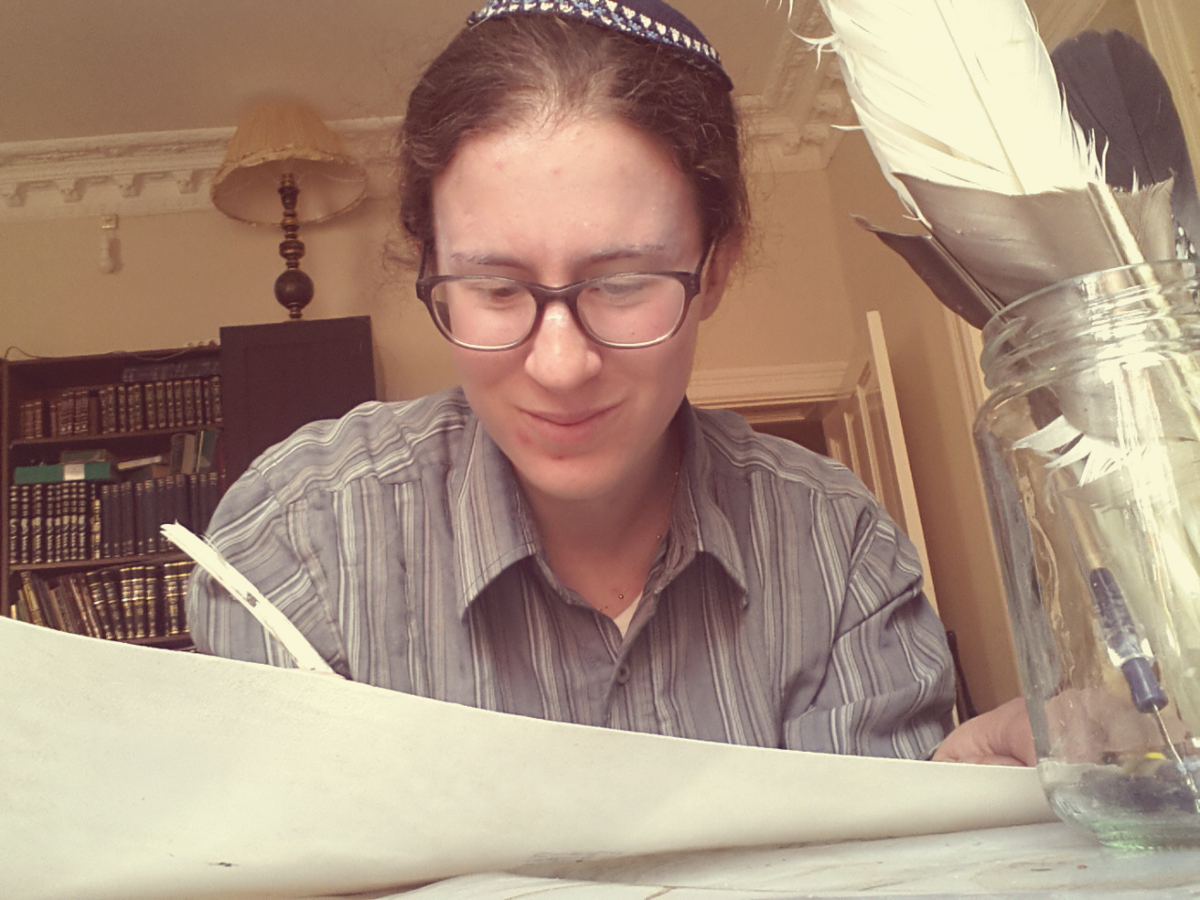 A progressive Jewish congregation in Madison is poised to become the first in the city and perhaps one of only a dozen or so in the world to own a Torah scroll written by a female scribe.
The Torah is Judaism's most important text, and for thousands of years, the highly skilled art of reproducing the Torah in calligraphy has been done almost exclusively by men. Some Jews maintain that only a Torah written by a male scribe is legitimate.
Congregation Shaarei Shamayim in Madison commissioned the female-written Torah scroll. It will be dedicated during the Near West Side congregation's 25th anniversary celebration June 28.
"We want to support the equality of women in all realms of Jewish life, and this is one significant way to do that," said Rabbi Laurie Zimmerman, the congregation's leader.
The congregation hired Yonah Lavery-Yisraeli, 29, a scribe in Gothenburg, Sweden. The contract included a clause perhaps never before seen in the history of Torah negotiations: a defined maternity leave.
"It takes an average time of a year to write a Torah," Lavery-Yisraeli said by email. "This one took me two years, because it was my first, and because my work was interrupted by the arrival of a certain baby."
The Torah is composed of the five books of Moses, or what Christians refer to as the first five books of the Old Testament. A Torah scroll is a long roll of parchment containing the full text of all five books, each letter individually formed with a quill by a scribe in the original Hebrew.
It is an extraordinarily precise process, governed by thousands of rabbinic laws. There is no interpreting of the text on the part of the scribe. That's why every Torah has the exact same number of letters: 304,805.
"If you believe this text is divine, then every word must be written correctly, because who are you to be God's copy editor?" said Jordan Rosenblum, an associate professor of classical Judaism at UW-Madison.
Female scribes are rare for a couple of reasons, Rosenblum said. For centuries, rabbis understood the acts of studying and writing the Torah to be commandments incumbent only upon men. Although many Jewish scholars have changed their views on this, some traditional Jewish communities continue to believe that only Torah scrolls written by men can be truly holy, he said.
"These people would say, 'It's all fine and good that a woman wrote it, and you can have it in the synagogue like you'd have any other book, but it's not valid to use it liturgically,' " Rosenblum said.
You have free articles remaining.
Secondly, becoming a properly trained scribe requires lengthy study and mentoring. Women historically have not had access to this knowledge because, by and large, the men who hold these skills have not been willing to teach them, Rosenblum said.
Jen Taylor Friedman, who lives in Montreal, is largely credited with being the first woman in the modern era known to have completed a Torah scroll, in 2007. In an email, she said she is aware of fewer than 10 female scribes in the world actively writing Torah scrolls. She knows of 12 Torah scrolls completed by women.
A Torah typically costs tens of thousands of dollars and is held in great reverence by a congregation, which routinely reads from it during worship services.
Congregation Shaarei Shamayim owns a Torah formerly used by a military base. This will be its second Torah, and the first it commissioned.
"It's a real value in a Jewish community to commission a Torah and to contribute to the act of bringing another Torah into the world," Zimmerman said.
The congregation of about 130 households meets at First Unitarian Society in Madison. It is affiliated with the Reconstructionist and Jewish Renewal movements, which have been leaders in issues of gender equality and gay and lesbian rights.
The congregation believes actions speak loudly. One of its unofficial mottoes is "We are what we do," said Jeff Spitzer-Resnick, a founder and its current president.
"If nobody hires female scribes, then it never happens," he said. "We hope we're helping to break down barriers by doing this."
The Irwin A. and Robert D. Goodman Foundation in Madison, funded by the late Jewish philanthropists, is covering the scroll's $45,000 cost.
Rabbis from both of Madison's long-established Jewish congregations, Temple Beth El and Beth Israel Center, said the female-written Torah is a wonderful achievement that represents core values all three congregations share.
Lavery-Yisraeli earned a bachelor's degree in classics and studied Talmud and Jewish law for four years in Jerusalem, mainly at The Conservative Yeshivah and the Pardes Institute of Jewish Studies. She received rabbinic ordination from one of her instructors and learned to be a scribe from a variety of teachers, she said.
She is scheduled to fly to Madison and deliver the Torah three days before its dedication. She will leave off seven letters. Members chosen from the congregation will symbolically help her complete the Torah by touching her hand as she writes.