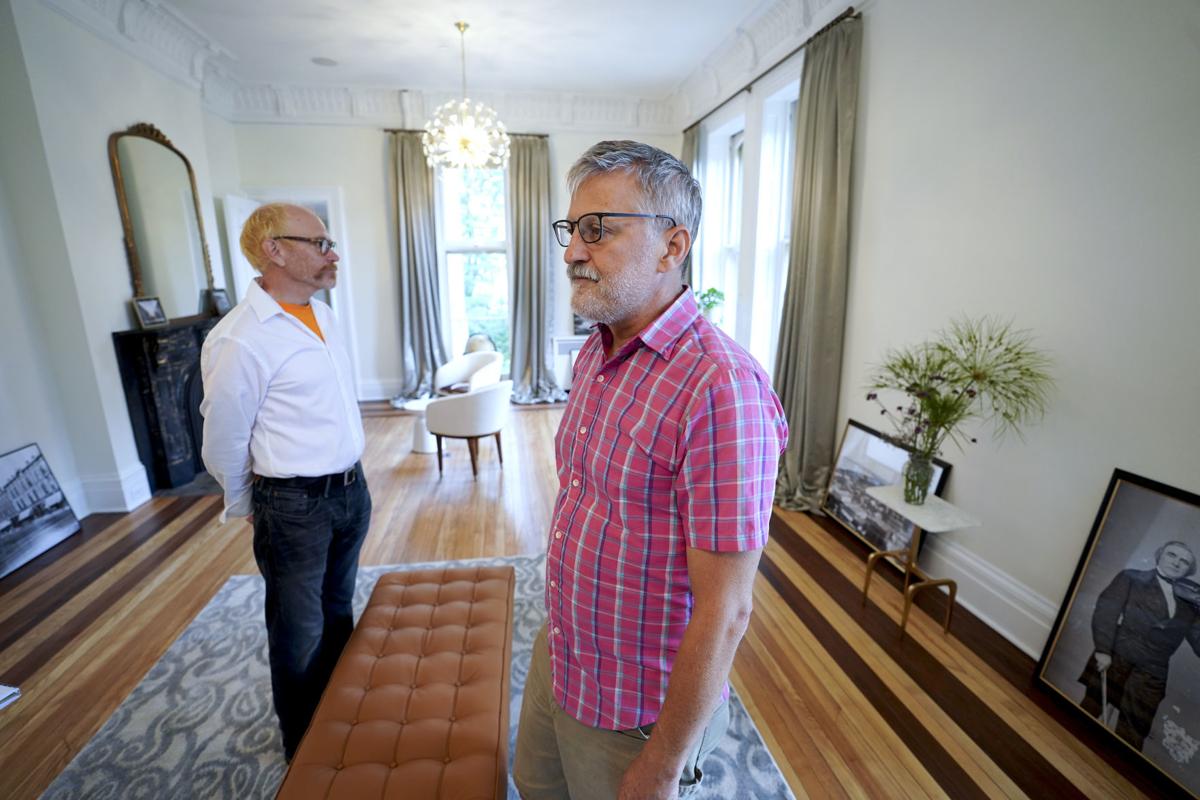 The home was one of the grandest in the city.
The sandstone block was quarried in 1855 across Lake Mendota in the town of Westport and, when it was finished in 1856, it would become over the years the home to an insurance executive followed by a real estate magnate then a lumber baron and even a world-renowned violinist.
In more recent years, the house, at 130 E. Gilman St. in Madison's Mansion Hill District, was home to UW-Madison students in the Knapp Memorial Graduate program.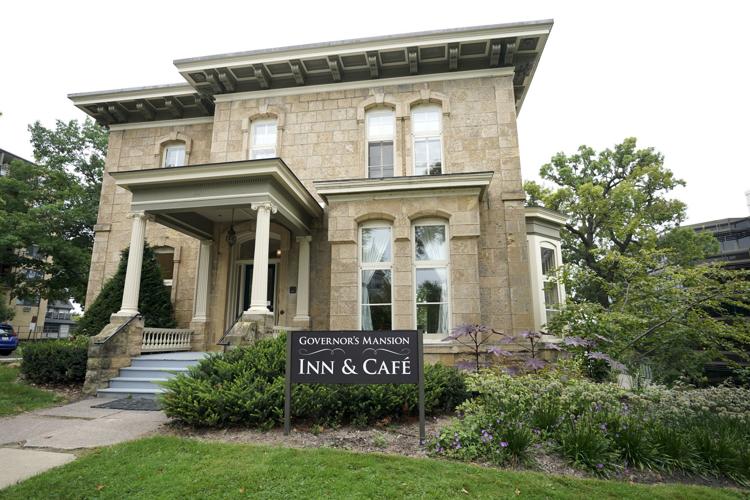 But the 4,832-square-foot home is perhaps best known for its time from 1885 to 1950 as the Executive Residence for 17 Wisconsin governors. Jeremiah Rusk was the first and Oscar Rennebohm the last. In between, occupants included dairyman William Hoard, progressive leader Robert M. La Follette and John Blaine, the former mayor of Boscobel.
When Walter Kohler was elected governor in 1928, he made sure bathrooms in the house were up to his family's standards.
And now, the nearly 90-year-old enameled, cast-iron bathtubs, along with the rest of the home, are part of Madison's newest hotel.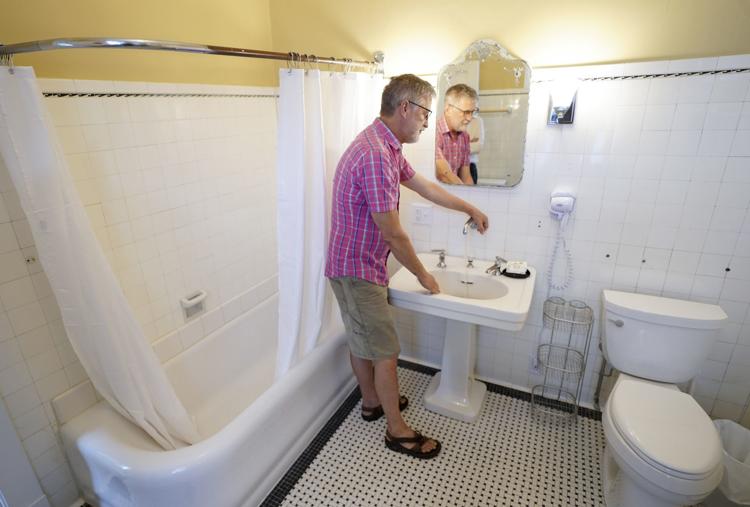 The Governor's Mansion Inn & Cafe may be one of the smallest hotels in the state but it's also one of the most historic. The property began serving guests Aug. 1, a cafe is set to open in October, and owners Bob Klebba and David Waugh envision an art gallery that pays homage to the state's history and can also host small weddings, concerts and other
It comes after spending $400,000 to purchase the property, which has lake views but not lakefront footage, and another $1.6 million in restoration and upgrades.
"I'm not afraid to share those numbers," Klebba said. "It's important for people to understand what it takes to bring a building like this into the 21st century."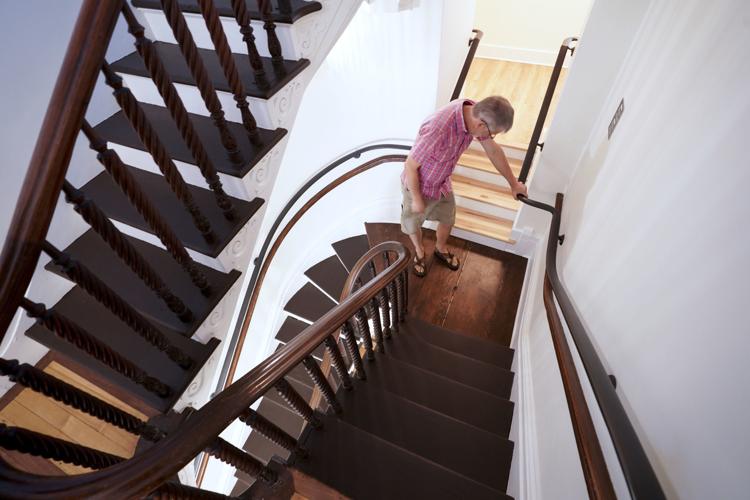 Klebba and Waugh, who also own and live in Mendota Lake House Bed & Breakfast, 704 E. Gorham St., had help with the purchase of the former executive residence from Fred Mohs, an attorney, Downtown activist, historic preservationist and former University of Wisconsin System Regent. He lives a few blocks away in Kennedy Manor, an art-adorned home on Wisconsin Avenue.
Klebba and Waugh also took out a loan from the U.S. Small Business Administration and secured historic preservation tax credits for 20% of the restoration, which included new wiring, plumbing and air conditioning, widened interior doors for accessibility, more insulation, a sprinkler system for fire protection, the conversion of some of the home's many fireplaces to natural gas and work on the wooden floors.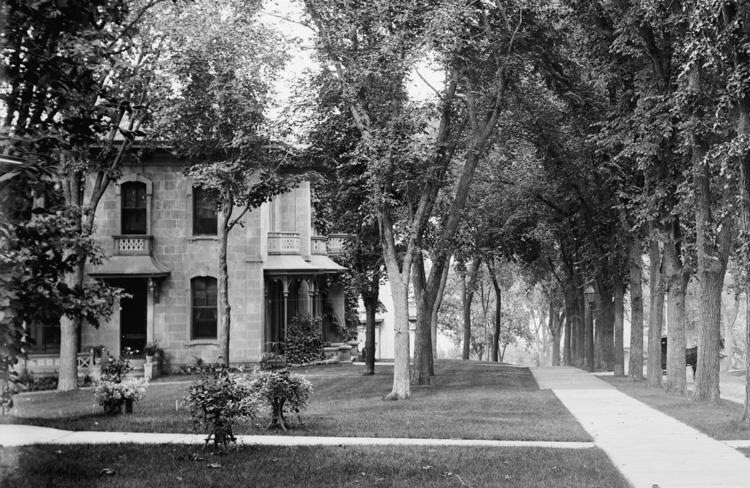 The hotel's eight guest rooms have been furnished with a mix of historic and contemporary furnishings, while Klebba and Waugh, partners for 20 years, are now scouring the Midwest for furnishings and artwork that will fill the first level of the hotel, including in the reception room, dining room and parlor. Rooms range from $95 to $200 per night.
"It's humbling to think of all of the history that encompasses this home," Waugh said. "It comes with a lot of responsibility."
Mansion Hill is a ridge that runs along Lake Mendota's southern edge and is just a short walk to the state Capitol, which made it a prime spot for the city's early residents to build opulent homes less than 20 years after Eben and Roseline Peck, considered the first white settlers of Madison, built a log cabin on South Webster Street near King Street.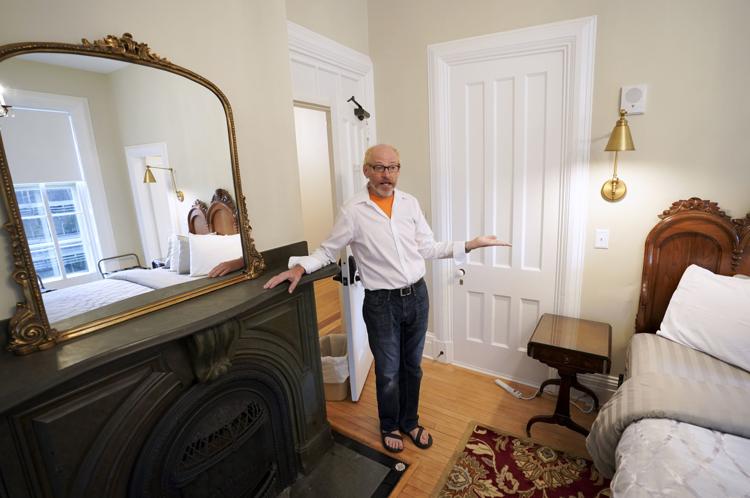 Built in 1853, the Keyes House at 102 E. Gorham St. is the oldest designated historic landmark in Madison, while what is now referred to as the Mansion Hill Inn, a 10-room hotel at 424 N. Pinckney St., was constructed beginning in 1857 by Alexander A. McDonnell, the contractor for a new Capitol building. The Keenan House came along in 1858 at 28 E. Gilman St. and was designed by August Kutzbock, an architect responsible for several other homes in the neighborhood who also designed the second state Capitol building along with the Gates of Heaven Synagogue constructed in 1863 on West Washington Avenue and moved to James Madison Park, just north of Mansion Hill, in 1971.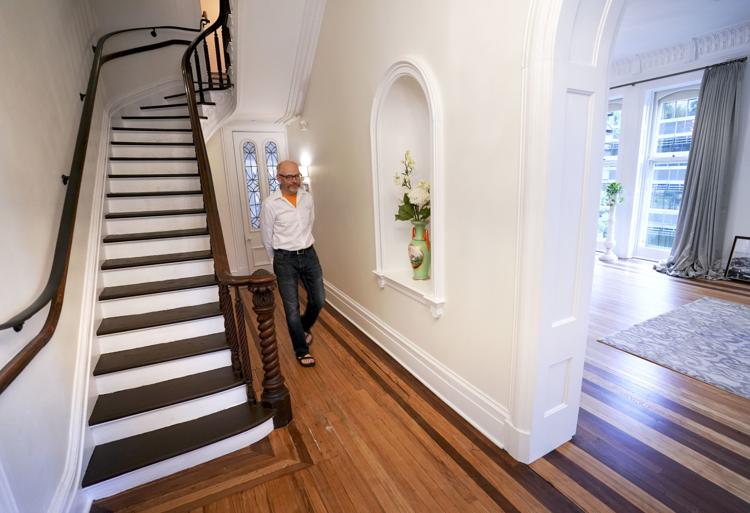 What is now Governor's Mansion Inn & Cafe is one of the city's earliest surviving homes and was commissioned by Julius T. White, secretary of the Wisconsin Insurance Co. He lived in the home with his wife, Catherine, for just two years before selling the home to George P. Delaplaine, one of Madison's first settlers and co-owner of a large real estate development company. In 1867, the home was purchased for $15,000 by J.G. Thorp, a state senator and millionaire lumber baron from Eau Claire, and his wife, Amelia. In 1870, Ole Bull, the world-famous 60-year-old Norwegian violinist, married the Thorps' 20-year-old daughter, Sarah, and lived with her in the home for 10 years.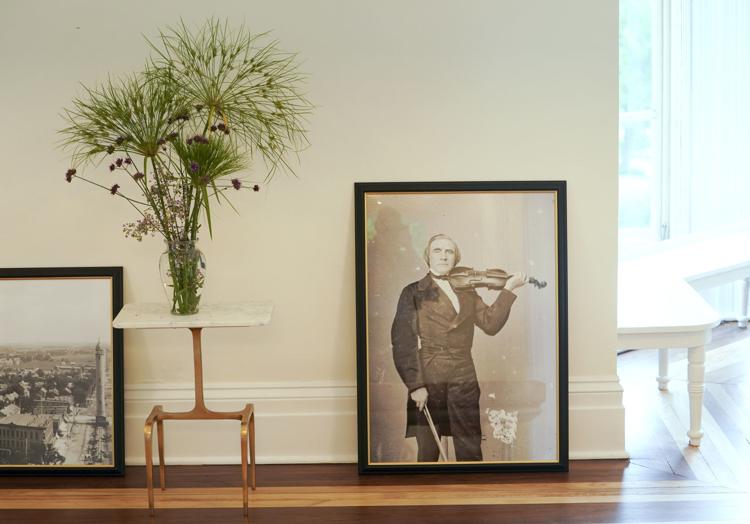 After word got out that Klebba and Waugh had purchased the house, they were contacted by Peter Sheppard Skaerved, an Ole Bull scholar in London who in 2017, and again in 2018, traveled to Madison to play one of Bull's violins in the house.
"It was beautiful. The house resonates music," Klebba said. "I had chills running up my spine just listening to the stories he told about what it was like to be a famous performer in the 1850s, 1860s, 1870s. This is before recorded music and the only way people could remember him was by a live performance. It's fun to hear music being played in here."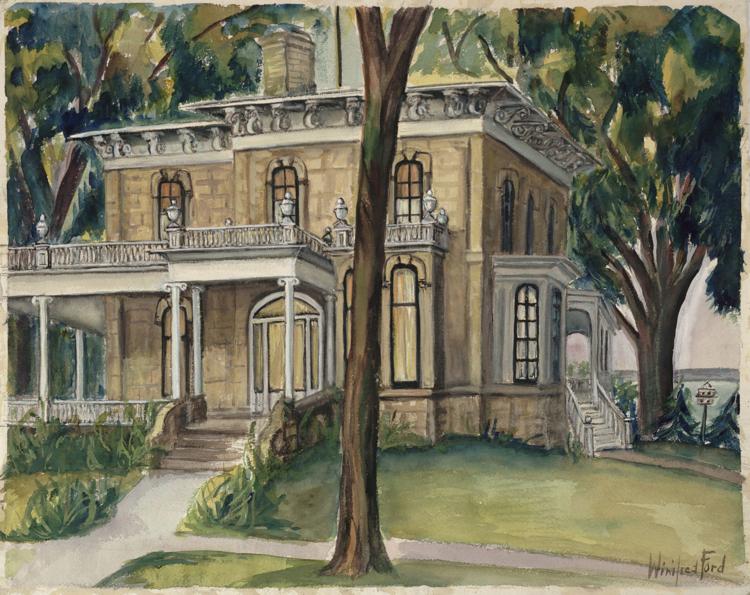 In 1883, the Thorps sold the home to Wisconsin Gov. Jeremiah Rusk, who lived there for two years before he sold it to the state to be used as the governor's mansion. Rusk and the next 16 Wisconsin governors would reside in the house until 1950, when the state paid $47,500 for the 23,000-square-foot Carl Johnson mansion located on 3.7 acres in Maple Bluff. In 1950, UW-Madison bought the house on East Gilman for $60,000 using money from the Kemper K. Knapp Endowment Fund and the house became known as the Knapp House, short for its official title as the Knapp Graduate Center.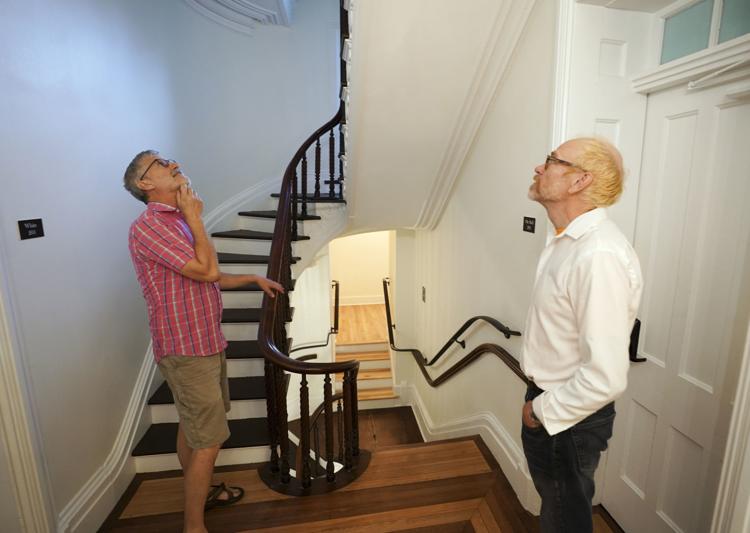 The house — where guest rooms are named after Bull, Kohler, La Follette, Thorp and others connected to the property over the years — was put on the National Register of Historic Places in 1973 and a year later was designated as a city landmark. It was placed on the State Register of Historic Places in 1989. Students left the Knapp House in 2012 and since then the house, just up the hill from the UW Lifesaving Station, had been empty.
But that's no longer the case, thanks to the efforts of Klebba and Waugh, who have funneled their passion for history into a project meant to be shared with masses.
"We hope that it helps to preserve part of Madison's history and keep it alive," Waugh said. "There's nothing like a historic building to tell the story of Madison, and in this case, the state as well."
"It's humbling to think of all of the history that encompasses this home. It comes with a lot of responsibility." David Waugh, co-owner of the Governor's Mansion Inn & Cafe
Barry Adams covers regional news for the Wisconsin State Journal. Send him ideas for On Wisconsin at 608-252-6148 or by email at badams@madison.com.
"It's humbling to think of all of the history that encompasses this home. It comes with a lot of responsibility."

David Waugh, co-owner of the Governor's Mansion Inn & Cafe
Be the first to know
Get local news delivered to your inbox!