COLUMBUS — Darvin Frey is well aware of the gamble he has taken with his Badger Motor Car Co.
The 1920s-era building he bought a few months ago was built to make burial vaults and caskets and is nestled between the railroad tracks and Crawfish River. The 10,000-square-foot space is home to a 1925 Cadillac with a custom aluminum body, more than a dozen motorcycles and scores of other antiques that include matchbooks, toy trains, phonographs and signs.
George Hasey's 1928 popcorn wagon that roamed the streets here for more than 50 years is prominently displayed along with a 1930 Model A pickup truck that is the midst of a rebuild and restoration in the middle of his antiques museum.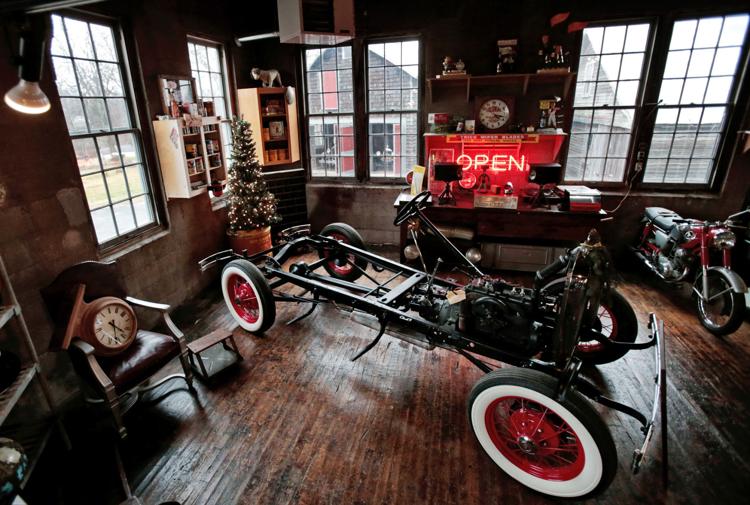 Frey, 46, who bought the building at 336 N. Spring St. in October and has spent thousands of dollars upgrading the property, has plans for a fabrication and restoration shop for old motorcycles, kayak and canoe rentals and maybe even a wood-fired pizza oven.
The biggest risk of the project, however, is in a corner of the museum filled with liquor bottles and a cooler jammed with craft beers. And while the small bar adds a unique business model and has proven to be a popular addition, Frey, an alcoholic with 10 years of sobriety, knows the consequences of a relapse.
The suggestion to add a bar to his museum came from an uncle well aware of his nephew's destructive past.
"I thought that's just not possible," Frey said. "There's no way, as an alcoholic, that I can serve beer. I'd wind up getting drunk again and wind up losing everything, so I just laughed it off. But he planted a seed for sure."
Frey started drinking when he was 16 years old, worked menial jobs after graduating from Columbus High School in 1988 and was often unemployed. There were fights, stints in jail and stays in a psychiatric ward. His most recent trip to jail, a six-month sentence, came in 2005 after stealing a truck owned by the family of Dodge County Sheriff Todd Nehls.
Now, 10 years later, after starting his own landscaping and snow removal business and delving into a childhood fascination with all things old, Frey's life appears to be on track. He married in 2008 and has three children, one of them a 2-month-old boy.
But knowing the bar would create traffic flow, revenue and new visitors to see his wide-ranging collection of antiques, Frey plunged forward with the idea. The first keg was tapped the first week of September. A few weeks later, he added hard liquor to the drink menu.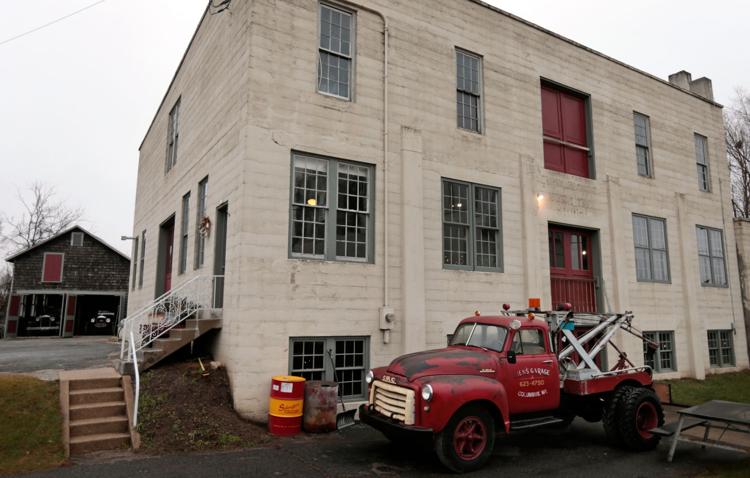 Frey sips cups of coffee brewed in a Keurig machine and occasionally has a non-alcoholic bottle of beer. His wife, Megan, herself in recovery and whom he met at an AA meeting, is studying for a master's degree in counseling. She was initially skeptical about the bar but believes her husband has proven himself and is focused on his family and business, not the bottle.
"This has been his passion," Megan said of her husband's obsession with antiques and old vehicles. "When you have a goal and you have a reason for doing what you're doing, it fills that hole. I think he knows the consequences."
Darvin Frey says he works more than 100 hours a week building cars, organizing his antiques and caring for the property. Admission to the museum is free. For those who come to buy a drink, hang out and watch him work on his Model A just a few feet from the bar, only cash is accepted. There is no ATM or televisions. On weekdays, the business opens at 3 p.m. and on Saturdays and Sundays at 11 a.m. The place is closed on Mondays and Tuesdays.
"What I really thought it would be originally was a few old guys sitting there, I'd get them a beer and then I'd come back and work on (the Model A) for a while and when they needed a beer again they would let me know," Frey said. "But it's just got a mind of its own, this place. I mean it packs them in at night like you wouldn't believe."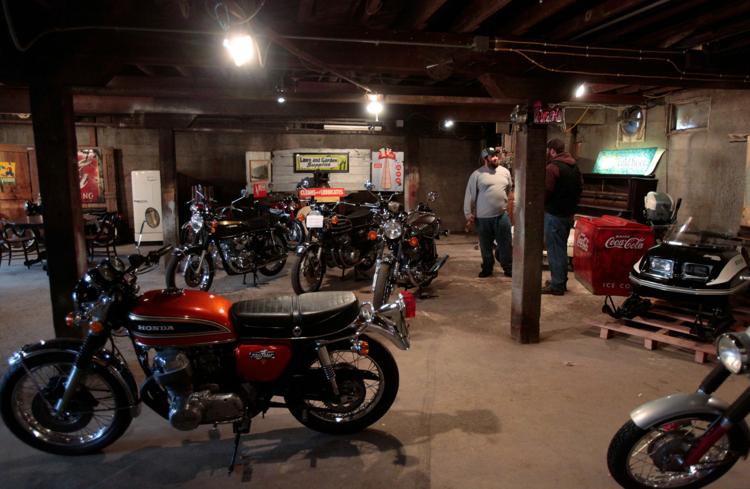 Historic homes and commercial buildings are prolific in this city that straddles the border of Dodge and Columbia counties. So, too, are antique shops, including the 78,000-square-foot Columbus Antique Mall. The Badger Motor Car Company fits right into the city's persona and is named after a company that built automobiles in Columbus from 1910 to 1913. To Frey's knowledge, only one of the cars exists — and it is in California.
"I would love to buy it," Frey said. "You bet."
Frey isn't afraid to pull the trigger on purchases. Over the years, he and his father filled a 5,000-square-foot storage facility. When Frey went to look at a car in Oshkosh, he noticed a small aluminum car used on a children's amusement ride. He offered $100 for the car and ended up buying nine more. One of them, now restored, is in his museum. He picked up an aluminum Christmas tree in a similar fashion and has background stories for virtually everything in his museum, located near the Amtrak station.
Visitors enter through an office furnished with original pieces from the Ibisch Burial Vaults Co. before entering the main showroom that is crammed with Frey's collection plus tables, chairs and sofas.
"Just the way he put the thing together, he's done a great job," said Roger Hauge, Frey's uncle.
"He's always had talent for putting stuff together like this," said his aunt, Bonnie Hauge. "He's got a good eye."
One of the most beloved and talked about pieces is a more-than-100-year-old gambling machine that resembles a merry-go-round and uses a crank to propel hand-sized carved wooden horses in a circle. The numbered horse closest to the finish line when all horses stop is declared the winner. The game, built by an amusement device company in Colorado, had been owned by the local American Legion, whose members for years took it to area picnics and carnivals.
"It's a big hit. We just have a lot of fun with it," Frey said. "It's just a really, really unique handmade piece."
Frey is particularly fond of the Ibisch family, which had a hand in the development of Columbus and built several commercial buildings and homes in the city.
Carl Ibisch built Frey's building while his brother, Franz Ibisch, worked for a year in the 1930s in an upstairs room on a wooden model of a carriage for a contest sponsored by Fisher Body, a subsidiary of General Motors. Franz ultimately was awarded a scholarship to attend UW-Madison, was a World War II pilot and in later years a commercial aviator. Newspaper articles about the contest remain glued to the wall of Franz's workroom.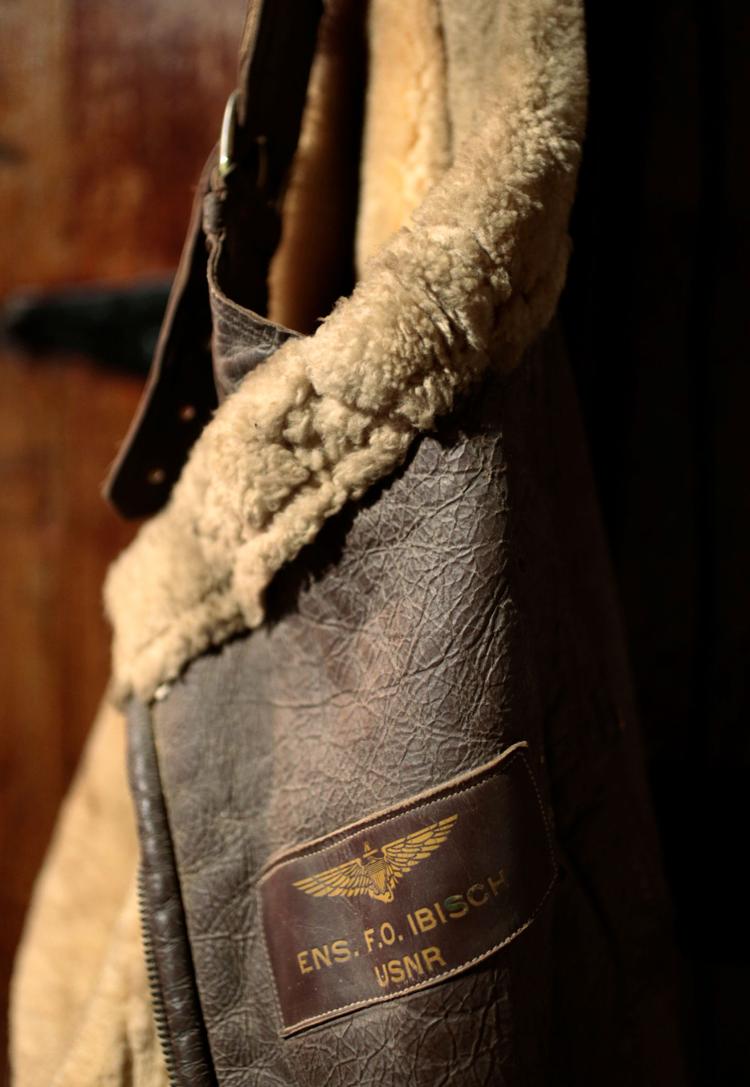 Frey also has Franz's flight suit from the war and the federal specifications needed to build the city's Post Office, which was built by Carl Ibisch.
In the basement, Frey has a 10-foot-long wood and steel toboggan built by the Ibisch family. The sled is more than 90 years old, can hold seven people and is controlled with a Model T steering wheel.
Frey's project is a salute to local history and opposite that of most bars filled with antiques that hang from the wall and ceiling.
"There's no social aspect to a museum. People walk in, they spend a half an hour, they're really quiet and they walk back out again," Frey said. "We kind of started out with the idea that we would be a museum, and we added a bar."