Herman the Duck is returning to the air along with memories of a beloved Wisconsin airline company that operated at a time when stewardesses doled out matches and cigarettes to passengers and security lines and liquid restrictions were nonexistent.
Officials with the Aviation Heritage Center of Wisconsin announced last week that the nonprofit museum at the Sheboygan County Memorial Airport has spent $175,000 to buy a DC-3 once used by North Central Airlines. The regional carrier has its roots in Clintonville, had its hub in Madison for a time, and in the 1950s and 1960s even served the northern Wisconsin resort community of Land O'Lakes. The town on the Michigan border is home to the Kings Gateway Lodge, a resort that in its hey day attracted performers such as Bob Hope and Lawrence Welk.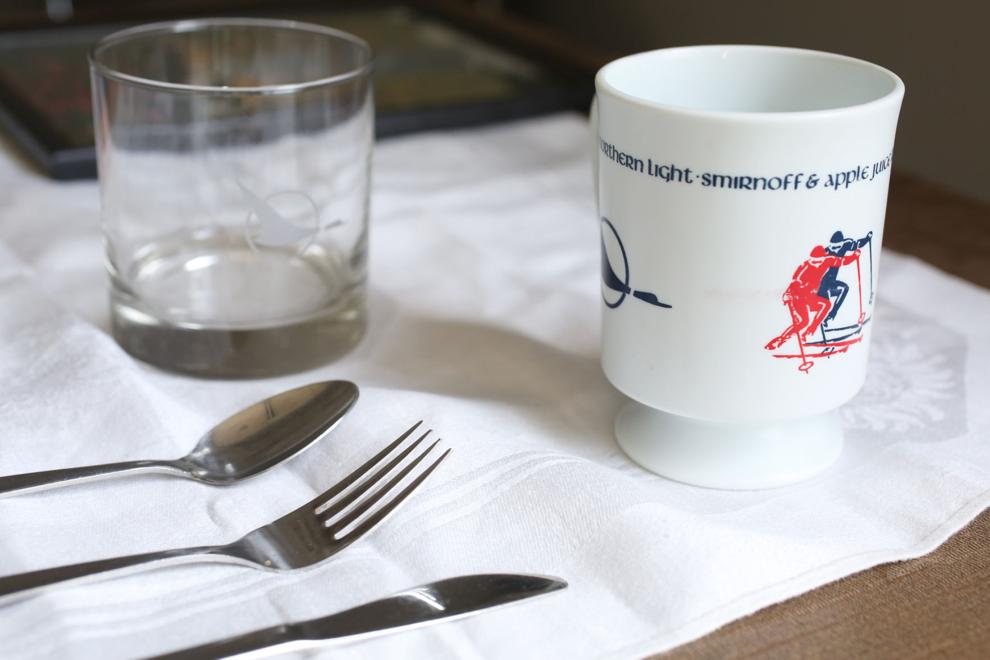 The airline, known for its flying duck emblem on the tail of its aircraft, shuttled guests from Milwaukee, Minneapolis and Chicago to the resort and operated for more than 40 years with stops as far away as Florida and Arizona.
At its peak, the company serviced more than 90 cities but ultimately was consumed during the deregulation of the airline industry in the 1970s.
But North Central's storied history is being gathered for a permanent exhibit that will help preserve memories of the airline. Volunteers have collected dinnerware, matchbooks, photographs, a baggage cart and clothing worn by employees. The museum has been promised a simulator that was used by North Central pilots while signs from the airline ticket office in the former Lorraine Hotel in Downtown Madison have also been acquired.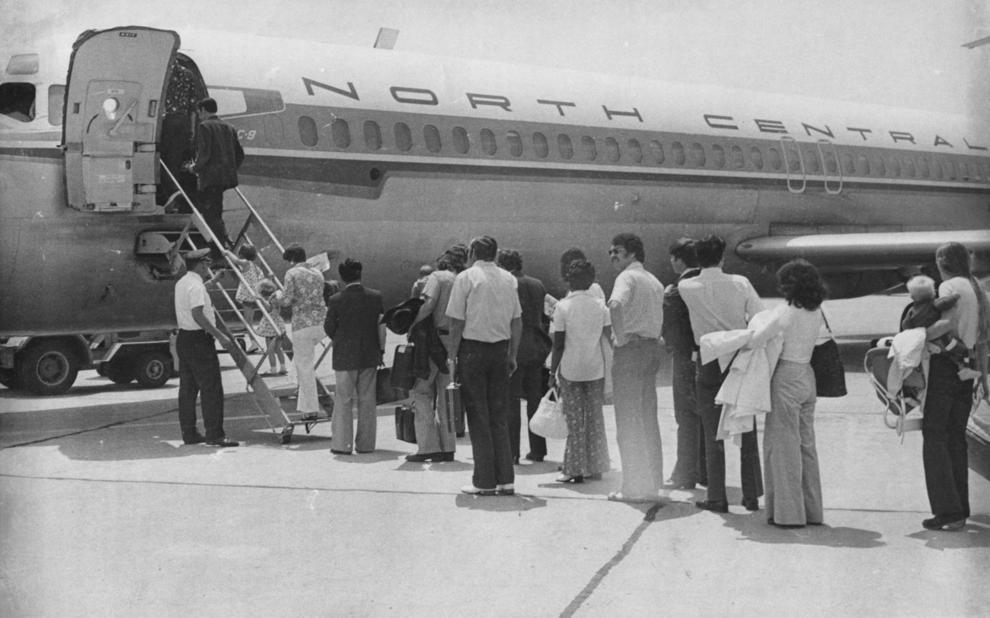 The plane will be the museum's centerpiece but will be far from just a static display. The aircraft will be flown and serve as a traveling promotion for the airline's history and the Heritage Center, built in 2005 and home to displays about Wisconsin aviation. Officials say they would like to offer rides to visitors of the museum but also have the plane make trips to cities that North Central once served.
"We've been looking for suitable aircraft for the last year or more," said Jon Helminiak, executive director of the Heritage Center. "There are DC-3s out there but to find one that actually has a North Central Airlines history is unique because that's what's going to tug at the heart strings of the North Central alum. This aircraft actually flew for the airline and it actually carried passengers."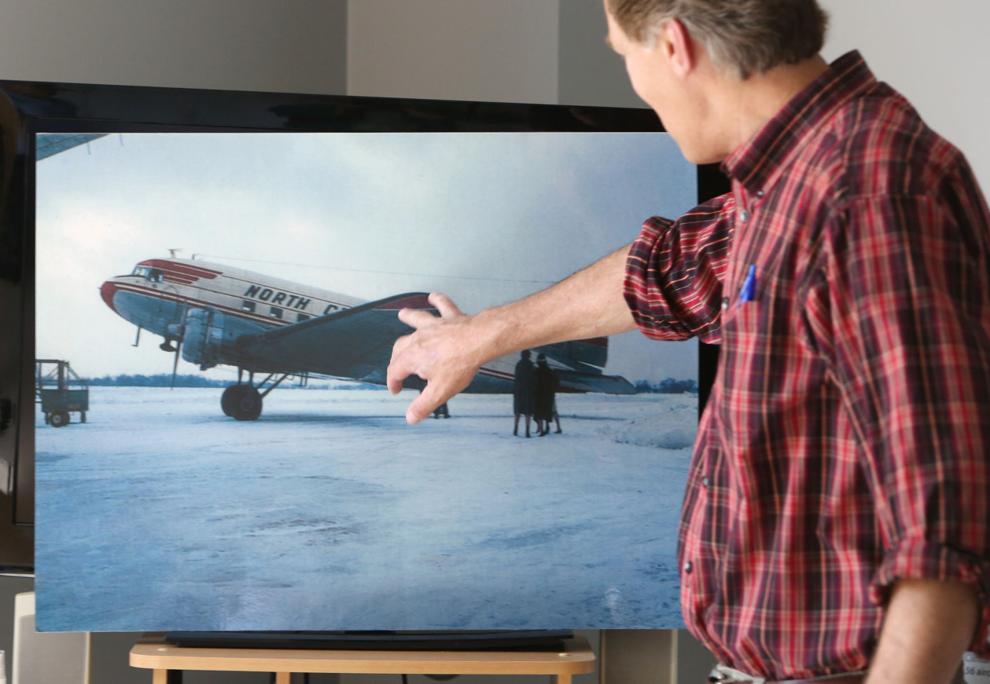 The aircraft, built in 1941, can seat about 26 passengers and is being stored near Los Angeles. Helminiak wants to fly the plane to Wisconsin this fall and have it painted in the color scheme used by North Central in the 1950s and 1960s, a trip and project that could cost $35,000.
The Heritage Center is in the midst of raising money and earlier this year secured $70,000 that has gone toward the plane's purchase. That included $25,000 from the city of Clintonville to name the plane after the city in which the airline got its start. That can be traced to 1939 when executives of the Four Wheel Drive Co., a manufacturer of transmissions and heavy duty trucks, needed more convenient and faster transportation than trains.
The plane service proved popular with other local business people who would hitch rides so, in 1944, the company created Wisconsin Central Airlines. In 1947, the airline's headquarters moved to Madison at what is now Wisconsin Aviation and a year later was serving 14 airports in Wisconsin, Minnesota and Illinois using three Lockheed 10A nine-passenger planes. By 1949, the airline had 32,000 passengers and continued to grow, which led to the addition of six DC-3s in 1951.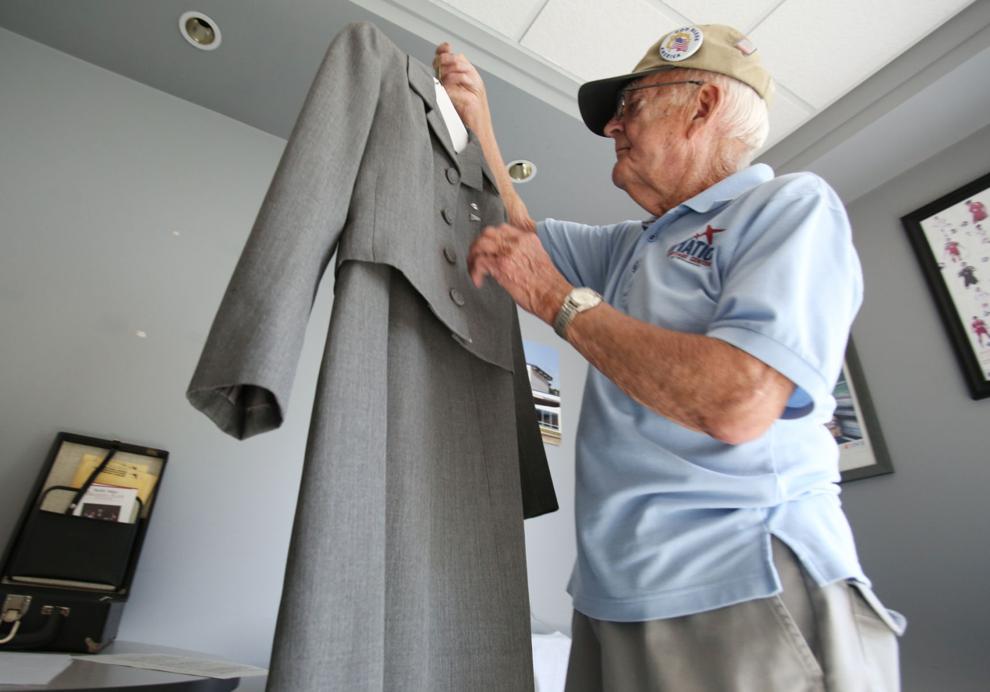 The headquarters moved to Minneapolis in 1952, which resulted in the name of the company being changed to North Central, but the airline continued to serve Madison until 1979 when it merged with Southern Airways to become Republic Airlines. Northwest purchased Republic in 1986, and Delta merged with Northwest in 2008.
Roger Hallingstad, a volunteer with the Heritage Center, is also traveling the Upper Midwest raising money and awareness for the exhibit project.
One of the donations received by Hallingstad, a Sparta native, was $14,000 from a Wisconsin man who wished to remain anonymous.
The money was used to buy a 33-foot motor home and cover it with signage touting the proposed exhibit.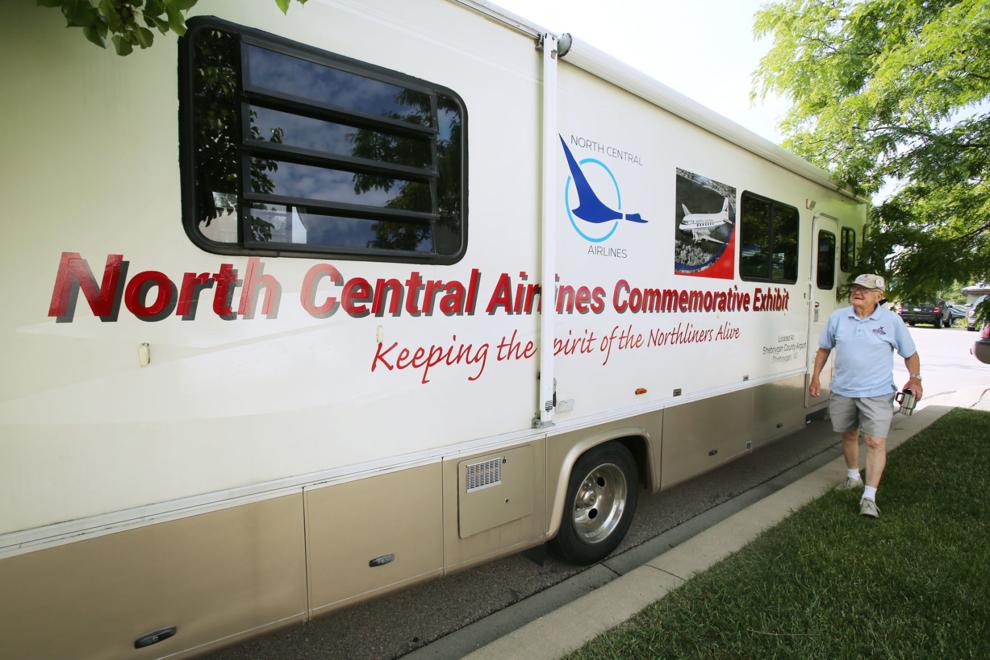 "We need to preserve Wisconsin's aviation history and it would be a shame to not let future generations know about this significant airline that was founded right here in Wisconsin," Hallingstad said. "We want to do this exhibit now while those men and women who worked for the airline are still with us. It means a heck of a lot to them."
The evidence can be found on the second Tuesday of each month. That's when retirees of the airline company who still live in the Madison area gather for coffee and cinnamon rolls and to reminiscence. Last month, about a dozen former employees met at the Jet Room on the north side of the Dane County Regional Airport property where they also took in a presentation by Helminiak about the Heritage Center and the planned North Central exhibit. Hallingstad's motor home was parked outside the front door and served as a billboard on wheels.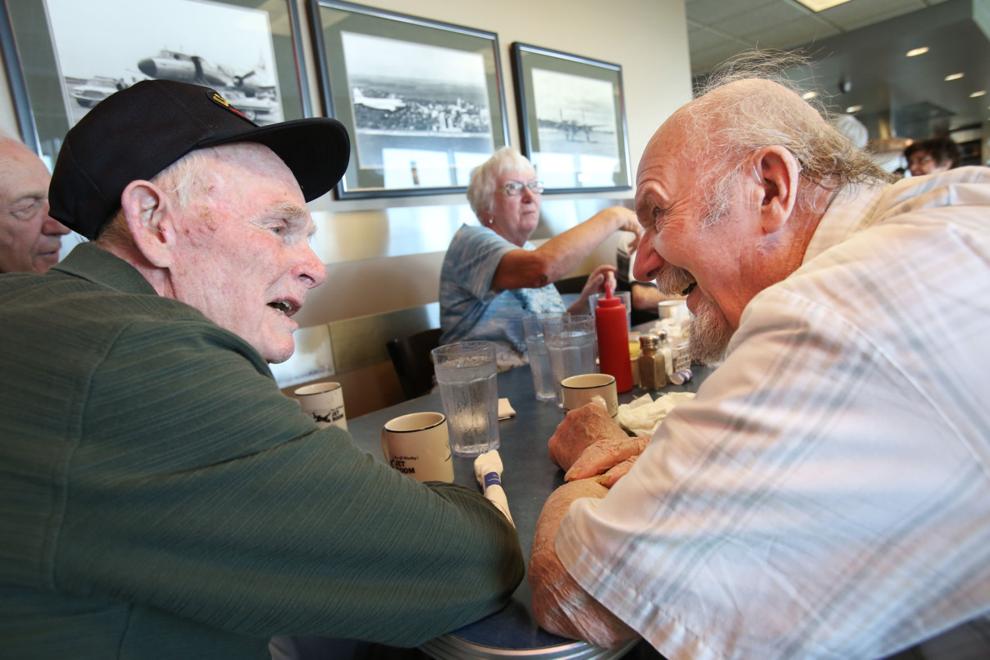 Trudi Theisen showed up with the uniform worn by her husband, Robert, when he was a ground agent in Green Bay and Madison. The size 46, one-piece jumper had hung in a closet of their home for over 30 years.
"I'm sorry I couldn't get the oil spot out of the back," Theisen said. "I tend to like history and I just thought this was something Roger could use."
Audrey Grimm, 69, of Wyocena, was a ticket agent in Wausau before she transferred to Madison in the 1960s. Her husband, Delbert, 75, was in operations and a ticket manager for the company. They donated pictures and a few sets of glasses to the exhibit.
"Everybody's kind of donating stuff of whatever we can find," Audrey Grimm said. "It was just a big family. There were just wonderful people."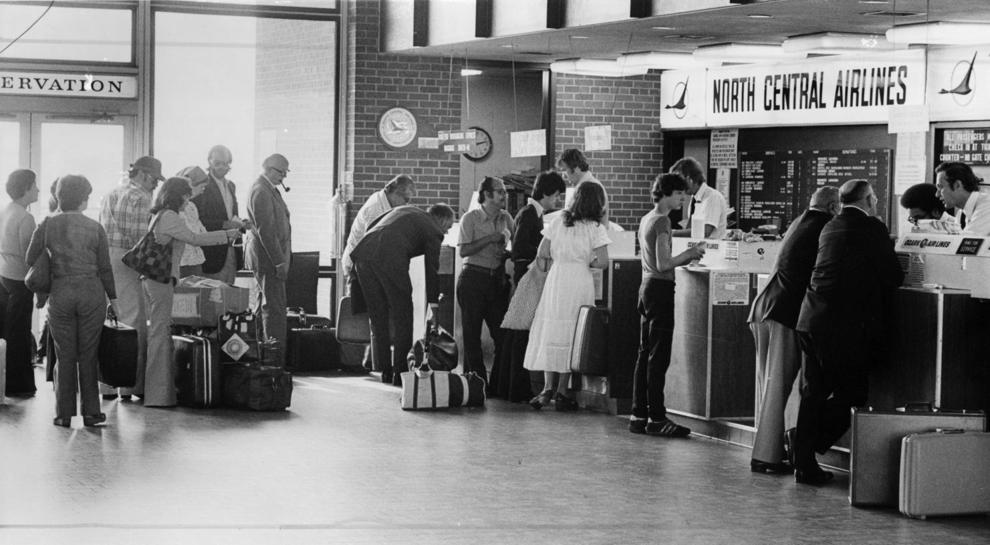 Isie Weisensel Derr, now of Portage, worked from 1959 to 1999 under the North Central, Republic and Northwest airlines banners. Her work included staffing a ticket office in downtown Chicago across from the Palmer House Hotel, a stint in Milwaukee, five summers in Traverse City, Michigan; and customer service jobs in Minneapolis, Green Bay and Denver. Her last four years were in Madison.
"I loved it because of the traveling," Derr said. "It was amazing, but after 9/11, I wouldn't want to be working for an airline."
Diane Sersland's late husband, Ken Sersland, who died in 2008, started in Clintonville, worked in Eau Claire and Oshkosh and spent 35 years in operations with the airline before he retired in 1981. Diane was a reservation agent for Northwest before becoming a ticket agent at the Park Motor Inn on the Capitol Square. She quit the business in 1963 after she met her husband but then became close with those with North Central.
"We knew everybody — the pilots, co-pilots, flight attendants. Their favorite hangout was the Idle Hour (Supper Club) down the street here," Sersland, 81, said. "It was one big happy family until (the airlines) started merging with everybody."
Barry Adams covers regional news for the Wisconsin State Journal. Send him ideas for On Wisconsin at 608-252-6148 or by email at badams@madison.com.