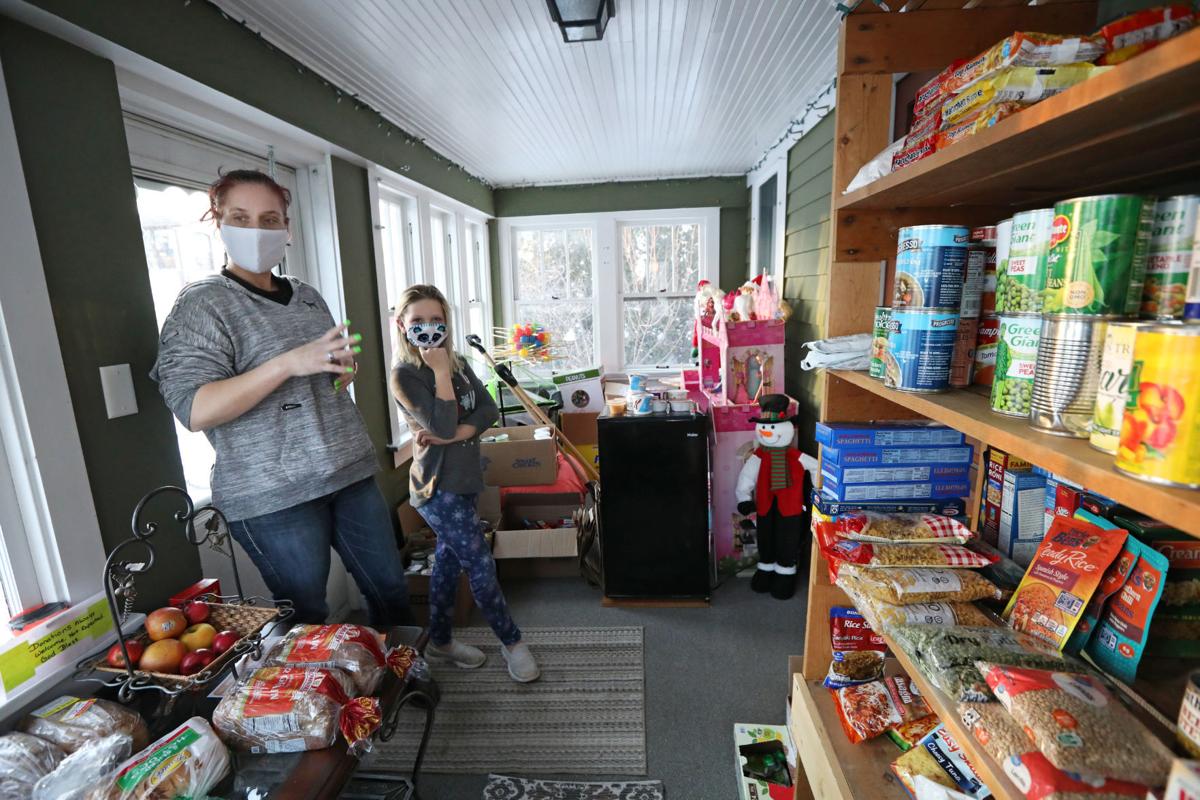 About 11 years ago, Ellie Gibson became a single mother.
The father of her two children, Terry Irwin, died unexpectedly in a tree-cutting accident in 2010. Gibson was left alone with her 1½-year-old son while pregnant with her daughter.
"Within a three-month period, I had lost the house I was living in. Even though I was working, I didn't have enough money to buy food, gas or anything for my kids," Gibson said. "We hit rock bottom."
She moved in with a friend — a single mom with four kids — and together the two women would "help each other survive."
Gibson, 37, now has her own house and a job that pays the bills. She works as a personal care worker for disabled seniors. Though Gibson now has financial stability, her past struggle with food insecurity has made her passionate about helping other families.
This past summer, a few weeks after moving into their new house in Oregon, Gibson and her fiancé, Dillon Paar, started providing free food for people in their community. It started with just a few cardboard boxes along the sidewalk in front of their house, but has continually grown. Now, her entire front porch has been converted into a food pantry.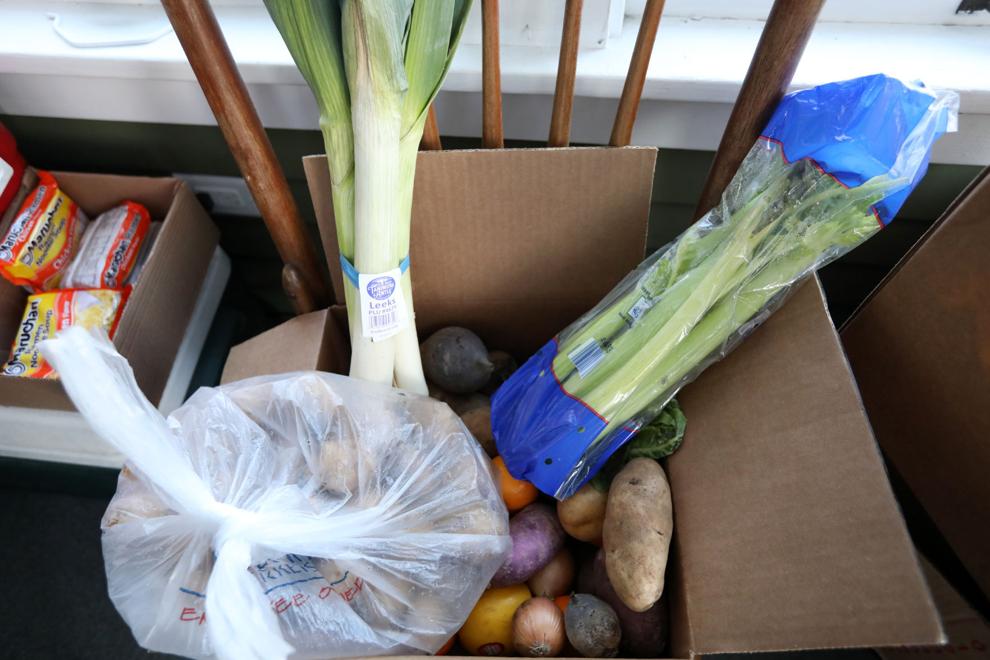 Gibson said both she and Paar wanted to support those experiencing financial hardship because of the COVID-19 pandemic, single parents who were already struggling and their children.
"No child wants to open up their refrigerator or the cabinets and wonder where their food is," Gibson said. "That is one of the worst struggles any child should ever have to face."
Each day, Gibson unlocks the door to her front porch, turns on the lights and lets anyone come and grab what they need from 6:30 a.m. until 9:30 p.m. at 211 Janesville St.
When Gibson was struggling to make ends meet, she said it was hard for her to get to a food pantry because most were only open during business hours, which is when she worked. That's why her pantry is open until her family goes to bed. She wanted there to be an easy way for people to get food for free, even after hours.
Gibson said the pantry is a family effort. Her children — Elius Irwin, 12, and Zya Irwin, 10 — help keep it stocked throughout the day.
"All three of us help run this," Gibson said.
Paar had helped with the project, too. But in November, he died by suicide.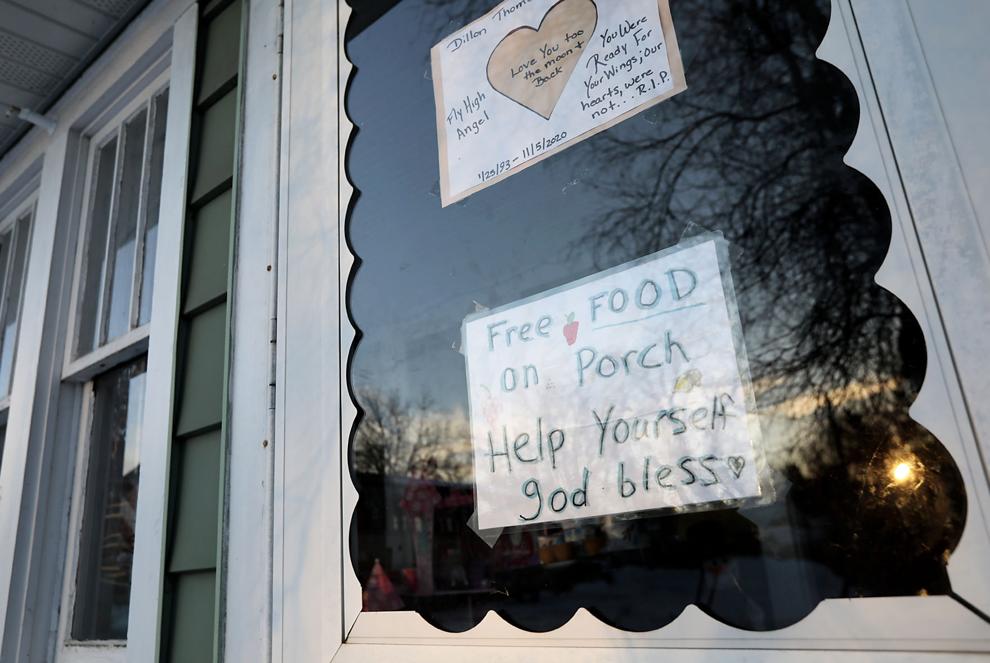 Gibson said Paar wanted to start the food pantry because he was raised by a single mother and knew how challenging that was for his mom. Gibson said Paar would have wanted her and her children to keep the food pantry going.
"We're just trying to keep Dillon's memory alive and keep everything going," she said. "We know that's what he'd want."
The porch is filled with all sorts of food: Fresh fruit, bread, frozen chicken and turkey, ground beef, canned tuna, sweet potatoes, spinach, beets, onions, pancake mix, yogurt, eggs, milk, juice, canned fruits and vegetables, granola bars, Ramen noodles and more, Gibson said.
"It's almost like a miniature grocery store in my porch for people," Gibson said.
If anyone has dietary restrictions, they can message Gibson ahead of time and she works to accommodate their needs.
There's also a table with a rotation of donated items. It has had everything from baby formula and diapers to shampoo to makeup.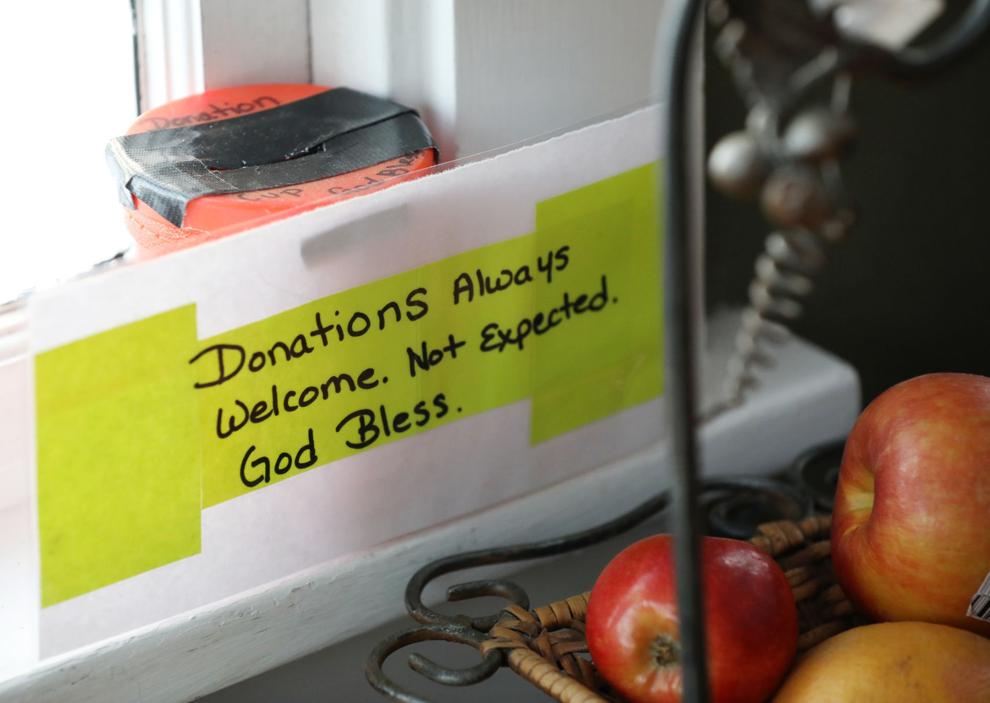 About 10 to 12 people come to get food each week. Gibson said she doesn't know most of them, but has heard some of their stories.
One woman who lives in a nearby apartment complex for seniors doesn't have enough money left after she pays for rent and utilities. Another is a single mother going through a separation.
Gibson said it doesn't matter what one's life circumstances are. She is just "here to help anybody who needs food."
When asked how long she plans to keep the pantry open, Gibson said "forever, if I can help it."
"If we're not living in this location, and we're living somewhere else, we'll start it up again," Gibson said. "Everybody goes through hard times. I just want to offer less stress and comfort to those that I can."
---
Everything you need to know about COVID-19 vaccinations and testing