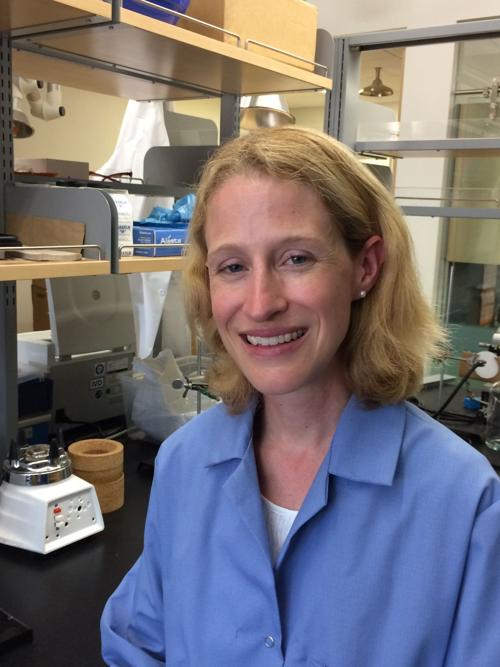 Becoming a mother has driven Katie Brenner, a post-doctoral biochemistry fellow at UW-Madison, to try to solve problems related to preterm babies and infertility.
Brenner and Doug Weibel, an associate professor of biochemistry at UW-Madison, are developing a urine test to monitor the health of preterm babies. Brenner's first child, Ruthie, 6, was born two weeks early.
Brenner and Weibel are also developing a saliva test that could help women who struggle to get pregnant, as Brenner did after her 5-year-old son, Joseph, was born.
Brenner, 36, won a L'Oreal Women in Science fellowship last year. The company bluDiagnostics, founded by Brenner and Weibel, won the life sciences category in this year's Wisconsin Governor's Business Plan contest.
Born in Madison and raised in Illinois, Brenner returned to Madison in 2009 with her husband — Ted Brenner, who works at Epic — after graduate school at Stanford and Cal Tech.
They live in Madison with their three children, including Annie, 18 months.
You came to Madison to start an organic farm. What happened to that idea?
We had read "The Omnivore's Dilemma" and were inspired to change the world by improving food sources. But with two children to provide for, we decided that we needed to put that on hold. It's still a dream.
How would the urine test for preterm babies work?
We are looking at the urine of preterm babies to try to identify early warning signs that they may be getting sick. By the time they're showing external symptoms, it can be too late.
You have free articles remaining.
If you take even half a milliliter of blood from these babies, that can necessitate a transfusion. You really can't be sampling blood all the time.
But guess what babies do all the time? They pee. Every time a diaper is changed, we can make a new measurement on that baby.
My first daughter had a brief stay in the neonatal intensive care unit — one day. I was incredibly lucky that she was released quickly and she's a thriving, growing 6-year-old. But many families are not that lucky. That keeps me up at night.
How does bluDiagnostics' Fertility Finder work?
Women are currently forced to use urine-based, over-the-counter tests that don't tell them what their bodies are really doing. If you're not pregnant, you don't know why. The other option is blood testing, which can take months, with ultrasounds that cost a lot of money.
With our test, all a woman has to do is insert a disposable paper strip into a device that looks like a basal thermometer and put it in her mouth for about a minute. The paper collects saliva and performs a chemical test.
The electronic component will transmit the results — measurements of her hormones — to a mobile app. She can look at her results through time and share them with her clinician.
Our test tells a woman four days in advance when she will be ovulating. This is the type of planning a couple struggling with fertility needs. It could also help the professional woman who wants to plan, so she knows if she needs to get pregnant now or if she still has a few years.
Of anyone on the planet, I should be able to solve this problem. I'm a bioengineer. I'm a biochemist. Yet here I was using these silly yes-or-no tests with undignified peeing on a stick every morning.
You also work with high school science teachers and students. Why?
Every single high schooler out there can think of a lot of problems with the world. I wish they understood it's not about the equations and the facts. It's about finding that problem you care enough about to solve, then getting whatever tools you need and going out and solving it.
— Interview by David Wahlberg