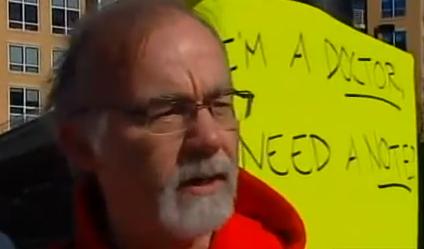 The state Department of Regulation and Licensing is reviewing complaints about doctors writing sick notes last weekend to excuse Capitol protesters from work, the agency said Tuesday.
"We're processing these complaints as quickly as possible," said a statement by Dave Ross, regulation and licensing secretary. The agency is working with the Medical Examining Board on the issue, he said.
UW Health is also investigating reports about its doctors, and the Wisconsin Medical Society has criticized the doctors' actions.
"These charges are very serious," a statement by UW Health said. "These UW Health physicians were acting on their own and without the knowledge or approval of UW Health."
The Wisconsin Medical Society, the state's largest doctors association, said it "does not condone these actions under any circumstances."
State regulations ban doctors from "knowingly making any false statement, written or oral, in practicing under any license, with fraudulent intent."
Dr. Lou Sanner, a family medicine physician at UW Health, told the Associated Press he was one of the doctors involved. He said he wrote hundreds of sick notes for protesters because they were suffering from stress.
"Some people think it's a nod-and-a-wink thing but it's not," he said.
You have free articles remaining.
Several doctors reportedly joined Sanner, filling out formatted notes excusing protesters from work. The notes said each doctor "evaluated" each "patient."
Dr. Tim Bartholow, a senior vice president of the medical society, said the doctors may have meant well but could end up harming physicians' reputation.
"I'm sure they were acting out of conscience," he said. "But our actions as professionals have got to earn the public trust."
Doctors sometimes issue sick notes after brief phone calls, but that's for established patients whose medical history is known, he said.
Video posted online of Sanner and others providing the notes "looked really bad," said Dr. Arthur Derse, director of the Center for Bioethics and Medical Humanities at the Medical College of Wisconsin.
"If the person is currently ill, you need a physical examination and history," Derse said. "If someone is ill enough not to go to work, to have them standing outside in the cold in front of you is kind of an oxymoron."
UW Health said its investigation "will identify which UW Health physicians were involved and whether their behavior constituted violations of medical ethics or University of Wisconsin and UW Health policies and work rules."
Bartholow said the underlying events at the Capitol underscore why doctors must be concerned today about their public image. State and federal budget pressures are forcing tough decisions about health care expenses, and many are looking to doctors for input, he said.
"We need that public trust," he said.