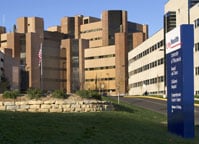 UW Hospital is investigating the reuse of a syringe, which a Madison patient said is requiring him to be tested for hepatitis and HIV.
Federal health officials say syringes and needles should never be used more than once to reduce contamination from infected blood. UW Hospital says its policy is not to reuse either.
The incident involves a "needleless" syringe reused — against hospital policy — when it was attached to an intravenous line, UW Hospital spokeswoman Toni Morrissey said Friday.
The case comes a year after 53 patients at the hospital were told they face a tiny risk of contracting a deadly brain disorder called Creutzfeldt-Jakob disease, or CJD, from potentially contaminated surgical instruments.
In the new incident, the medical tubing in the IV line makes the situation less risky than reusing syringes in direct injections, Morrissey said.
But the Centers for Disease Control and Prevention calls the notion that IV tubing prevents contamination a "myth."
"Distance from the patient, gravity or even positive infusion pressure do not ensure that small amounts of blood won't contaminate the supply," Dr. Michael Bell, associate director for infection control at the CDC, says in a video on the topic.
The online video is part of CDC's "One needle, one syringe, only one time" campaign. At least 400 people were infected with hepatitis from contaminated syringes in 40 outbreaks from 1998 to 2008, the agency said.
Blood from infected patients can contaminate syringes, which can spread disease even if the needles attached to syringes are replaced, the CDC said.
Morrissey wouldn't say how many patients are involved in the UW Hospital incident, what procedures they had, what risks they face or if similar cases have occurred before.
Vincent Stepter, of Madison, said he got a call Thursday from an infectious disease specialist at UW Hospital. The specialist said Stepter needs to be tested for hepatitis and HIV after a syringe was used on at least two patients.
Stepter said he had rotator cuff surgery last month. He said his attorney told him not to say more.
Two years ago, in one of the most publicized examples of problems with contaminated syringes, more than 50,000 patients at a Las Vegas clinic were contacted because of potential exposure to bloodborne viruses.
In the incident last July at UW Hospital, a woman who had undergone brain surgery for a tumor was later found to have CJD, an always-fatal brain disease. The 53 patients contacted had undergone brain surgeries within 40 days after the woman's surgery.