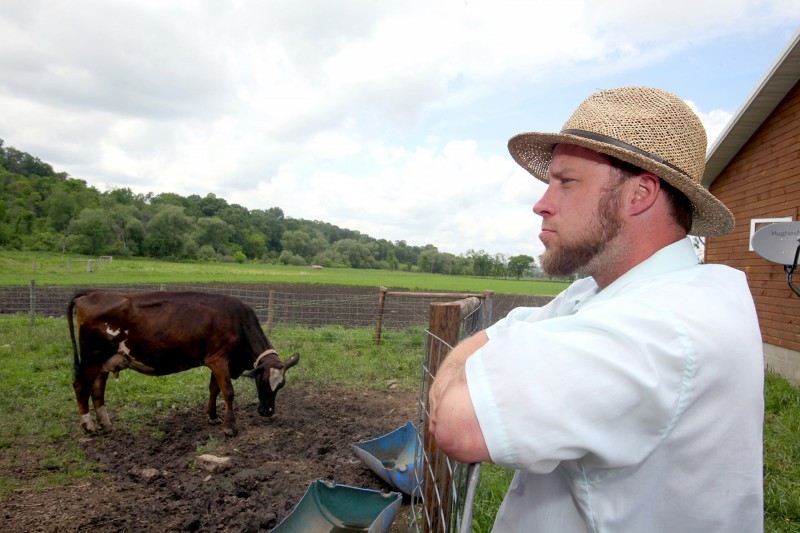 Carrying a cooler of raw milk, Wisconsin vegetable farmer Brian Wickert climbed the steps of the state Capitol on a sunny April day. He was a man on a mission: to lobby for legislative support for a bill to legalize sales of unpasteurized milk.
"It's real simple," Wickert, a member of the Wisconsin Raw Milk Association, said in a later interview. "We want the right to choose the food we eat. Why does the government care whether I want to go and drink raw milk?"
For Wickert, the bill is about the freedom to live without interference from the government. But for health officials in America's Dairyland, it's about potentially exposing unsuspecting citizens to disease-causing bacteria.
The issue took on increased urgency this month after bacteria in raw milk from an unnamed farm sickened at least 16 fourth-graders and family members at a Racine County event, resulting in one hospitalization. The June 3 after-school party was designed to celebrate Wisconsin food.
"I got very, very sick," said Melissa Werner, 40, who drank raw milk with her son Nathan, 10. Both later suffered from nausea, diarrhea, vomiting and high fever. Werner was ill for two weeks and lost 12 pounds.
Cheryl Mazmanian, a health officer with the Western Racine County Health Department, said while the incident in Racine County illustrates the dangers of raw milk, it violated no state laws.
"It's not illegal to drink raw milk, it's not illegal to give it to people, but it is illegal to sell it," Mazmanian said.
Wisconsin is one of 11 states that prohibit regular sales of raw milk, according to the Farm-to-Consumer Legal Defense Fund, a pro-raw milk group.
Raw milk can contain disease-causing bacteria the pasteurization process is designed to kill. Wisconsin law allows "incidental" sales of raw milk products to farm employees or visitors.
Some people ignore the law, creating a type of black market in which consumers and farmers keep their transactions quiet to avoid the scrutiny of regulators, who in recent years have begun to crack down on raw milk sales.
One of the customers is Sen. Glenn Grothman, R-West Bend, a co-sponsor of the bill introduced in May that would legalize raw milk sales. He gets milk from different farms but will not specify which ones — a common response. "People don't want to answer those questions because it jeopardizes your farmer. It's a screwy system," Wickert says.
The measure co-sponsored by Grothman and Rep. Don Pridemore, R-Hartford, would allow farmers to sell raw milk directly to consumers. Pridemore said he's open to adding testing requirements to the bill, which it currently lacks.
But Dr. Jim Kazmierczak, state public health veterinarian, warns even daily testing cannot detect all contamination. Cows can shed bacteria intermittently, he said, so a negative test in the morning does not guarantee milk collected from the same cow in the afternoon is safe.
You have free articles remaining.
Last year, a similar bill with more safeguards was vetoed by Democratic Gov. Jim Doyle. At the time, Doyle cited safety concerns about unpasteurized milk, which some consumers drink for its taste and perceived health benefits.
Like many of the roughly 15 farmers and consumers who went with Wickert to lobby, Grothman and Pridemore drink raw milk regularly. "I don't consider it risky behavior," Grothman says.
Public health officials disagree. In 2010, raw milk products caused 28 disease outbreaks in the United States that sickened 159 people, according to the Centers for Disease Control and Prevention.
In Wisconsin, raw milk has caused seven disease outbreaks since 1998, including the incident in Racine County, state health officials say, sickening at least 277 people and hospitalizing 28.
A spokesman for Republican Gov. Scott Walker says he would support legislation allowing the limited sale of raw milk directly from farmers, provided sufficient safety provisions are in place.
The raw milk bill introduced in May leaves out many regulations recommended in a 261-page report by the Raw Milk Policy Working Group, which was composed of 22 Wisconsin dairy experts with a variety of opinions on raw milk. The group's report calls for detailed regulations on storage, testing and sales of raw milk if they are legalized.
Under the 2011 bill, farmers would be required to post signs indicating they sell unpasteurized milk products, but they would not have to place warning labels on raw milk products, as the previous bill required.
Farmers who milk fewer than 20 cows would not need a license or grade A dairy permit to sell raw milk.
The current bill also would allow farmers to advertise their raw milk products.
Scott Rankin, chairman of the department of food science at UW-Madison and member of the working group, said the latest bill is not based on science.
"It just omits so much of all the concerns around how you handle any food, let alone raw milk," Rankin says.
Grothman said it will be up to consumers to find trustworthy suppliers.
Vince Hundt, an organic farmer and member of the working group, said he supports the current bill without most of the group's suggestions.
"A consumer can walk to the store and buy a quart of gin or a carton of cigarettes," Hundt says, "but you can't buy a gallon of milk from a farmer."
Sarah Karon is a reporter for the Wisconsin Center for Investigative Journalism. Natasha Anderson, Steve Horn and Rory Linnane reported this story in a UW-Madison journalism class taught by Professor Deborah Blum, in collaboration with the nonprofit Center (www.WisconsinWatch.org). The Center also collaborates with Wisconsin Public Television, Wisconsin Public Radio and the UW-Madison School of Journalism and Mass Communication and other news media.